Roger Stone Will Do 'Anything Necessary' to Re-elect Trump After Being Saved From 'Death' in 'Squalid Hellhole'
Roger Stone said he will do "anything necessary" to re-elect Donald Trump in November, noting that the president saved him from "death" in a "squalid hellhole."
"I will do anything necessary to elect my candidate, short of breaking the law," Stone, a political consultant and longtime associate of Trump's, told Axios in an interview published Monday. The president last Friday made the highly controversial decision to commute Stone's 40-month prison sentence.
"First, I'm going to write a book about this entire ordeal to, once and for all, put to bed the myth of Russian collusion," Stone, 67, said. He also said that, thanks to Trump, he now "won't die in a squalid hellhole of corona-19 virus."
Stone also predicted that Trump will win re-election, although he predicted that wouldn't be easy.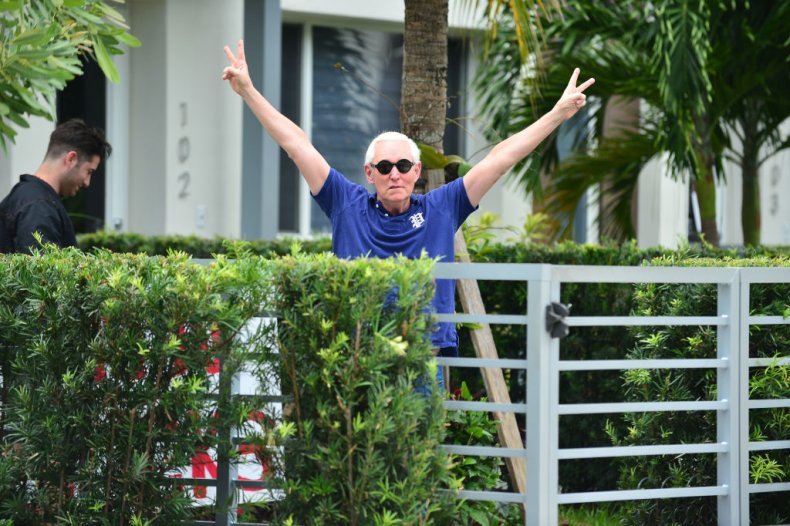 "It'll be a very tough fight. He's got three obstacles: voter fraud...internet censorship, which I have just recently experienced myself, and, of course, the constant falsehoods being pushed by the corporate-owned mainstream media," he said. "Those all make it a difficult race."
Reached for comment on Stone's remarks, Tim Murtaugh, director of communications for Trump's campaign, told Newsweek he welcomed Stone's support. "That's great. All Americans should want to support President Trump," he said.
The campaign did not respond to questions about whether it would work with Stone directly.
Last Friday evening, the president officially commuted the prison sentence Stone was set to begin on Tuesday. Trump had long criticized his associate's prosecution, saying that he was unfairly targeted by special counsel Robert Mueller's investigation into Russian interference in the 2016 presidential election.
The political operative, who has a tattoo of President Richard Nixon on his back, was convicted on seven counts, including witness tampering and lying to investigators. During the 2016 campaign, Stone had tried to obtain information from WikiLeaks regarding emails stolen by Russian agents from top Democrats and the Democratic National Committee. Additionally, he attempted to pressure a friend to corroborate his lies about his actions.
Trump's decision to commute the sentence was at odds with the publicly stated position of Attorney General William Barr, who said last week that "the prosecution was righteous" and that the sentence "was fair."
Although the president was acting within his legal rights to commute his friend's sentence, many Democrats and some Republicans saw the decision as highly corrupt.
"Unprecedented, historic corruption: an American president commutes the sentence of a person convicted by a jury of lying to shield that very president," GOP Senator Mitt Romney of Utah tweeted on Saturday.
"It's staggering corruption, but I think it's important for people also to know that it's a threat to our national security," House Speaker Nancy Pelosi, a California Democrat, told CNN's State of the Union on Sunday.