Roger Stone Posts Photo of Judge Presiding Over His Case With Crosshairs Above Her Head, Then Deletes
Roger Stone shared a since deleted conspiratorial post to Instagram on Monday including a photo of Judge Amy Berman Jackson, who will preside over his case, with what appeared to be a crosshairs above her head.
With the image, Stone wrote the caption: "Through legal trickery Deep State hitman Robert Mueller has guaranteed that my upcoming show trial is before Judge Amy Berman Jackson, an Obama appointed Judge who dismissed the Benghazi charges again[st] Hillary Clinton and incarcerated Paul Manafort prior to his conviction for any crime." He added a call for financial support at the end.
The post was screenshotted and shared by some on Twitter before it was deleted and replaced by a cropped version that no longer included the crosshairs above the judge's head. The caption was adjusted slightly, but the overall message was the same.
Stone, a long time associate of President Donald Trump, was indicted by special counsel Robert Mueller's team last month on charges of obstruction, making false statements and witness tampering. The charges center around Stone's contacts with WikiLeaks, which has been accused of working with Russia during the 2016 presidential campaign to undermine the U.S. election. Stone and WikiLeaks have denied the charges and any direct connections.
But prosecutors for Mueller's probe say that they have evidence of Stone communicating directly with the website, which shared some 20,000 private emails from the Democratic National Committee (DNC) during the presidential campaign. The emails suggested that the DNC had plotted to support Clinton over her popular primary rival Senator Bernie Sanders from Vermont. The leak led to significant controversy for Clinton and the DNC and the emails were determined by investigators to be hacked by Russia.
Mueller's probe aims to find out if Trump or members of his campaign team colluded with Russia to influence the 2016 election. U.S. intelligence agencies have already determined that Moscow interfered in the election, with the bulk of its efforts aimed at discrediting Clinton and favoring Trump. Russia denies interfering.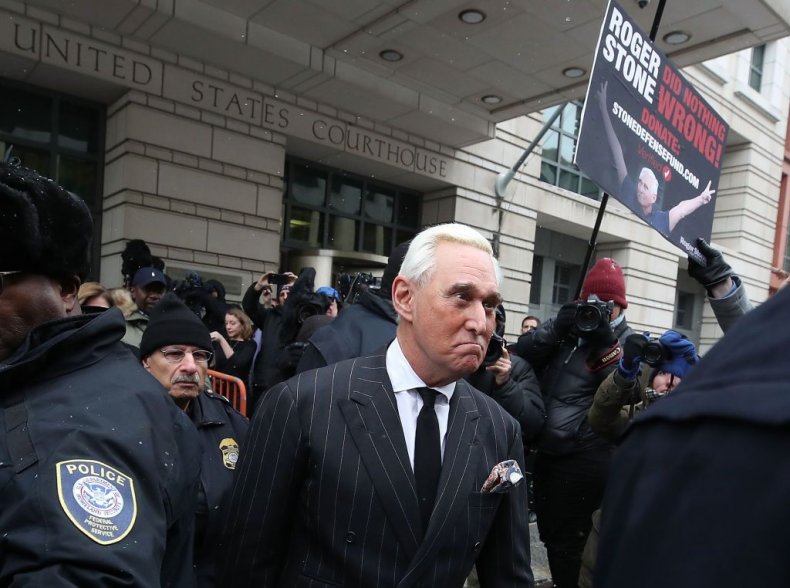 Pushing back against his prosecution, Stone claims he is being "falsely accused" and that the charges are "politically motivated."
Thus far, Mueller's probe has led to the indictment of five other close Trump associates besides Stone. All the others have either pleaded guilty or been convicted of a range of crimes. Trump's former campaign chairman Paul Manafort, who has been convicted, also lied to investigators about sharing confidential polling information with an associate linked to Russia.
Trump has consistently dismissed the probe as a politically motivated "witch hunt."