Roger Stone Rejoices as Bannon Loses Jan. 6 Court Fight: 'Bye Steve!'
Roger Stone, the longtime Republican political operative and Donald Trump ally, took to social media Saturday to cheer on the legal woes of another prominent Trump ally, Steve Bannon.
Stone posted an excerpt from a recent Politico report on U.S. District Court Judge Carl Nichols' dismissal of Bannon's attempt to dismiss his criminal case for defying the January 6 House select committee's subpoena in regards to last year's Capitol riot. Bannon was called to testify before the committee, and when he refused to comply, he was hit with contempt of Congress charges.
Bannon's attorney's submitted various complaints in an attempt to have the case dismissed. The one mentioned in Stone's post argued that the select committee's structure in some way lessened the validity of Bannon's subpoena, since it was formed without appointees by House Minority Leader Kevin McCarthy, which Judge Nichols dismissed. GOP lawmakers previously blocked the formation of an independent committee, which would have seen more Republican involvement, leading to the creation of the select committee.
In his own post on the matter, Stone appeared to have a gleeful tone in reaction to the news, ending it with "BYE STEVE!"
As noted by left-leaning pundit Ron Filipkowski on Twitter, Stone and Bannon have a contemptuous history when it comes to legal trouble. Stone, Filipkowski alleged, blames Bannon's testimony partly for his own prosecution and conviction in 2019. Stone was convicted of obstruction, making false statements to Congress, and witness tampering in relation to Robert Mueller's investigation of the Trump campaign.
In denying Stone's motion for an acquittal in November 2019, U.S. District Judge Amy Berman Jackson wrote that Bannon's testimony and that of Rick Gates, were sufficient to prove the charges against Stone.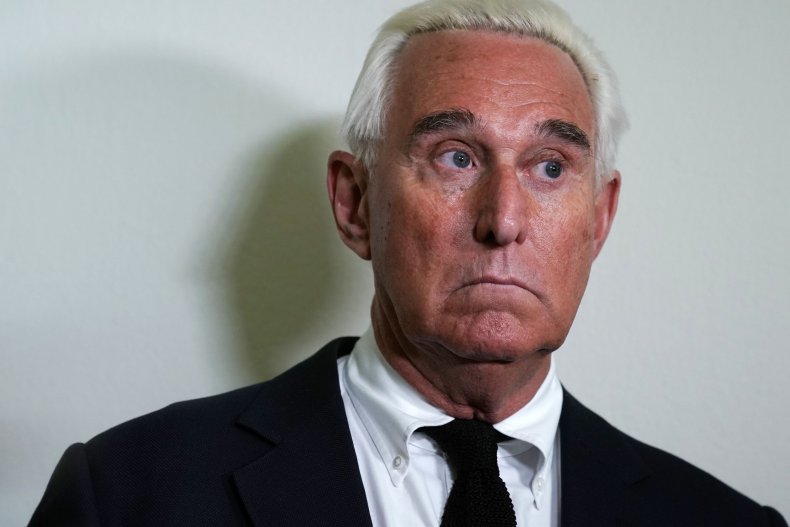 In Bannon's case, Judge Nichols wrote that "the court cannot conclude as a matter of law that the committee was invalidly constituted." He elaborated further, according to Politico, explaining that the U.S. House had repeatedly validated the work of the select committee by voting to hold several witnesses in contempt of Congress, including Bannon.
Bannon is now scheduled to go to trial on his contempt charges in July. However, his attorney David Schoen has indicated that the legal team might seek to postpone the trial, given the ongoing publicity of the select committee's public hearings on January 6.
"We look forward now to preparing for trial and to defending against this case to the fullest extent the law permits," Schoen said in an email to Bloomberg. "The criminal prosecution for noncompliance with a congressional subpoena when executive privilege has been invoked runs contrary to six decades of official DOJ policy."
Newsweek reached out to Schoen for comment.