Roger Stone Issues Scam Warning Over QAnon 'Queen of Canada'
Roger Stone has hit out at a QAnon influencer who has declared herself as the "Queen of Canada" after she used his name and image to raise money online.
Stone, a longtime ally of Donald Trump, warned his Telegram followers "Beware this SCAM" while sharing a Vice article detailing why he is irate at controversial conspiracy theorist Romana Didulo.
Over the past several months, Didulo has embarked on a tour of Canada while convincing her followers she is the true leader of the North American country.
Didulo has also taken part in a number of stunts during the tour, including persuading her supporters to stop paying their bills and ordering them to attempt citizen arrests of police officers in Peterborough, Ontario.
In November 2021, Didulo was detained after she allegedly encouraged her devoted followers to "shoot to kill" healthcare workers.
Stone, who has links to far-right groups, has now warned of a "scam" after Didulo allegedly used a video of him and a fake online profile to raise money from her supporters
In August, a fake and now-deleted Telegram account pretending to be Stone emerged. The fake profile posted a clip that appeared to show Stone showing support for Didulo
"Romana, this is Roger Stone. I know that you're on a mission to expose the Deep State and the epic corruption in Canada under little Fidel," he says, with "little Fidel" being a reference to Canadian Prime Minister Justin Trudeau.
"I want you to know that many people across the globe appreciate what you're doing in the fight for freedom and liberty and all that is good. God bless you."
The video was later shared by Didulo to her 58,000 Telegram followers.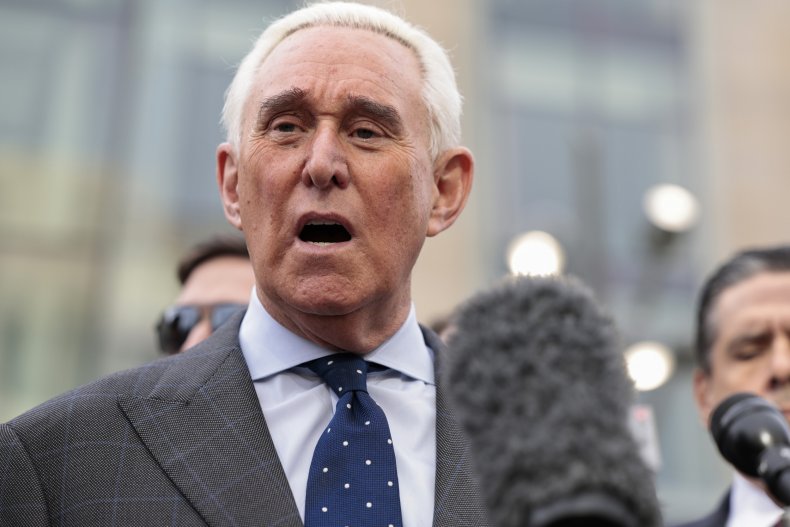 In a statement to Vice about the video, Stone said: "I have no memory or record of any fundraising by or for this person.
"It is possible that somebody commissioned a video on Cameo," he added,
Cameo is an app in which people can pay celebrities and well-known figures to record personalized messages. Stone does have an official Cameo profile and suggests he may have been told what to say in the message, without knowing or being told who Didulo is or what the video would be used for.
Dr. Christine Sarteschi, an extremism researcher who follows Didulo, shared the clip on Twitter while raising the possibility the video is a deep fake—a technological tool that can animate people's faces and mimic voices to make it seem like they are saying words they never said.
In another Telegram message shared by Didulo, the fake Stone profile encouraged people to "donate what you can" to pay for Didulo's tour while promising "I will be matching all donations made."
Stone said that he "certainly never agreed to match any fundraising by any individual or organization," adding "beyond that, I know nothing about this."
Didulo is reported to have raised more than $6,000 after sharing the donation calls from the fake Stone Telegram account, including one person who donated $3,000.
Sarteschi said that while Didulo frequently calls for donations from her devout followers, it is unclear if the QAnon advocate was behind the fake Stone profile plot.
"If she did it, it would be pretty smart," Sarteschi told Vice. "Whoever did it, it was an effort, but whether it was her or someone else, I don't know."
Newsweek has reached out to Stone for further comment.