Roger Stone Suggests Gas Explosion at Florida Warehouse Was 'Drone Strike' Targeting Him
Roger Stone and right-wing radio personality Matthew Erich "Mancow" Muller (known as Mancow Muller) posted a video this week baselessly speculating that Stone had been targeted by a drone strike in Florida.
Stone, a close friend to former President Donald Trump and a well-known conspiracy theorist, has previously described himself as a "dirty trickster." The Trump loyalist has repeatedly pushed baseless claims about the 2020 election and the so-called "deep state." He was pardoned by the former president in December after he was sentenced to 40 months in prison in 2020 for lying to Congress and threatening a witness in connection with the investigation into Russia's meddling in the 2016 election.
"Roger Stone is here with me. We're two doors down from his office. There was a drone strike in America two days ago," Muller claims in the video, which was filmed in front of the site of an Oakland Park warehouse that burned down after a fire caused a gas explosion on Wednesday.
"I'm telling you, this is incredible. Why is this not making major news? I'm in Fort Lauderdale," Muller adds. Oakland Park is a suburb of Fort Lauderdale.
"Roger, do you think you were the target?" Muller asks.
"I don't know. This building is catty-corner from my office. There was an enormous explosion, which is as yet unexplained," Stone responds, pointing at the site of the fire. "Some speculation that it was a drone attack. The valiant fighters in the Broward County fire department got it under control. But it took 24 hours to do so."
Muller then cuts in, saying: "Look at this. Crazy! Drone strike."
Firefighters shared a very different assessment of what had occurred at the Barco Sales & Manufacturing warehouse.
"There were multiple liquid petroleum [propane] tanks exploding due to the heat," Oakland Park Fire Chief Steven Krivjanik said, the Fort Lauderdale-based Sun Sentinel reported. "Even when I arrived, they were [still] exploding all around the street." Firefighters actually got the blaze under control within 30 minutes, not 24 hours as Stone claimed.
Employees of Barco told the Sun Sentinel that the company makes commercial-grade foam furniture. The foam material is highly flammable, which allowed the fire to spread rapidly and cause the explosion of the propane stored in the warehouse.
"The business was a manufacturer of commercial grade Styrofoam that is very flammable. There were some explosions that occurred with liquid petroleum tanks—gas tank—that were going off because of the fire," Krivjanik told Miami-based ABC News affiliate Local 10 WPLG.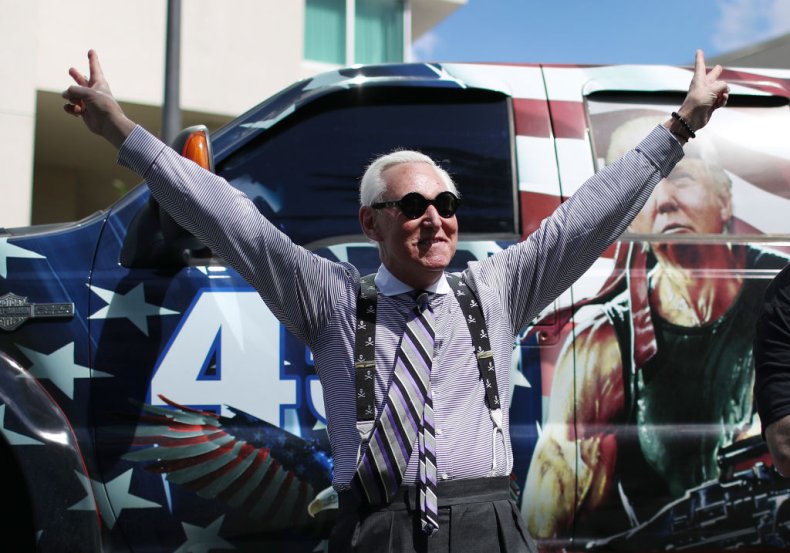 Despite the baseless nature of Muller's and Stone's claims, some on social media quickly believed the story.
"Hmm interesting... if this was some sort of attack, and God forbid it did reach him, would it make the news then as an accident... silly question I know," one Parler user wrote in response to the unfounded claim.
"Not a peep anywhere about this. Not even as much as a coverup?" another Parler user wrote.
Someone else on Parler urged Stone and Muller to "get samples of anything that burnt or has residue on it." The Parler user said that the material should be analyzed for "explosives."
Newsweek reached out to Muller via Twitter and Stone via a media booking form on his social media, but did not immediately receive a response.