Roger Stone Threatens to Sue DOJ, Mueller After Trump Pardon
President Donald Trump's longtime friend Roger Stone threatened to sue the Justice Department, former special counsel Robert Mueller, and a number of other high-profile figures in the wake of his controversial pardon.
Trump formally pardoned Stone on Wednesday evening along with Paul Manafort, the former chairman of Trump's 2016 presidential campaign, and several others. Stone and Manafort refused to cooperate with prosecutors working on Mueller's investigation into Russian interference in the 2016 election. The president previously commuted Stone's 40-month prison sentence in July after he had been convicted on seven counts of witness tampering, lying to Congress, and obstructing the inquiry by the House of Representatives into possible Trump campaign coordination with Russia.
"The terms of my pardon allow me to sue the Department of Justice, Robert Mueller, [former FBI director] James Comey, [former CIA director] John Brennan, [former Deputy Attorney General] Rod Rosenstein , [former federal prosecutors] Josnathan [Jonathan] Kravis , Aaron ' Fat Ass' Zelinsky [former Deputy Assistant Attorney General] Jeanie Rhee and [former federal prosecutor] Michael Morando . [sic]," Stone posted to his Parler account on Thursday morning.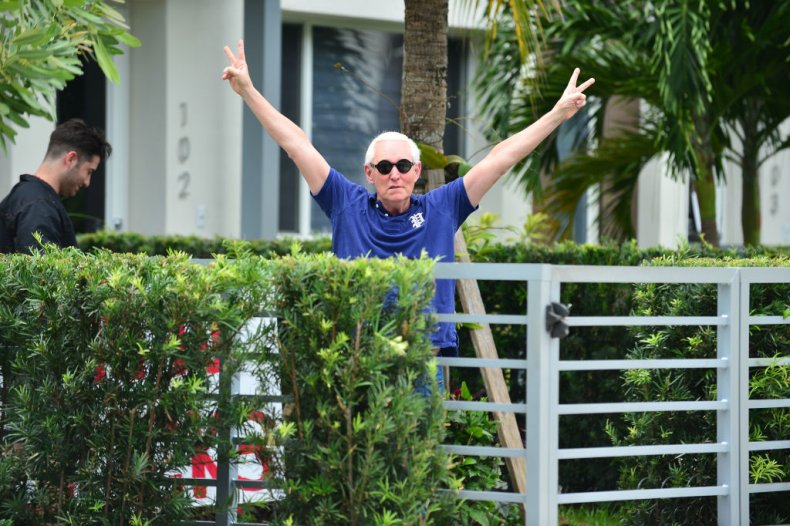 "My lawyers will be filing formal complaints for prosecutorial misconduct's with DOJ office of professional responsibility at the same time I file a 25 million Dollar lawsuit against the DOJ and each of these individuals personally: In fact I am going to add [former Attorney General] Bill Barr to the lawsuit and I will handle his cross-examination personally.. [sic]," he wrote, including a meme of himself that said "suck it deep state."
The Justice Department declined to comment when contacted by Newsweek.
Democrats and some Republicans were quick to slam Trump's decision to issue the Wednesday pardons, which came after a slew of controversial pardons the day before.
Senator Ben Sasse, a Nebraska Republican, released a statement describing the pardons as being for "another tranche of felons like Manafort and Stone who flagrantly and repeatedly violated the law and harmed Americans."
"This is rotten to the core," Sasse said.
"Pardons for Paul Manafort and Roger Stone serve neither justice nor mercy. President Trump is handing out rewards to his co-conspirators and shielding his own conduct from scrutiny," Representative Jerrold Nadler, a New York Democrat, tweeted.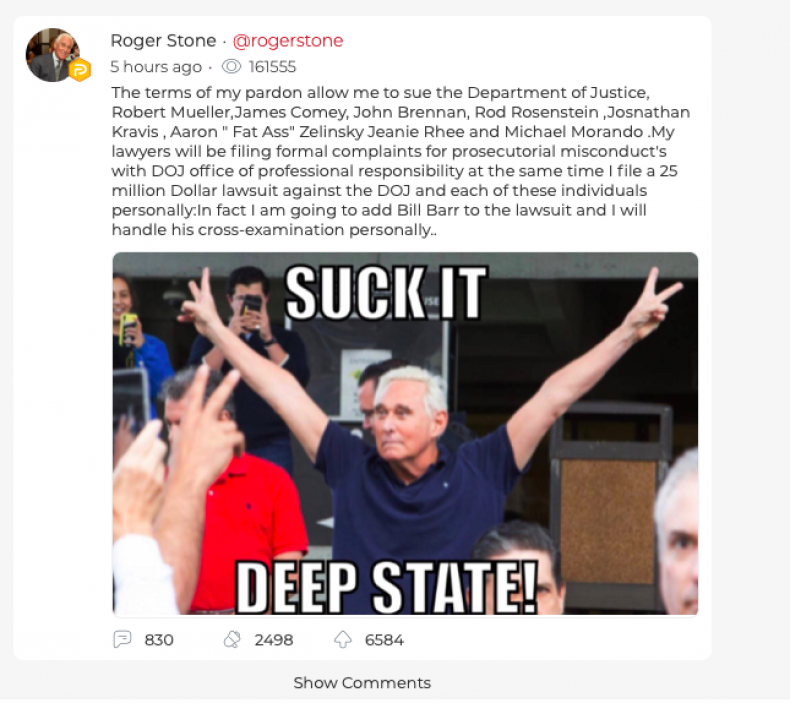 Speaking to Fox News host Tucker Carlson on Wednesday evening, Stone praised Trump's decision.
"I have an enormous debt of gratitude to God almighty for giving the president the strength and courage to recognize that my prosecution was a completely politically motivated witch hunt and that my trial was a Soviet-style show trial in which the judge denied us any powerful line of defense," he claimed.
Mueller's investigation, along with U.S. intelligence agencies, concluded that Russia had interfered in the 2016 presidential election campaign in an effort to benefit Trump. The probe did not conclude that Trump or his campaign conspired with Russia.
Updated December 24, 2020 at 4:12 p.m. ET: The article was updated to note that the Justice Department declined to comment.