Rolls-Royce Redesigns Spirit of Ecstasy Hood Ornament
The Spirit of Ecstasy has been tucked and trimmed ahead of Rolls-Royce's evolution to bespoke electrified automaker. The new design will first be installed on the hood of the company's forthcoming all-electric Spectre sedan.
Rolls-Royce first registered the Spirit of Ecstasy as intellectual property of the company 111 years ago.
"The Spirit of Ecstasy is the most famous and desirable automotive mascot in the world, said Torsten Müller-Ötvös, CEO of Rolls-Royce Motor Cars, in a release announcing the news. "More than just a symbol, she is the embodiment of our brand, and a constant source of inspiration and pride for the marque and its clients."
Spectre is the marque's most aerodynamic product yet. Rolls-Royce's designers set out to refresh the look of the Spirit of Ecstasy hood ornament, which prominently sticks out from the top front of the hood, an effort maximize airflow around the vehicle.
The redesign allows for the Spectre to have a 0.26 coefficient of drag, which makes it sleeker than a Porsche 911. The number was achieved thanks to 830 combined hours of design modeling and wind tunnel testing.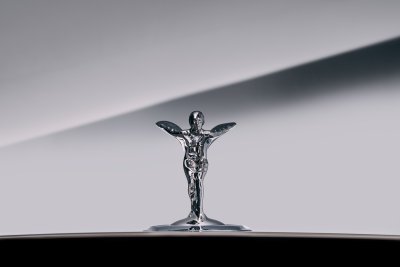 The new figurine is 82.73 millimeters tall, a dash lower than its predecessor's 100.01 millimeters. The robes, frequently referred to as "wings", have been reshaped to be more realistic, a move that brings the overall look closer to the drawings of the symbol's creator, illustrator and sculptor Charles Sykes.
Designers have repositioned the legs. The traditional stance, with the figure's legs together and straight, has been switched for a one-foot forward stance with the body tucked low and head focused on what's ahead.
"Her form perfectly captures the marque – she leans forward, expressing our relentless pursuit of progress, and her dress gracefully flows in the wind, echoing the serenity of our products in motion," said Anders Warming, director of design for Rolls-Royce Motor Cars. "For Spectre and beyond, she becomes lower and more focussed; braced for unprecedented speed and the exciting future her presence will define."
The current Spirit of Ecstasy will continue to be used on Phantom, Ghost, Wraith, Dawn and Cullinan and their Black Badge variants for the time being.
First deliveries of Spectre are expected to happening the autumn of 2023. Rolls-Royce will also move to electrify its complete portfolio, which currently includes Phantom, Wraith, Ghost, Dawn and Cullinan, by 2030, shedding its signature W12 power plant.