One of the biggest stories in the WWE last year had nothing to do with what was going on in-ring.
Joe Anoa'i, better known to WWE fans as Roman Reigns, faced a very real battle with leukemia recently. It was a fight Reigns had won before, but the disease returned for a rematch. It would be six months before Reigns would return in time for WrestleMania 35 and this week's SmackDown Live marked Roman's return to Providence, Rhode Island, the city where he announced he had to step away from wrestling to get treatment last year.
Newsweek caught up with Reigns to talk about getting back to the grueling schedule of the WWE, his current feud with Shane McMahon and being able to have fun in the ring again.
Note: This interview has been lightly edited for clarity and length.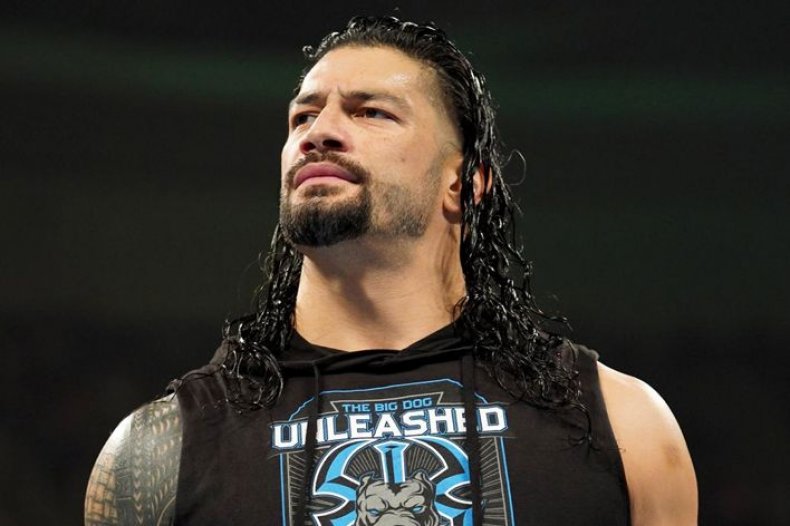 It's been almost two months since your in-ring return at WrestleMania 35. How are you feeling going back to the WWE schedule?
I feel good, man. I feel blessed. To be able to go through this past month pretty slowly, it's an endurance war. European tour, television - this is my third television show this week - and I have plenty of other stuff going on this week. But to be where I'm at I really feel extremely fortunate, and it's cool. I'm not going to lie, I'm a little tired getting to the end of this week but it's been a hectic couple of weeks. It's been really nice to be back around so many of my loved ones and co-workers that I have a good relationship with. To be around them and to be present, it feels nice.
Since Vince McMahon brought the "Wild Card Rule" into effect, you've been pulling double duty every week. That can't be easy.
It's not easy. It's tough work. It takes special people to do this kind of stuff. I'm cut from a different fabric. I've always been someone who can handle this type of workload. To be honest, I feel good. We're all human and we all want to feel needed. If I'm here to help the team and that's my role, then that's what I'm going to do. I was out so I wanted to get back and help the team. So if that's what's needed out of me I'll do everything to the best of my ability to get the job done.
I've noticed that since your return you've looked more comfortable on the mic, interacting with the crowd and adding more of Joe into your character. What do you credit for that?
I have a new perspective and also just the experience. Not just the wrestling experience from doing this for years, but just the experience of the last year. It relaxes me and reminds me that when I go through those curtains, man, what an opportunity. What a blessing to be able to do this. I would have been happy to sit in a cubicle and provide for my family and live my life and provide a future. But I get to do this job, I get to be a WWE superstar, a performer for people who are passionate about my art form. I just have to continually keep that perspective and when I walk through that curtain that reaction and that energy hits "Joe" a lot. It just is what it is. No matter how much you want to stay in the character you feel it no matter what. I'm just enjoying myself and I'm appreciative of every night and every morning I get to do this. It's a blessing regardless of what you've been through. If you get to do this job or anything like it it's very cool.
Before you had to step away you were the Universal Champion and before that you were always wrapped up in a storyline for a title. But you haven't been since your return, has that made your transition back easier?
I'm just having fun, man. I'm just enjoying being able to create whether it's for a championship or whatever. Getting to the top of the mountain, that's an awesome story to tell. But with every opportunity to tell a story with a different character I get to mix it up with I have an opportunity to create something new or make something original. I don't want to hit that same chord over and over, but it's neat because when you sit at home you think about a lot of stuff and it makes you think about the little things and just to be able to strap up my boots, get taped up, gear up, put the vest on, wet up and go out there those are the little things I'm going to be appreciative of.
It's not really about the titles. I've been fortunate to tell that story and I'll love to tell it again if I'm needed in that situation, but what's cool is to be able to do different stuff. To be able to chop it up with Elias, an up and coming guy, being able to help different people and change it up a little bit is pretty cool.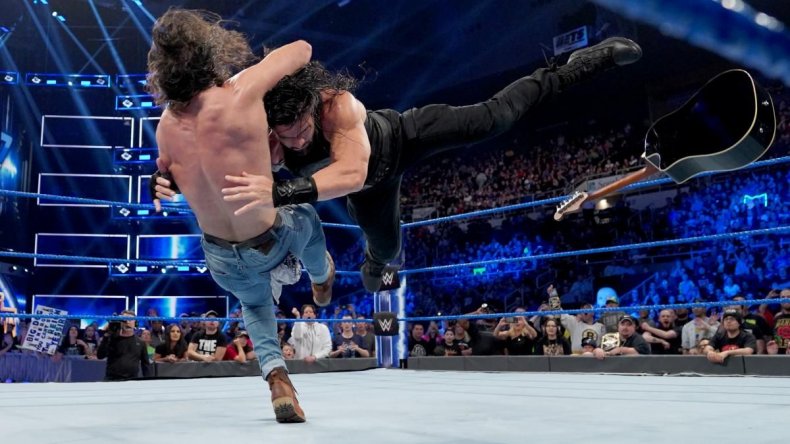 Having Seth Rollins and Kofi Kingston holding the top belts must make it easy for you to just go out there and have that fun, right?
Just to be able to have people to rely on, people you trust. People that can take a huge cut of that plate and cut it in half. We call these guys workhorses for a reason and that's why they're in the spot that they are. Kofi, it's been 11 years, we all know the story and we're compelled by it and to be able to see that is so inspiring.
And Seth as well. He's a journeyman, he's been all over the world, he's done his thing and worked so hard to get there again and to be able to see these type of guys, the top performers in the world go at it every single night, it puts a whole new paint job on the title scene. I couldn't be more proud of those guys and extremely happy as well. With everything that happened with me it created a few opportunities and those guys seized the moment. You have to give a lot of respect to guys who see that ball on the ground and pick it up. I'm super happy, and proud and thankful for them.
Your current storyline involves Shane McMahon. You're no stranger to facing off against the Authority and the McMahon's but what makes this different?
I love it man. Shane is an authority figure but like I said Monday night he's a spoiled rich kid. He's out here trying to play with his dad's toys. It's funny to me, it's not being in there with Vince or with Stephanie he's a different character and we've all known that dude in high school. In your head you're just like "screw this guy." He may have thrown the party but he's the biggest douche in the room. That's what's cool, that character and we're able to do that and we're able to connect with that. But for me it's fun because I did this, I grinded for mine. The way I feed my children I clocked in every single day, I sacrificed and been away for a long time. So it's a completely different character that I'm going up against so I think that's cool.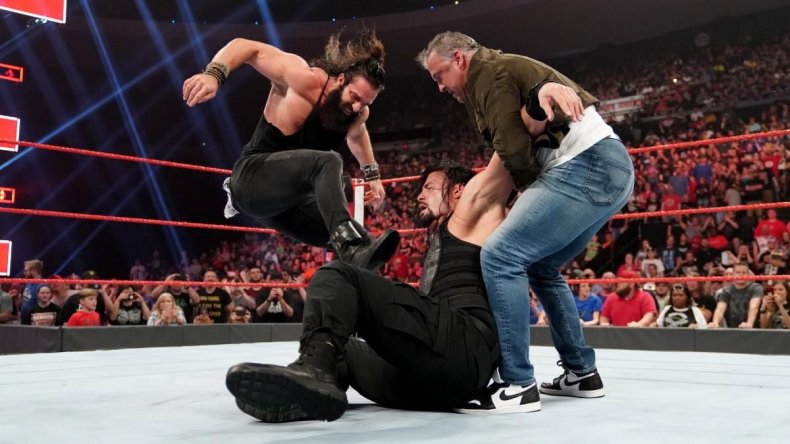 It's been announced you will take on Shane at Super Showdown in Saudi Arabia. A lot has been said about the WWE's involvement with Saudi Arabia. What is your stance?
It gets a lot of mixed and negative reactions. The bottom line for me is, if we're going to help promote change, if we're going to set out to make an impact than I have to be a part of it. I'm not going to sit on the sideline and talk about how we can get there. I want to be a part of the action. I look at it as being a part of the solution while still respecting cultures, but it's a big world and I want to experience all of it. So if we can help make a positive impact that's what we're here to do. We're here to put smiles on everyone's faces. We don't discriminate, that's our goal to help and promote positivity and take that to every inch of the world.
SmackDown is moving to Fox this fall. How's it feel being the poster boy for the move?
It feels good, but there's a lot of responsibility and there's going to be a lot on my plate. I take that responsibility very seriously and it's going to be a great opportunity not just for me but for other superstars and the company. We're going to get to show what we do at a very high level and why we've done it for so long at that elite level that no one else can compete with so for me I'm extremely proud because I can't wait for that. It's going to be a huge jump for us a lot of eyes on us that's also just sports entertainment.
Catch WWE Superstar Roman Reigns every Tuesday night on SmackDown Live at 8/7C on USA Network.
Uncommon Knowledge
Newsweek is committed to challenging conventional wisdom and finding connections in the search for common ground.
Newsweek is committed to challenging conventional wisdom and finding connections in the search for common ground.
About the writer
Phillip Martinez is a game and culture reporter for Newsweek. Prior to joining Newsweek in 2018, he was a reporter and editor for iDigitalTimes and Player.One. A Bronx native, he graduated with his Bachelor's degree in Journalism from St. John's University in 2010. An avid Nintendo fan and wrestling mark, he's always looking to become a Pokémon Master while fantasy booking this year's WrestleMania. You can contact him at p.martinez@newsweek.com