WWE's Roman Reigns Returns to Monday Night RAW to Give Update on Leukemia Battle
Former WWE Universal Champion Roman Reigns is set to return to WWE's Monday Night RAW to address his battle with Leukemia.
Reigns - real name Joe Anoa'i - left the WWE on an October 22 episode of Monday Night RAW in an unplanned segment to start the show, where he broke kayfabe and told the live crowd that his cancer has returned and that he would have to relinquish the title he won in August. The WWE Superstar was in remission since 2008.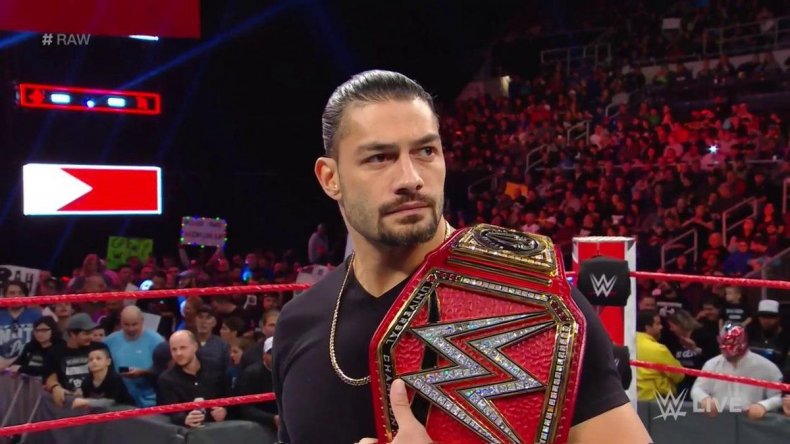 Since then Reigns has been out of the spotlight, only giving short updates on his health via social media. It was revealed in January that Reigns would have a role in the upcoming Fast and Furious spin-off, Hobbs and Shaw, where he will play Luke Hobbs' (Dwayne "The Rock" Johnson) brother.
When Reigns made his announcement in October, he assured the WWE Universe it wasn't a retirement speech and that he expects to win this battle and return for the title. He also wanted to raise awareness and funds for research in order to advance cures for the disease.
Following the announcement, Brock Lesnar would win the vacant Universal Championship at the Crown Jewel pay-per-view in Saudi Arabia in a match against Braun Strowman. Lesnar has held the title since.
Lesnar and Reigns have a long history in the ring, most notably at WrestleMania 31 when the two squared off for the WWE Championship. In that match, Reigns took Lesnar to the limit but it was Seth Rollins cashing in his Money in the Bank contract and making the match a Triple Threat that stole the headlines. Rollins would pin Reigns and become the WWE Champion.
What Reigns will announce on Monday is anyone's guess, but with WrestleMania 35 around the corner and his former SHIELD brother Seth Rollins set to take on Brock Lesnar for the Universal Championship, this could be part of that angle. Just four years after that fateful California night, these three could be on a collision course once again.
WrestleMania 35 is set for April 7 at MetLife Stadium in New Jersey.
What are you anticipating from Roman Reigns' announcement on Monday? Do you want him involved in the Seth Rollins and Brock Lesnar angle? Let us know in the comments section below.