Ron DeSantis Accused by Surfside Building Victim's Mother of Not Doing Enough as Death Toll Rises to 9
A distraught mother with ties to victims from a deadly condominium building collapse in Surfside, Florida, accused Republican Governor Ron DeSantis of not doing "enough" to account for over 100 people who still remain missing.
"It's not enough," the woman told DeSantis at the Grand Beach Hotel in Surfside on Saturday, according to Local 10 News. "Imagine if your children were in there. You are going to leave here and you are going to take a nice picture. I know you are doing everything you can, but it's not enough."
The mother was among several relatives of victims who began sobbing on Saturday when officials announced that additional human remains had been found in the collapsed debris.
Champlain Towers South, a 12-story oceanfront condo, partially collapsed before dawn on Thursday when large sections began to crack and crumble, leaving several residents trapped and unaccounted for. Several survivors recounted the building violently shaking around 2 a.m., before they were forced to flee through piles of rubble and concrete.
Search and rescue teams have been sifting through the wreckage for days, as 156 people still remain missing. By Sunday morning, the official death toll from the incident rose to nine, with only four victims so far identified. Those identified include Stacie Dawn Fang, 54; Antonio Lozano, 83; Gladys Lozano, 79; and Manuel "Manny" LaFont, 54.
"As a father, Governor DeSantis sympathizes with the devastating pain these families are feeling as they await news about their missing loved ones. Any of us would feel the exact same way in this tragic situation," the governor's office said in a statement to Newsweek Sunday.
"Miami Dade County has some of the best First Responders in the world. They responded within minutes of the collapse and their rapid response saved lives. They've continued for the last 3 days around the clock, in dangerous conditions, to find the missing," the statement added.
DeSantis declared a state of emergency in Miami-Dade County on Thursday, as authorities continue to search with dogs and sonar and video cameras in an attempt to find possible survivors.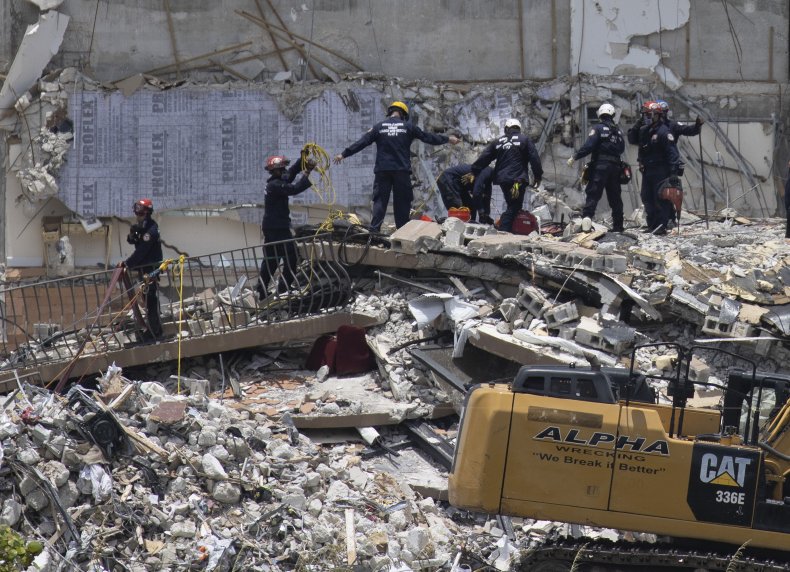 Though it is not immediately clear what caused the building collapse, a 2018 report that previously flagged "major errors" and structural damage within the building came to light on Friday. The report noted that the building had an inadequate water drainage system on its pool deck, and several residents have previously spoken out about water damage and leaks.
In response to the collapse, Miami-Dade Mayor Daniella Levine Cava has ordered an immediate audit of all buildings in Miami-Dade County that are older than 40 years and taller than five-stories-high, as well as those built by the same developer that constructed Champlain Towers, the Miami Herald reported.
"We want to make sure that every building has completed their recertification process," she said. "We want to move swiftly to remediate any issues that may have been identified that process."
As first responders continue to search for missing individuals, Levine Cava said authorities are having "very frank conversations" with families about the possibility of finding no more survivors.
"The firefighters and others who've briefed them are very direct about the situation, that we are continuing to search. We do continue to hope that we find people, but certainly they're aware that we're finding remains and even that we're finding body parts so they're preparing for that," Levine Cava told the Miami Herald.
Updated 12:00 p.m. ET, with a comment from DeSantis' office.