Cuban American protesters shut down a section of the Palmetto Expressway in Miami on July 13 to demonstrate unity toward the civil unrest that's currently taking place in Cuba.
"We said, 'We have to stop, and we have to stop on the Palmetto. That's where we're going to get the attention for the people," a protester said.
"These are Cuban Americans. These are Cubans. People are suffering on the island. They're dying, and it's not because of COVID. They're dying because they're killing them, and for the first time in 60 years, that island has flipped upside down. They said that Camaguey has been taken over by the Cuban people."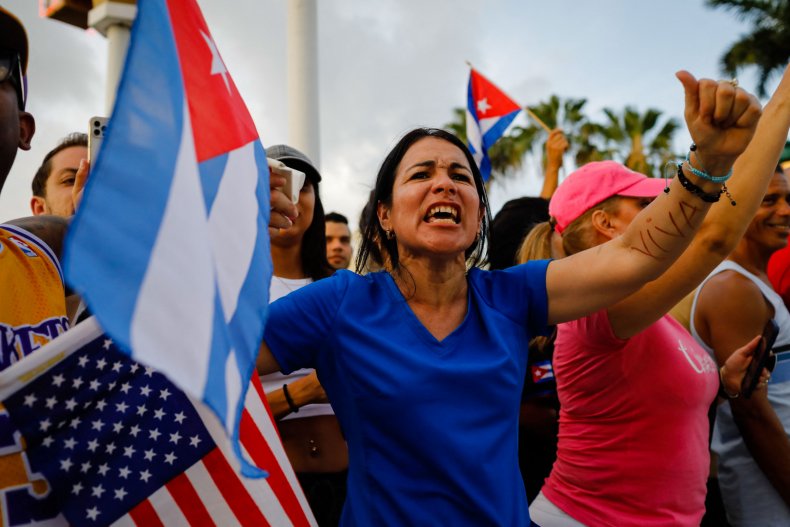 On April 29, Florida Governor Ron DeSantis signed an "anti-riot" bill into law in the wake of civil unrest that took place with George Floyd in 2020. The bill states that protesters could be arrested if a gathering could be considered a riot. Also, it deems blocking a freeway a felony and gives full immunity to persons who drive through protesters that are blocking a roadway.
DeSantis received a considerable amount of pushback from Democrats who felt that the bill was unfair and targets black and brown communities disproportionately.
Upon signing the bill, DeSantis stated that the bill is needed to protect Florida residents on the road.
"Just think about it: you're driving home from work and all of the sudden, you have people out there shutting down a highway. We worked hard to make sure that didn't happen in Florida," said DeSantis. They start to do that, there needs to be swift penalties."
Additionally, the bill protects monuments from being torn down in Florida by protesters.
"We also saw around the country people toppling monuments of people like George Washington," DeSantis said. "This bill protects all monuments in Florida. You have no right to go in and take down monuments. We're not going to let the mob win the day with that."
During the protests, there weren't any arrests made and the Miami-Dade Police Department redirected traffic for the protesters. This set off a firestorm on Twitter in relation to the treatment of Black Lives Matter protesters.
Representative Anna Eskamani commented on a tweet DeSantis posted in support of the protesters in Cuba, calling him the governor who pushed legislation that's a "means to silence racial justice protests."
Biblical scholar Wil Gafney noted that she doubted those protesting in Florida would face felony charges, as the law makes possible. However, she suspected it would be different if Haitians or BLM protesters of "any race" were in the same situation, writing on Twitter, "that's who the law was written for."
Olee Fowler, a writer at Eater, also believed people would have been arrested if it was a BLM protest.
When asked about the Cuban American protesters blocking the road, instead of addressing how the law would be applied, DeSantis turned attention to the protesters in Cuba. The Miami Herald editorial board criticized DeSantis' response, noting that the question highlighted the hypocrisy of the law that's arbitrarily enforced.
"Honestly, we would have been more impressed if he had just responded: 'Nah, the Miami-Dade demonstrators seeking human rights in Cuba have nothing to fear from my anti-riot law. We created it to subdue Black folks seeking human rights in the United States,'" the editorial board wrote.
While DeSantis had little to say about how the law would apply, the Miami-Dade Police Department acknowledged the protesters blocking the roadway was "unacceptable and illegal" and said officers were "enforcing traffic laws to ensure the flow of traffic."
Update 7/14/21- 10:00 AM - This story has been updated with additional comments.