Ron DeSantis' level of support from Republican primary voters has nearly halved since the end of March, with the decline accelerating over the past week, according to an aggregation of polling figures produced by the RealClearPolitics website.
On March 30, 30.1 percent of GOP primary voters wanted the Florida governor to secure the 2024 Republican presidential nomination, versus just 15.7 percent on August 6. During the same time period, Donald Trump's support with the same voters increased, from 45.9 percent to 53.7 percent.
Since launching his presidential bid in May, DeSantis has struggled to gain ground on his chief rival, raising the prospect of a rerun of the 2020 contest between Trump and Joe Biden. Trump has been indicted three times and faces a range of criminal charges related to his alleged payment of hush money to a porn star; mishandling of classified documents; and efforts to overturn the 2020 election result. He has pled not guilty to all charges, and has consistently said that the allegations against him are politically motivated.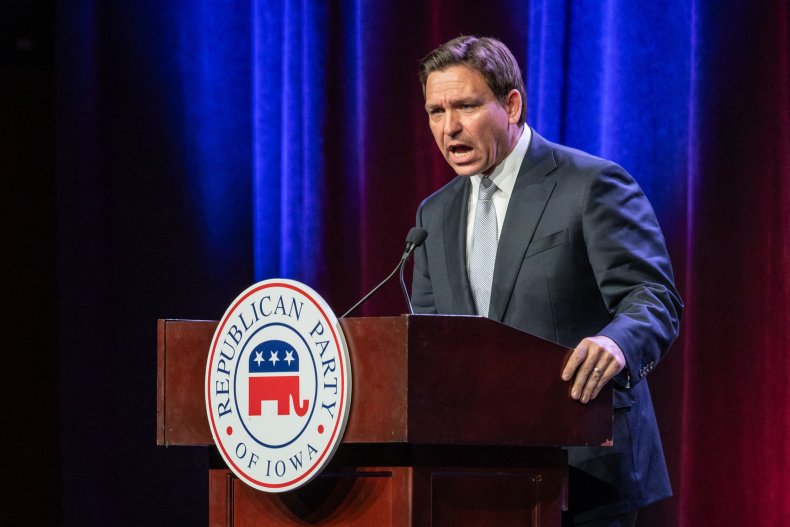 In the week ending August 6, the proportion of GOP voters wanting DeSantis to represent the party in 2024 fell by 2.8 points, from 18.5 percent to 15.7 percent. This was a significant acceleration on the previous week, when the Florida governor's backing fell by 0.8, from the starting point of 19.3 percent on July 23.
Newsweek has contacted the Ron DeSantis campaign for comment via email.
The RealClearPolitics data is created by aggregating those polls the company deems reliable, then adjusting for weighting and date conducted.
The data over the past couple of weeks has found that businessman Vivek Ramaswamy has pulled firmly ahead of Mike Pence in the battle for third place. He beat the former vice-president on August 6 by 6 percent of the Republican vote to 5.1 percent.
On Sunday, DeSantis was confronted with large signs supporting Trump when he addressed a Republican barbecue in Cedar Rapids, Iowa.
The previous day, Trump supporters mocked DeSantis on social media after photos showed a significant number of empty seats at a meet-and-greet he hosted in Tama, Iowa.
On X, formerly known as Twitter, Trump political adviser Steven Cheung commented: "Tiny crowd for Ron DeSantis in a livestock auction venue. Nobody is buying what that heifer is selling."
DeSantis also received a backlash from prominent Trump supporters after appearing to reject claims that the 2020 presidential election was stolen on Friday.
The Florida governor stated: "I've said many times, the election is what it is. All those theories that were put out, did not prove to be true.
"It was not an election that was conducted the way I think we want to, but that's different than saying, like, '[Venezuelan President Nicolás] Maduro stole votes' or something like that," DeSantis added. "I think those theories, you know, proved to be unsubstantiated."
Following the 2020 election, which Trump still refuses to concede, despite the result being upheld over multiple legal challenges, some of the then-president's supporters falsely suggested polling machines had been hacked by Venezuela.