Fox News Host Struggles To Find DeSantis Supporters: 'I'm Taking Trump'
A video of a Fox News host struggling to find conservatives who support Florida Governor Ron DeSantis over former President Donald Trump has gone viral on social media.
Fox News' Brian Kilmeade hosted Tuesday's episode of Fox and Friends from a restaurant in Ponte Vedra Beach, Florida, and was speaking to diners during the show.
Before cutting to an ad break, he attempted to gauge their feelings toward the 2024 presidential election.
While Ron DeSantis has not officially declared he is running, many conservatives have suggested he would make a great new Republican candidate.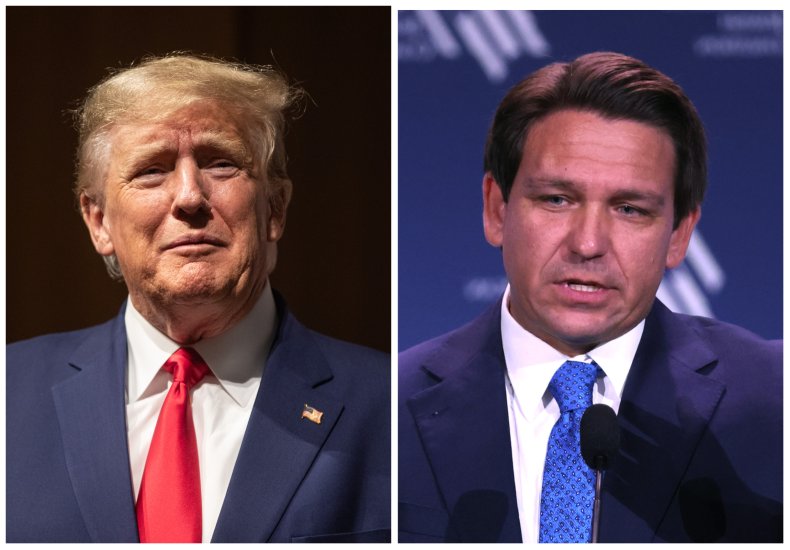 The clip was posted by Alex Bruesewitz—CEO of the consultancy company X Strategies which helps elect conservative candidates—on Twitter on Tuesday night. It has been viewed more than 700,000 times so far.
He captioned the clip: "WATCH: Fox's Brian Kilmeade Has To SEARCH A Florida Diner To Find a Single Person Who Supports DeSantis Over Trump for 2024 — And Even She's On The Fence. 😂😂"
Kilmeade asked the diners: "All right. 2024, who is pumped up for the election?" and received cheers from the people around him.
He then began speaking to individuals sitting at their tables and asked who they support.
One man said: "My man Donald Trump." Another said: "I'll take Trump." Two women said, "Donald Trump and Nikki Haley."
While noting the support for Trump, Kilmeade then walked up to a woman who was wearing a DeSantis t-shirt.
The woman in the shirt said she liked the idea of the governor running for president but when asked who her pick was, she replied: "Trump or DeSantis, I'm either or. I'm in the middle."
According to a Reuters/Ipsos public opinion poll conducted between February 6 and 13, Donald Trump would beat out DeSantis in a potential 2024 election bid. The poll saw Trump command 43 percent of the votes, while DeSantis only secured 31 percent of the votes surveyed among 1,465 registered Republicans. The voters were part of a larger sample of more than 4,000 adults nationwide, according to a Reuters report.
Donald Trump has previously been critical of Ron DeSantis on his social media platform, Truth Social. Trump has also mocked DeSantis with the nickname "Ron DeSanctimonious."
He has held polls online to show he was the favorite to become the next president over DeSantis.
Speaking to Fox News' Jesse Watters, DeSantis dismissed the criticisms from Trump and called his remarks "background noise."
The host attempted to get DeSantis to confirm his presidential bid.
The governor replied: "We just won a big re-election victory. I made a lot of promises. We are going to deliver on those promises."
Reflecting on Trump's comments, DeSantis said: "You know, he used to say how great of a governor I was. And then I win a big victory and all of a sudden, he had different opinions, so you can take that for what it's worth.
"At the end of the day, one of the reasons I've been successful as governor is I don't really pay attention to a lot of the background noise.
"I mean, he is obviously a big fish, but I get attacked all the time from every different angle and you either put points on the board or you don't. And so I just focus on delivering the wins and I think we have done a pretty good job of following through on our promises."
Newsweek has contacted Ron DeSantis and Donald Trump for comment.