Ron DeSantis Dismisses Donald Trump's Attacks As 'Background Noise'
Florida Governor Ron DeSantis refused to be drawn into a war of words with his potential 2024 GOP presidential primary rival Donald Trump when asked about the frequent attacks against him.
During an interview with Fox News' Jesse Watters, DeSantis described the constant criticism he has received from Trump as "background noise" which he has ignored while focusing on his job as governor.
On Tuesday night's episode of Primetime, Watters said that DeSantis is "obviously running for president" and attempted to get him to confirm.
DeSantis swerved the question and replied that he is "proud of what we have done in Florida."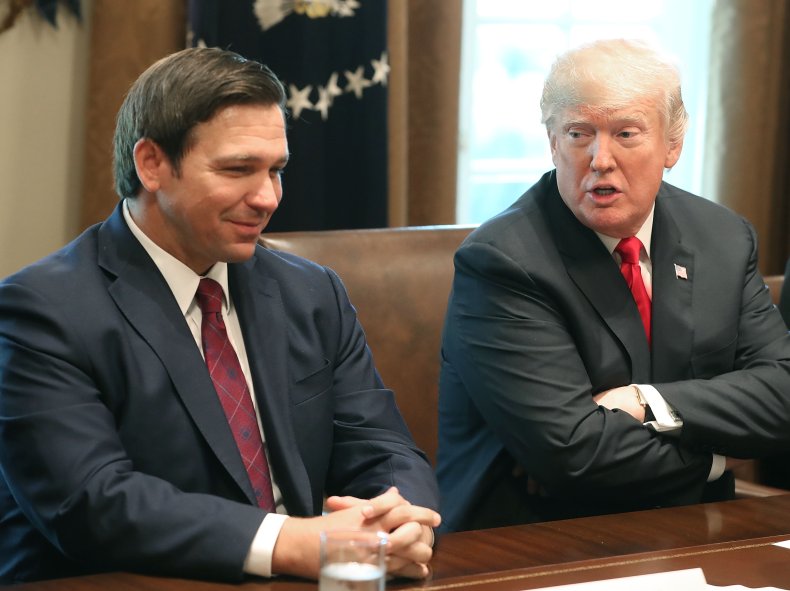 "We just won a big re-election victory. I made a lot of promises. We are going to deliver on those promises," DeSantis added.
Watters told DeSantis that Trump is "definitely thinking about you" because of the constant insults and suggested that a "collision is coming" should the Florida governor confirm he is running for president.
In response, DeSantis said: "You know, he used to say how great of a governor I was. And then I win a big victory and all of a sudden, he had different opinions, so you can take that for what it's worth.
"At the end of the day, one of the reasons I've been successful as governor is I don't really pay attention to a lot of the background noise.
"I mean, he is obviously a big fish, but I get attacked all the time from every different angle and you either put points on the board or you don't. And so I just focus on delivering the wins and I think we have done a pretty good job of following through on our promises."
DeSantis has long been thought to be the main challenger for Trump for the next GOP presidential candidacy, with many Republican figures and donors believing the governor should lead the party in 2024.
Just like he did in 2016, Trump is already attacking his GOP presidential rivals, with DeSantis, whom he once considered a close ally, his main target.
As well as trying out the new nickname "Ron DeSanctimonious," Trump has frequently posted polls online which showed the former president heavily beating DeSantis, suggested the governor wants to cut Medicare and Social Security, and even shared a message on Truth Social that insinuated DeSantis groomed teenage girls when he was a teacher.
DeSantis has yet to retaliate to the attacks amid reports he will soon confirm his 2024 bid.
When asked to reply to Trump's Truth Social post suggesting the governor behaved inappropriately around students when he was a teacher, DeSantis replied: "I don't spend my time trying to smear other Republicans."
Trump continued his attacks on DeSantis, as well as Fox News, in a post on Truth Social on February 27.
"FoxNews is promoting Ron DeSanctus so hard and so much that there's not much time left for Real News. Reminds me of 2016 when they were pushing 'JEB' [Bush]," Trump wrote.
"The new Fox Poll, which have always been purposely terrible for me, has 'TRUMP Crushing DeSanctimonious,' but they barely show it."
Trump has been contacted for comment.