Ron DeSantis Has Laid Down the Gauntlet to Donald Trump
While still not officially in the 2024 race for president, Florida Governor Ron DeSantis has been openly challenging his potential key GOP rival, Donald Trump.
DeSantis recently held a three-day event at the Four Seasons Resort Palm Beach, just a few miles away from Trump's Mar-a-Lago resort, which was attended by a number of longtime supporters and financial backers of the former president.
According to Politico, those who attended the retreat included Mick Mulvaney, Trump's acting White House chief of staff who left the administration in the wake of the January 6 attack, Trump-endorsed former Arizona Senate hopeful Adam Laxalt and Roy Bailey, a Texas GOP donor who helped lead Trump's campaign finance committee.
Other high-profile Republican names who were present at DeSantis' event include Wisconsin Senator Ron Johnson, a staunch Trump ally.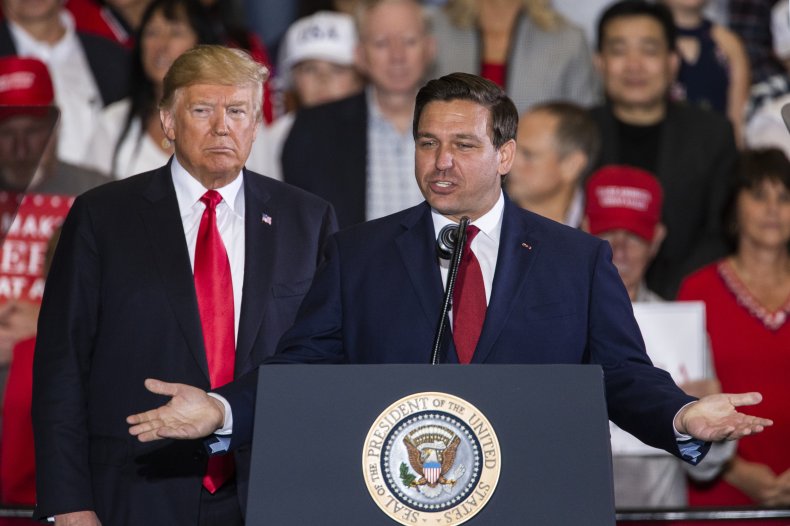 DeSantis' gathering, featuring top Trump donors, came days after the Florida governor embarked on what was essentially a mini national campaign tour to speak to police unions in Illinois, Philadelphia, and in the former president's hometown of New York.
The tour was billed as DeSantis supporting law and order with police officials, as well as showing how he has been tough on crime in Florida during his time as governor.
Michael Binder, professor of political science at the University of North Florida, said that while an official announcement hasn't been made yet, DeSantis has been laying the groundwork for his 2024 campaign for "months and months," with his recent "thumb in the eye" event in Palm Beach being a prime example of this.
"All potential candidates for national office need well-heeled donors to fund the exorbitantly expensive process of running for president," Binder told Newsweek.
"Those donors do tend to have general partisan leanings, and no, those folks don't grow on trees. So it makes sense that the crop of '24 candidates, such as DeSantis, will be dipping into a pool that has previously supported Trump.
"South Florida is chock full of wealthy donors, Mar-a-Lago isn't a lone oasis of wealthy residents," Binder added. "All that said, the optics of this can be interpreted as a thumb to the eye of Trump. And while this is still a cold war version of a campaign, at some point these two will have to have direct interaction."
DeSantis has long been thought as Trump's main rival in the upcoming GOP presidential primary, with calls for the Florida governor to replace Trump as the de facto leader of the GOP growing in the wake of the midterms and rising speculation the former president may be indicted in one of several criminal investigations into him.
Trump is well aware of the threat of DeSantis and he has frequently attacked and insulted his one-time close ally, including by sharing polls online that show the former president well in the lead with regards to who should be the GOP's 2024 candidate.
Trump even pointed to the relatively small attendance at DeSantis' speech to law enforcement at the Privé catering hall in Staten Island in New York—a venue which holds 140 people—to dismiss his apparent rising popularity.
"Big buildup, lots of money spent, yet only 139 people showed up for DeSantis in Staten Island," Trump wrote on Truth Social.
"Fox News is disappointed that his Polls are crashing. [Former House Speaker] Paul Ryan very unhappy. He's a RINO in disguise, that's why! This is 2016 all over again."