Donald Trump Mocks Ron DeSantis Over Crowd Size in Staten Island
Former President Donald Trump has launched another attack on his potential main 2024 GOP primary rival Ron DeSantis, mocking the Florida governor for the relatively small attendance at a police union event in New York.
On Monday, DeSantis began his three-state tour discussing more support for law and order with police officials at the Privé catering hall in Staten Island.
DeSantis, who has yet to confirm he is running for president in 2024, met other law enforcement and union officials during his mini-tour at Fort Washington, a Philadelphia suburb, and in Elmhurst, Illinois on Monday.
The event in Staten Island was hosted by the New York State Fraternal Order of Police and began at 7:30 a.m.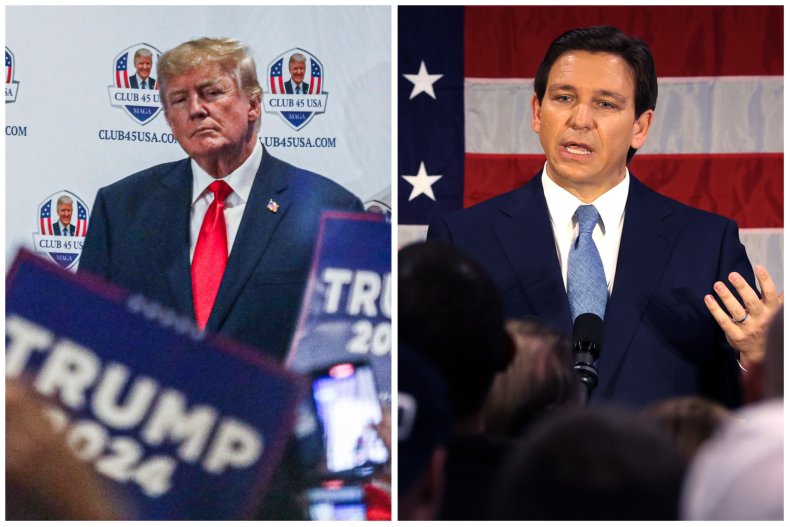 Despite it not being an official public campaign rally for the Florida governor, Trump still mocked DeSantis for the size of the crowd who came to see him talk.
"Big buildup, lots of money spent, yet only 139 people showed up for DeSantis in Staten Island," Trump wrote on Truth Social.
"FoxNews is disappointed that his Polls are crashing. [Former House Speaker] Paul Ryan very unhappy. He's a RINO in disguise, that's why! This is 2016 all over again."
The former president made a similar statement while speaking to a crowd of his supporters at the Trump 45 Club in West Palm Beach, Florida, on Monday.
"Ron DeSanctimonious had a crowd on Staten Island today. 139 people on Staten Island. We've got a lot of people. We've got 139 times 30," Trump said, reported website Florida Politics.
The catering hall seats "up to 140 guests," according to Privé's Facebook page. Newsweek has contacted DeSantis' office for comment.
During his presidency, Trump frequently made references to crowd sizes at his public events, often exaggerating and inflating their actual sizes.
Trump repeatedly claimed that his 2017 inauguration was the most attended of any president's, despite photos proving otherwise.
During his speech to law enforcement officials in Staten Island, DeSantis touted how he has been tough on crime in Florida, while also criticizing New York's bail reforms as well as the process of determining whether a suspect is a threat or not.
"You apprehend a criminal, bring them in and then they just release them," DeSantis said, via WABC. "So you've got to risk your life again two weeks later to arrest the same guy all over again. How does that make any sense?"
On Monday morning, DeSantis spoke to Fox and Friends from Staten Island and dismissed the criticism he has received from potential 2024 GOP primary rivals, which also includes former South Carolina Governor Nikki Haley and former Maryland Governor Larry Hogan
"If you're an officeholder and you're just sitting there twiddling your thumbs and not getting anything done, no one ever says anything. You can kind of just fly under the radar," DeSantis said.
"But when you're out there leading, when you're out there setting the agenda—not just for Florida, but really for the nation which we've done over the last few years—people see that and the people that don't necessarily like that are going to respond accordingly," DeSantis added.
"But I can just tell you, if people are not firing at me, then I must not be doing my job. And so I view it really as positive feedback."