Trump Trounces 2024 GOP Rivals With Massive Double-Digit Lead: New Poll
In the midst of Republicans jumping into the race for presidency, former President Donald Trump is trouncing other potential 2024 rivals by double digits, according to a new Fox News poll.
According to the poll conducted from February 19-22, Trump is leading the pack of potential Republican candidates. He is up 15 percent over Florida Governor Ron DeSantis, who has not yet announced any plans to run, and 36 percent over former South Carolina Governor Nikki Haley. The poll, which surveyed 1,006 registered voters, did not show its margin of error.
Other notable GOP politicians mentioned in the new poll are former Vice President Mike Pence with 7 percent of the vote, while Texas Governor Greg Abbott and former Wyoming Representative Liz Cheney both have 2 percent of the vote.
Haley, along with entrepreneur Vivek Ramaswamy, have officially declared their candidacy for 2024. Last week, Ramaswamy announced that he is "committed to ending affirmative action & abandoning climate religion" as part of his campaign.
On Sunday morning, Haley stressed her foreign aid plans if she were to become president and tweeted, "As president, I'll make sure not one cent of American taxpayer dollars go to enemies who hate America and actively work to hurt and kill us."
Meanwhile, Trump has noted the importance of immigration, Big Pharma, and "ending foreign wars." The former president has also remained critical of President Joe Biden for his eagerness to aid Ukraine in its ongoing fight against Russia.
Echoing earlier sentiments, Trump on Truth Social said on Saturday, "This is the most dangerous time in the history of our Country. World War III is looming, like never before, in the very dark and murky background. 'Leadership' is solely responsible for this unprecedented danger to the USA, and likewise, the World. HOPELESS JOE BIDEN IS LEADING US INTO OBLIVION!!!"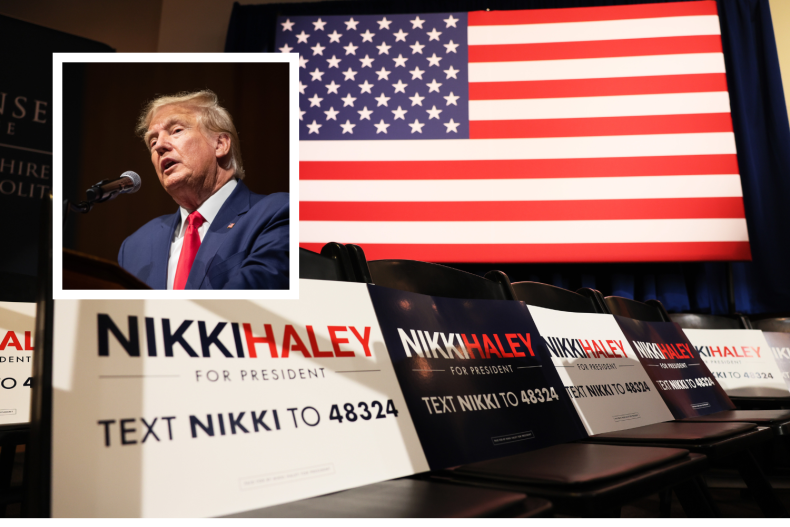 Newsweek has reached out to the Republican National Committee (RNC) for comment.
Political analyst Craig Agranoff told Newsweek on Sunday, "As of the present moment, it is quite likely Trump would receive the GOP nomination, however it is too early to make a serious prediction. I think former President Trump has a lot of options for VP including Nikki Haley and [Senator] Tim Scott."
When asked when Americans can expect DeSantis to announce his candidacy for president, Agranoff said, "It is still relatively early in the 2024 election cycle, and many potential candidates may be waiting to see how the political landscape develops before making any formal announcements."
The political analyst added: "Governor DeSantis may be waiting for a more opportune moment to formally announce his candidacy or he may be waiting to assess the competition and develop his own political strategy before announcing his candidacy. He may also be consulting with advisors, conducting polling and analyzing data to determine the most effective way to enter the race."