Fox News Host Confronts GOP's Tim Scott on 'Relentlessly Partisan' Message
Fox News host Shannon Bream confronted Senator Tim Scott, a South Carolina Republican, on Sunday about his alleged "relentlessly partisan" message during his "Faith in America" tour.
Scott spoke in Des Moines, Iowa, on Wednesday as part of the national tour, which has sparked speculation about his own presidential ambitions. During his speech, the senator spoke of a "new American sunrise," with many pundits describing his tone as more optimistic than that of his fellow Republicans. The Hill, for instance, reported that he laid out an "optimistic vision."
However, not all political experts saw a positive message in his speech. Ed Kilgore, a political analyst for New York magazine, described Scott's speech as "a relentlessly partisan screed accusing Joe Biden and 'the left' or pursuing a 'blueprint for ruining America" in a Friday article for the magazine's Intelligencer.
"It's hard to recall a more stridently asserted expression of belief that the route to national peace and unity requires the subjugation of one party by the other," Kilgore wrote.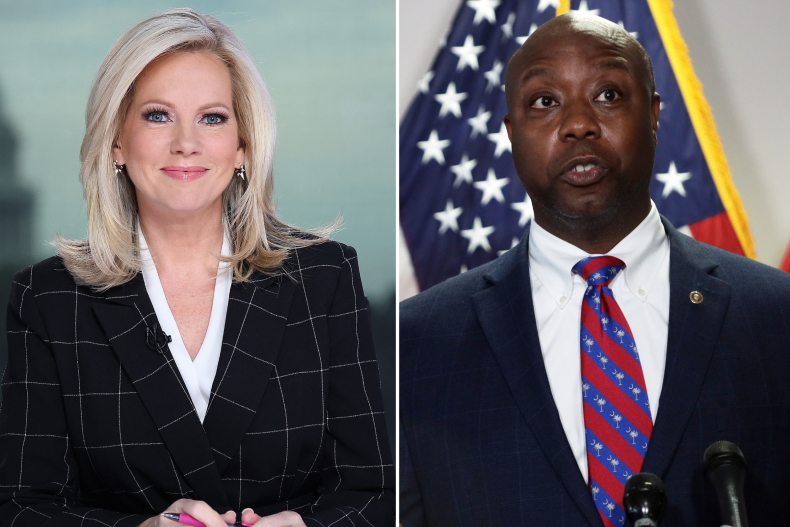 Scott, during an appearance on Fox News Sunday, was pressed about the tone of his speech by Bream, who asked how anti-Democratic rhetoric squares "with the message of us having faith in each other as Americans."
In responding to Bream, Scott explained his reasons for being hopeful while doubling down on his attacks against Biden and other Democrats.
Scott defended speaking against Democrats, arguing that conservatives need to understand "the state of America and the weakness of the progressive movement" in order to offer "positive, optimistic solutions" to the issues the United States faces.
"The left today seems to be working on a blueprint on how to ruin America," the Republican senator said. "If you want to ruin America, you would print and spend trillions of dollars leading to the highest inflation we've seen in 40 years. Why is that negative to point out the fact that under Joe Biden's leadership, we've had the highest inflation in 40 years?"
He said he is a "hopeful guy" despite having a "miserable beginning."
"Growing up in a single-parent household, mired in poverty, the challenges that I faced from self-esteem to low grades were monumental. I overcame those challenges with grit, hard work and inspiration," Scott said.
In the same interview, Bream also questioned Scott on how his policies differ from former President Donald Trump. Trump announced his presidential campaign last November and is seen as the frontrunner to snag the Republican nomination, according to recent polls. So far, Trump has received a high-profile challenge from former South Carolina Governor Nikki Haley.
"One of the most important parts of being in the majority was the opportunity we have with the Tax Cuts and Jobs Act [of 2017]," Scott said. "I had the good fortune to be the lead sponsor of the TCJA on the personal side of the tax code, so I had the opportunity to help write that specific legislation."
Newsweek reached out to Fox News and Scott's office for comment.