Nikki Haley's Bid to Be President Looks Hopeless
Former South Carolina Governor Nikki Haley is struggling to attract any real support for her 2024 presidential campaign more than a week after she confirmed she's running for the White House, according to a survey.
An exclusive poll of 1,500 eligible voters for Newsweek, conducted by Redfield and Wilton Strategies on February 19, revealed that just 2 percent believe Haley will be the GOP presidential nominee for the 2024 election.
By comparison, Donald Trump is by far the favorite with 43 percent, with Florida Governor Ron DeSanits on 18 percent, and former Vice President Mike Pence third on 5 percent.
Haley, the U.S. Ambassador to the United Nations in the Trump administration, announced she's running for the White House in a video posted on social media on February 14.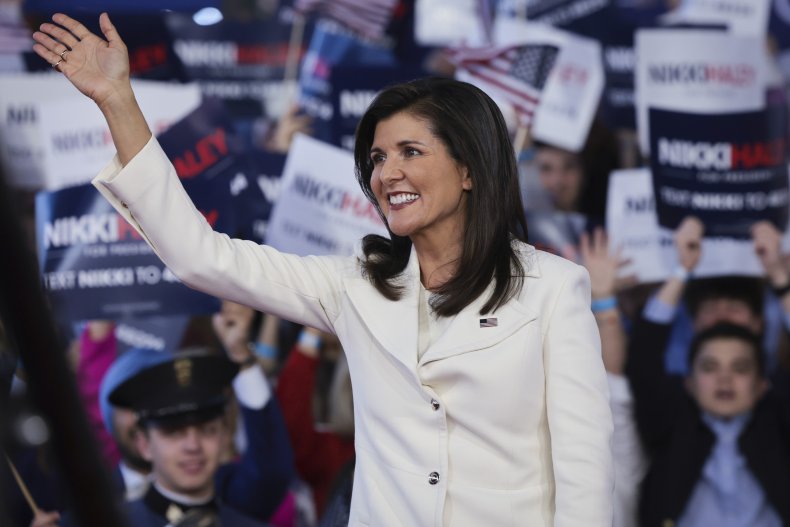 While popular in her home state, Haley's presidential ambitions were always going to be hindered by the fact she currently has nowhere near the national name recognition of Trump or DeSantis, with the firebrand Florida governor long thought to be the ready-made replacement for the former president as the next GOP candidate in 2024.
Haley has also struggled to make her campaign stand out when she appeared on conservative news networks to promote herself.
During an interview on Fox News Sunday, Haley dodged a question about how her policies differ from Trump's, or how she is a better option for Republican voters than the former president in the GOP primary.
"I don't focus on President Trump and it's amazing that the media wants to talk about that so much," Haley replied.
"I just had packed rooms in New Hampshire, not one person asked me about President Trump," Haley added. "Everybody wanted to talk about Biden. Everybody wanted to talk about the problems facing American families. I am focused on Joe Biden. He is the one that's the president."
Fox News' Tucker Carlson, who has the most watched primetime news show, even opted to criticize Haley's candidacy after CNN's Don Lemon was heavily condemned for saying the 51-year-old "isn't in her prime."
"To be fair to Don Lemon, Nikki Haley seemed like perfectly fair game. She's a Republican presidential candidate, so savage her for all you want," Carlson said on Monday night.
"Oh, but no, because, in fact, in all the ways that matter, Nikki Haley is a member in good standing of the most protected class of all: upper income, liberal White ladies with fashionable political views. She may be running to be the Republican nominee, but she is fundamentally indistinguishable from the neo liberal donor base of the Democratic Party," Carlson added.
"Nikki Haley believes in collective racial guilt. She thinks Ukraine's borders are more important than our own, far more important. She believes identity politics is our future. 'Vote for me because I'm a woman', she says. That's her pitch."
Danielle Vinson, a professor of politics and international affairs at Furman University in South Carolina, said that despite the far from ideal start, one thing Haley does have in her 2024 campaign is time.
"Polls this early mean nothing except that she has work to do," Vinson told Newsweek. "Outside of South Carolina, most people don't know much about her. It's nearly a year before the first primary and she has plenty of time to introduce herself to voters.
"Right now, people are reacting to information they already have. Trump and DeSantis have been in the news for years. Haley hasn't. If she's still polling in single digits six months from now, it would be a problem. She's barely started campaigning, and in primaries, campaigns matter."
Vinson also noted that recent Democratic and Republican presidential candidates, such as Barack Obama and John McCain in 2007 and Mitt Romney in 2011, were also way behind in the polls months into their campaigns before going on to clinch the nomination.
Haley has been contacted for comment.