Fox News Host Confronts Nikki Haley on How She Differs From Donald Trump
Fox News host Shannon Bream confronted Republican presidential candidate Nikki Haley on Sunday about how she differs from former President Donald Trump, which she avoided answering.
"I don't focus on President Trump and it's amazing that the media wants to talk about that so much," Haley said on Fox News Sunday. However, Bream told her that she has to focus on Trump and other Republican contenders in order to get through the primary.
"...I just had packed rooms in New Hampshire, not one person asked me about [former] President Trump. Everybody wanted to talk about Biden. Everybody wanted to talk about the problems facing American families. I am focused on Joe Biden. He is the one that's the president," Hayley responded.
The Republican candidate, who served as the governor of South Carolina and the U.S. ambassador to the United Nations under Trump, recently campaigned in New Hampshire and South Carolina.
Haley officially announced her presidential campaign for the 2024 race last Tuesday, becoming the only major GOP candidate running aside from Trump, who announced his presidential bid in November right after the midterm elections.
She has previously dodged questions about how different she is from Trump and instead has spoken about the importance of having "new generational leadership." The Republican candidate made a similar comment on Sunday and told Bream that "we need to leave the status quo of the past and start looking ahead."
Haley's presidential bid announcement came after she said in April 2021 that she wouldn't run in 2024 if Trump ran, the Associated Press reported at the time.
"I would talk to him about it. That is something that we'll have a conversation about at some point if that decision is something that has to be made," she said at the time.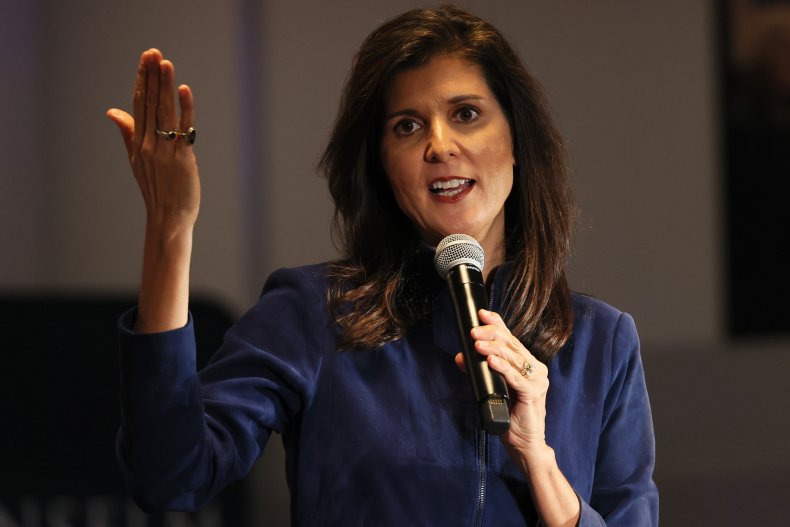 Newsweek reached out to Haley's campaign for comment.
Meanwhile, Trump has welcomed her presidential bid and said in a recent interview with Fox News that he is "glad she's running," and added "the more the merrier."
"I'm glad she's running," the former president said. "I want her to follow her heart—even though she made a commitment that she would never run against who she called the greatest president of her lifetime."
Trump has long been favorable among likely Republican voters in 2024, even though his popularity waned after the midterm elections where his endorsed candidates in some states lost their races.
He has also become less favorable among members of his own party amid the ongoing investigations against him, including the probe into his alleged role in the Capitol riot and the hundreds of classified documents that were seized by the FBI from his Mar-a-Lago residence last summer. Trump, however, has continued to maintain his innocence.
However, a recent Remington Research Group poll showed that 38 percent of likely voters plan to back Trump in 2024, while only 8 percent are ready to support Haley. Meanwhile, 35 percent of respondents said that they are planning to support Florida Governor Ron DeSantis, who has not announced if he will run for presidency. The poll was conducted between February 8 and 9, surveying about 820 likely voters.