Nikki Haley's Chances of Beating Trump After Jumping Into 2024 Race
Nikki Haley announced her presidential campaign on Tuesday, making her Donald Trump's highest-profile Republican challenger in the 2024 primary. But polls show Haley could face an uphill battle against the former president.
Haley, a former South Carolina governor who served as United Nations ambassador during the Trump administration, highlighted her electoral success during her campaign launch video and mentioned that Trump lost the popular vote in the 2016 and 2020 presidential elections.
Haley is promoting herself as a more mainstream conservative alternative to Trump's brand of politics, which have proved to be toxic among moderate, suburban voters who helped carry President Joe Biden to victory in 2020. But the former president remains popular among the GOP electorate, despite his numerous legal issues.
Recent polls of the 2024 Republican primary point to Trump as the leading candidate, and several others—including former Vice President Mike Pence and Florida Governor Ron DeSantis— are viewed as potential contenders who could join the race and compete for the anti-Trump vote as well.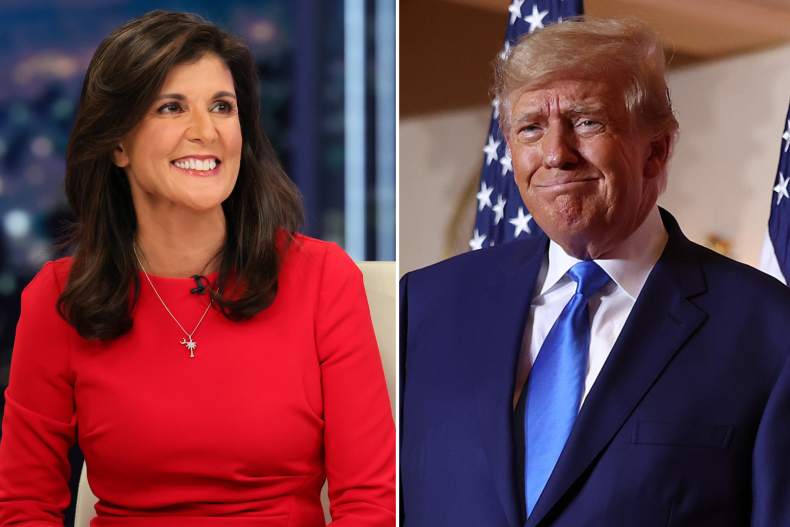 Remington Research Group, which polled about 820 likely voters from February 8 to 9, showed only 8 percent of likely GOP primary voters saying they planned to back Haley.
Meanwhile, 38 percent said they would vote for Trump, while 35 percent said they planned to vote for DeSantis, who has been viewed as the Republican most likely to defeat Trump.
A YouGov poll conducted among 409 voters from February 4 to 7 found Haley receiving 5 percent of support from Republicans. Forty-two percent said they would vote for Trump, 32 percent planned to back DeSantis and 8 percent said they would vote for Pence.
Whoever prevails in the GOP primary could face off against Biden, who has not formally announced his reelection but is expected to run again.
A Public Policy Polling survey conducted among 1,056 registered voters from February 10 to 11 found that Biden would be slightly favored against Haley in a general election. Haley received support from 39 percent of voters, while 45 percent said they would vote for Biden.
During her announcement, Haley said she hopes to make the United States the "freest and greatest" country in the world. She also took a shot at Biden's record as president, which she called "abysmal."
"Some look at our past as evidence that America's founding principles are bad," she said. "They say the promise of freedom is just made up. Some think our ideas are not just wrong, but racist and evil. Nothing could be further from the truth."
Newsweek reached out to Haley's campaign for comment.