Mike Pence Hints at 2024 Run as Trump and Biden Struggle in Polls
Former Vice President Mike Pence has again hinted that he may launch a bid for the White House in 2024 during another visit to Iowa, a state that plays a crucial role in the primary process.
Pence delivered the keynote speech at the 15th annual Kaufmann Family Harvest Dinner in Wilton, Iowa, on Thursday and later suggested to reporters that he was considering the next steps of his political career.
His comments come as former President Donald Trump and President Joe Biden appear to be struggling, with a recent survey from The Economist/YouGov finding a majority of Americans don't want either of them to run again in 2024.
This is the second time Pence has traveled to Iowa in about a month. He attended the Iowa State Fair in August and participated in a tour of the fairgrounds with Republican Senator Chuck Grassley.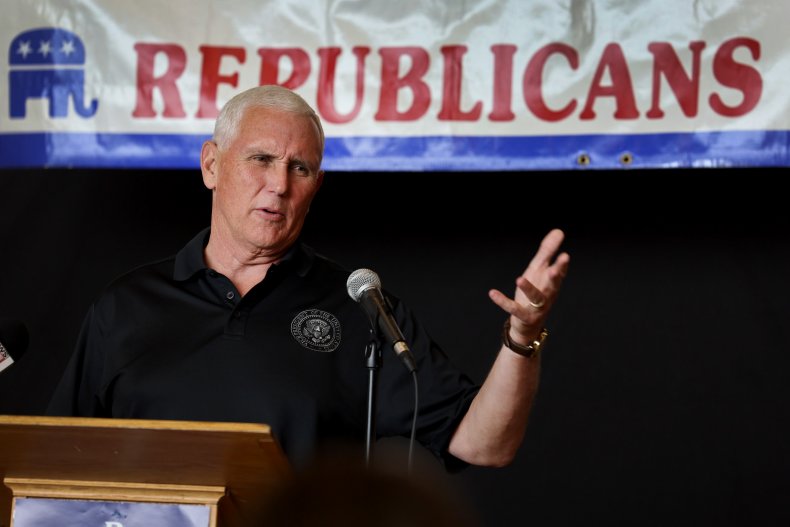 "I want you to be encouraged going into the election," Pence said on Thursday, referring to the upcoming midterms. "We're going to get it all and then some."
"Come 2024, Iowa will again set the course for strong conservative leadership in America," the former vice president added, an apparent reference to the Iowa caucuses—the first test for presidential candidates' electability.
Pence reportedly told journalists that he was concentrating on midterm elections, but said that "when the time comes after the first of the year, we'll take time to reflect on how we might serve in the future, the near-term or the long-term."
Newsweek has reached out to Pence's nonprofit group for comment.
Iowa holds first-in-the-nation caucuses that are often seen as make or break for presidential contenders, though the caucuses may have declined in importance somewhat in recent years.
In 2016, Texas Senator Ted Cruz won the Iowa Republican caucus, while Trump came second. In 2020, Biden won the Democratic caucus, with now Secretary of Transportation Pete Buttigieg placing second and independent Vermont Senator Bernie Sanders came third.
The Democratic Party has previously considered stripping the Iowa caucus of its first-in-the-nation status as part of an effort to reflect the party's more diverse voter base, according to the Associated Press last month.
What the Polls Show
The Economist/YouGov conducted from September 24 to 27 found that 55 percent of the poll's respondents said they didn't want Biden to run in 2024, compared to 21 percent who said they did and 24 percent who said they weren't sure. That question polled 1,493 U.S. adults.
The same question was asked of Trump and polled 1,485 U.S. adults. In Trump's case, 53 percent of respondents said they didn't want him to run in 2024, while 29 percent said they did and 18 percent responded that they weren't sure.
Newsweek reached out to the White House and Trump's office for comment on the poll.
Trump and Biden also enjoy similar levels of approval among Americans, according to FiveThirtyEight, which compiles and analyzes polls.
The president's approval rating stood at 42.3 percent as of Friday, with 51.9 percent disapproving of him. Trump had a favorability rating of 41.9 percent as of September 29, while 54 percent viewed him unfavorably.
Those figures also come as the former president is facing legal battles, including an FBI investigation about the handling of classified documents at his Florida Mar-a-Lago residence and a $250 million civil lawsuit filed against him by New York Attorney General Letitia James.
Trump has repeatedly denied any wrongdoing in regard to the documents, and said that any classified documents that he took had been declassified when he left the White House last year. Meanwhile, at a rally late last month, Trump said that Biden's Department of Justice (DOJ) should instead "be investigating Letitia James for her appalling and malicious abuse of power," adding that "she deserves to be removed from office, immediately disbarred and banished from the legal profession forever."