Biden, Trump Approach Midterms With Majority Not Wanting Them to Run Again
President Joe Biden and former President Donald Trump are facing a crucial test in the upcoming midterm elections while a recent poll shows most Americans don't want them to run for president again.
While neither Biden nor Trump is on the ballot this year, midterms will have a major impact on the president's agenda if Republicans can take control of the House of Representatives, the Senate or both.
Trump has weighed in to the elections by offering a string of endorsements, including to GOP Senate candidates in tight races where the power of the former president's backing will be tested.
A poll from The Economist/YouGov conducted from September 24 to 27 showed that clear majorities of Americans do not want Trump and Biden to run for the White House again in 2024.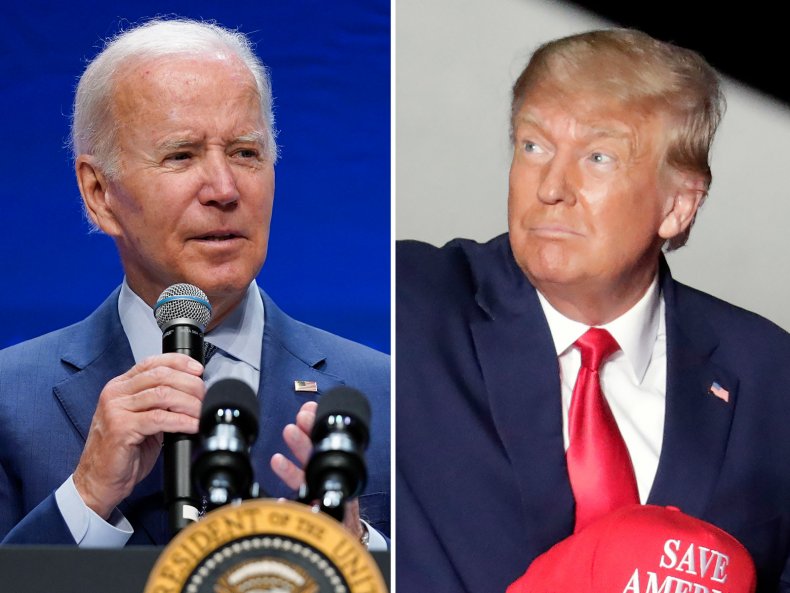 However, there were significant differences in the views of those who identified as Democrats and those who said they were Republicans.
Overall, 55 percent of the poll's respondents said they didn't want Biden to run in 2024, compared to 21 percent who said they did and 24 percent who said they weren't sure. That question polled 1,493 U.S. adults.
When the poll asked the same question about Trump, 53 percent of respondents said they didn't want him to run in 2024, while 29 percent said they did and 18 percent responded that they weren't sure. That question polled 1,485 U.S. adults.
There were stark differences in the views of Democrats and Republicans about their potential 2024 candidates. Democrats were divided on another run for Biden, with 37 percent saying he should run again, 31 percent saying he shouldn't and 32 percent answering "not sure."
It was a very different picture when it came to Republicans' views on whether former President Trump should seek another term as a clear majority—57 percent—said that they want him to run.
A further 24 percent said they didn't want Trump to run in 2024, while 20 percent weren't sure.
Newsweek has asked the White House and Trump's office for comment.
Trump and Biden are widely seen as the most likely 2024 choices for their respective parties but neither has officially declared a campaign with both party's primaries not set to begin until the first quarter of 2024.
There has been intense speculation about Biden's decision and suggestions that given his age, he will choose not to seek a second term. The president will turn 80 in November. However, he and the White House have previously said his intention is to run.
By contrast, Trump has repeatedly hinted at a third White House run in public comments, telling his supporters that they will be "happy" when he finally makes a formal announcement.
Trump's timing may depend on the outcome of the midterm elections. According to analysis from poll tracker FiveThirtyEight, Republicans are favored to win the House, while Democrats are slightly favored to retain control of the Senate.
GOP victories in November could see Biden's agenda stymied over the two years heading into the 2024 election, while it remains to be seen how many Trump-backed candidates will win.