Joe Biden Impeachment a 'Priority,' Says Matt Gaetz as GOP Set to Win House
Republican Representative Matt Gaetz has said that impeaching President Joe Biden should be the GOP's top priority if they win control of the House of Representatives in November.
Gaetz told Steve Bannon's War Room podcast on Monday that launching impeachment inquiries into the president is a bigger priority than policy or legislation.
His comments come as Republican support for impeaching Biden may be growing ahead of crucial midterms where the GOP is widely expected to take the House, though may struggle to retake the Senate.
Gaetz, who represents Florida's 1st district, suggested to Bannon that a Republican-controlled House could carry out impeachment investigations even without the support of the Senate.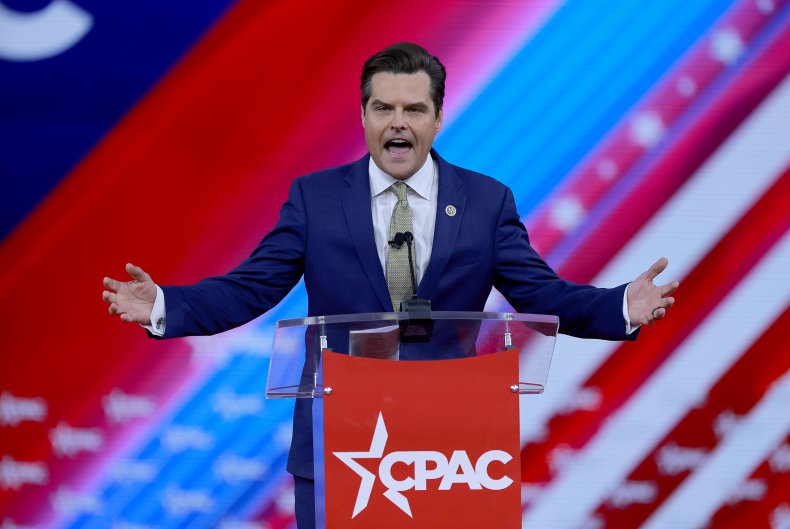 "If we don't engage in impeachment inquiries to get the documents and the testimony and the information we need, then I believe that our voters will feel betrayed and that likely, that could be the biggest win the Democrats could hope for in 2024, when it really matters to investigate them and to hold them accountable," Gaetz said.
"And we can do that without the Senate and without the White House. And that's why it should be investigations first, policy, bill-making to support the lobbyists and the PACs as a far, far diminished priority," he said.
Poll tracker FiveThirtyEight's election forecasting model gives the GOP a 70 percent chance of winning the chamber, while bookmakers are offering significantly better odds on Republicans taking the House than Democrats, according to betting site Oddschecker.
Oddschecker's most popular bet on the House majority gives the GOP odds of 2/5 on being in control, while Democrats have odds of 5/2. The odds of no majority are 50/1.
Republican Representative Nancy Mace has also recently discussed the possibility of impeaching Biden, saying that such a move would be "divisive."
"I believe there's pressure on the Republicans to put that forward and have that vote," Mace told NBC's Meet the Press on Sunday. "I think that's what some folks are considering."
When Mace was asked how she might vote on impeachment, she said: "I will not vote for impeachment of any president if I feel that due process was stripped away, for anyone. I typically vote constitutionally, regardless of who is in power."
The remarks from Gaetz and Mace suggest there may be growing impetus among House Republicans to bring impeachment proceedings against Biden, though Gaetz acknowledged on Monday that "there are current members of the Republican majority, people who will be in the next Congress, who are arguing very, very fervently that they will oppose the use of the 'I' word, impeachment, in any context for any official in the Biden administration."
Attempts to impeach Biden brought by House Republicans have met with limited success. Nine resolutions have been introduced but none have more than seven co-sponsors.
That could change if Republicans take control of the House in November where a simple majority vote is all that's required to bring articles of impeachment.
Without 60 votes in the Senate, Republicans could not hope to remove Biden from office but an impeachment could be politically damaging ahead of the 2024 presidential election. Former President Donald Trump was impeached and acquitted twice.
It's not clear on what grounds articles of impeachment could be brought but Republicans have strongly criticized Biden over the U.S.-Mexico border, his son Hunter Biden's foreign business dealings and the U.S. withdrawal from Afghanistan. One or more of those issues could form the basis for impeachment.
There has been speculation about a possible impeachment for months. In January, Senator Ted Cruz said there would be "multiple grounds" for impeaching Biden.
In April, Republican Representative Ken Buck told a virtual meeting that the House Judiciary Committee would "hold the hearings to determine whether impeachment is appropriate. We'll vote on impeachment. And then it will be presented to the full House."
Newsweek has asked the White House for comment.