'Raging Maniac' Letitia James Needs 'Banished' from Legal Profession: Trump
Former President Donald Trump railed against New York Attorney General Letitia James during a rally in North Carolina, saying she should be shunned from the legal profession for bringing a potentially crippling lawsuit against him.
During a rally held in Wilmington on Friday for his Republican congressional picks, Trump lashed out over his mounting legal problems, singling out James. The AG on Wednesday announced a $250 million civil lawsuit against the former president over alleged lies told about the value of his assets to get larger bank loans and lower tax bills. Trump said the "baseless, abusive and depraved" lawsuit was part of other efforts to target him politically.
"This raging maniac campaigned for office ranting and raving about her goal," Trump said to the crowd. "Her only goal is, we got to get Donald Trump. We're gonna get him. She knew nothing about me. I never heard of her."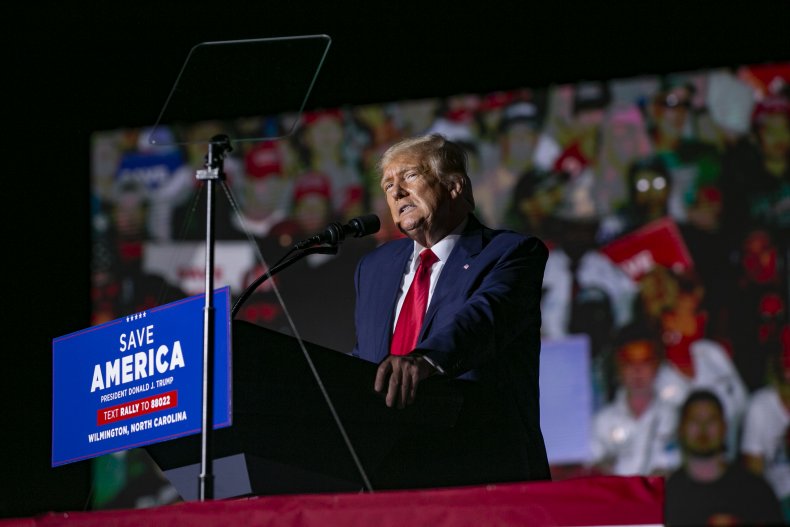 Trump suggested James was using the lawsuit for political gain in a potentially tight reelection race against Republican Michael Henry.
Trump said that President Joe Biden's Department of Justice (DOJ) should instead "be investigating Letitia James for her appalling and malicious abuse of power," adding that "she doesn't just deserve to lose, she deserves to be removed from office, immediately disbarred and banished from the legal profession forever."
The lawsuit from James targets Trump along with three of his children—Donald Jr., Ivanka and Eric Trump—and two Trump Organization senior executives. The product of a long-running investigation, the lawsuit alleges Trump and his company "knowingly and intentionally" filed more than 200 false and misleading valuations of assets between 2011 and 2021.
The properties covered by the lawsuit include Trump's Mar-a-Lago resort in Florida, Trump Tower in New York and what was previously the Trump International Hotel in Washington, D.C.
James' office has called some of Trump's value claims "absurd." Among other things, the lawsuit alleges Trump valued his triplex apartment at Trump Tower at $327 million on financial statements made in 2015 and 2016, based on claims it was nearly 30,000 square feet, when it was actually about a third of the size.
"In short, he lied to gain massive financial benefits for himself," James said in a statement announcing the lawsuit.
In addition to the financial penalties, James said the lawsuit seeks a permanent ban on the Trumps from running businesses in New York state and prohibits the former president and his organization from buying commercial real estate in the state for five years. James added that her office is making a criminal referral to the DOJ.
Michael Cohen, Trump's former personal lawyer turned critic, told MSNBC's Nicole Wallace on Friday that James' lawsuit "looks like an open and shut case." Cohen, who has cooperated on the case with James' office, said Trump will eventually face criminal prosecutions by the IRS and the U.S. attorney for the Southern District of New York.
Trump on Friday said James' lawsuit was "gross prosecutorial misconduct," repeating his criticism of other investigations he faces.
"And it's coming in so many different forms, whether it's in Atlanta, whether it's from Washington, D.C., whether it's January 6, coming from many different forms," he said. "There's never been a period of time like this."
Trump was referring to the multiple investigations he faces.
Fani T. Willis, district attorney for Georgia's Fulton County, is investigating Trump and his allies for allegedly interfering with the state's 2020 election results. Meanwhile, the House Select Committee to Investigate January 6th has turned its focus to Trump's inner circle. The DOJ is also investigating whether Trump illegally removed classified documents from the White House and stored them in locations such as Mar-a-Lago.
Newsweek reached out to James' office for comment.