Bernie Sanders' Chances of Becoming President if Biden Doesn't Run Again
Senator Bernie Sanders has not ruled out running for president again in 2024, but he's facing long odds and strong potential opponents if he wants to succeed President Joe Biden.
Sanders, the Vermont independent who caucuses with Senate Democrats, told CBS Mornings on Monday that he had not yet made a decision about a third White House bid.
"That's a big—you know, I haven't made that decision," the senator said.
He also addressed the possibility that Biden could step down and choose not to run again. There has been speculation for months that the president may decide not to seek a second term, though he has repeatedly indicated it's his intention to do so.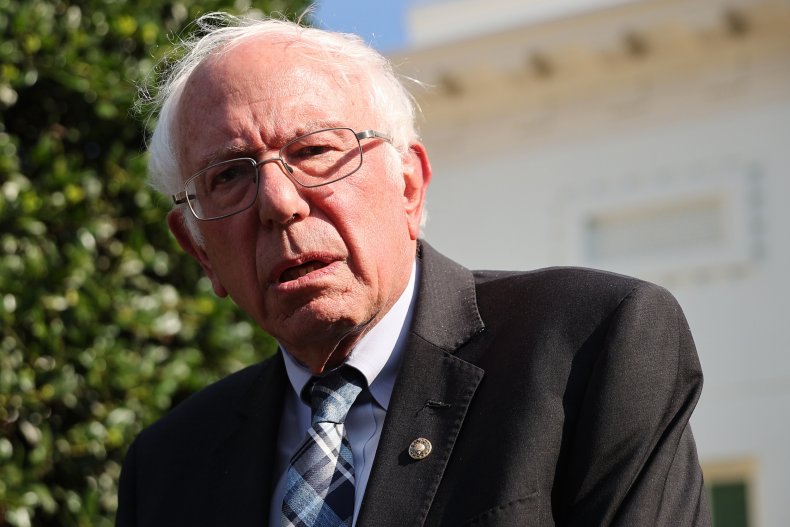 "That's his decision," Sanders said. "Joe is a friend of mine and I think against enormous opposition he has tried to do some very, very good things and he will make that decision himself."
Sanders finished second in the Democratic primaries in 2016 and 2020. His early successes in 2020 suggested he would win the nomination until Biden racked up victories across the southern states.
Sanders may not be able to replicate those successes in 2024, however, if current betting markets and recent primary polls are any guides. Bookmakers told Newsweek that Sanders' odds at the nomination were better if Biden doesn't run but he would still face stiff competition from prominent Democrats.
Betfair, which operates the world's largest online betting exchange, gave Sanders odds of 33/1 on winning the Democratic nomination if Biden also seeks his party's nod.
Biden's odds stood at 9/4, while Vice President Kamala Harris' odds of winning the nomination were 4/1. Betfair was also offering odds of 5/1 on California Governor Gavin Newsom.
Newsom and Harris are both considered strong contenders for a future Democratic presidential nomination, particularly if Biden chooses to bow out.
Sanders's odds improved when Biden was taken out of the equation. The senator's odds of winning the Democratic nomination were 20/1 if Biden doesn't run again—but that's still far behind his most likely opponents.
In the event Biden doesn't run, Harris' odds of winning the nomination are 9/4, while Newsom's are 4/1, according to figures provided to Newsweek by Betfair.
Irish bookmakers Paddy Power offered odds of 33/1 on Sanders to win the Democratic nomination outright. The bookmaker told Newsweek that the senator's odds of winning were 12/1 if Biden doesn't seek re-election in 2024.
In more potentially bad news for Sanders, both Betfair and Paddy Power offered odds of just 80/1 on the Vermont senator becoming the next U.S. president.
There has also been some recent polling on the 2024 Democratic primaries with a Big Village poll conducted among 397 registered voters from September 21 to 23 showing Sanders with 15 percent support, well behind Biden with 48 percent, and in a near-tie with Secretary of Transportation Pete Buttigieg on 16 percent.
A McLaughlin & Associates poll conducted among 417 likely voters from September 17-22, which excluded Biden, found Sanders with just 7 percent support. Former First Lady Michelle Obama led the poll with 18 percent, followed by Harris with 11 percent.
Obama has given no indication that she intends to run for president and has never held elected office.
Sanders has not featured in recent polling of hypothetical 2024 presidential match ups as much of that polling has focused on a rematch between Biden and former President Donald Trump.
The Democratic presidential primaries won't begin until early 2024 and Biden's decision is still the subject of speculation. But it appears for now that Sanders would struggle to repeat his previous second-place finish.
Newsweek reached out to Sanders' office for comment.