What Polls Say About Newsom vs. DeSantis in Hypothetical 2024 Matchup
Republican Florida Governor Ron DeSantis would be more popular among independent and Latino voters than Democratic California Governor Gavin Newsom if they ever decide to run in the 2024 presidential election, according to recent polls.
Speculation about DeSantis' and Newsom's 2024 presidential ambitions has grown in recent months. On Friday, Newsom took aim at DeSantis and challenged the GOP governor to a debate.
"Hey@GovRonDeSantis, clearly you're struggling, distracted, and busy playing politics with people's lives. Since you have only one overriding need -- attention --let's take this up & debate. I'll bring my hair gel. You bring your hairspray. Name the time before Election Day.@CNN," the California governor wrote on Twitter, further fueling speculation regarding his 2024 ambitions.
In a hypothetical matchup, DeSantis beats Newsom in California where 85 percent of the state's Republican voters would choose the Florida governor, who is also taking the lead among independents, Latinos and voters who are between 40 to 49 years old, according to a poll released by Probolsky Research on August 19 that surveyed 900 likely California voters with a margin of error of 3.3 percent.
"We have seen Newsom's weak support among Latino voters before, most notably in his Recall Election," said Adam Probolsky, the Probolsky Research president. "California Latinos were among the hardest hit by Covid-19 lock-downs and school closures and likely blame the governor for his handling of the pandemic."
Though DeSantis and Newsom haven't announced plans to run in 2024, they both appear to be positioning themselves for potentially taking part in the race. President Joe Biden and former President Donald Trump have also hinted that they will run again in 2024.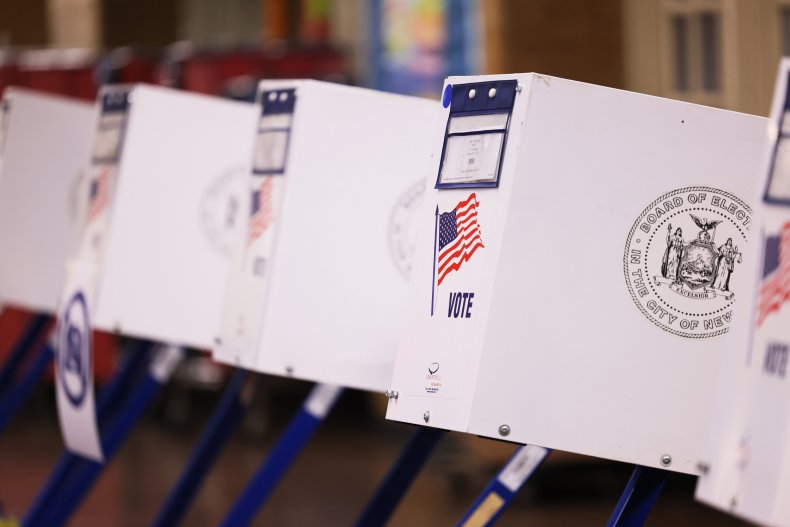 The Probolsky Research poll also showed that DeSantis is also popular among independent voters, denying Newsom majority support among that group.
"To be clear, there is virtually no chance a Republican candidate for president will win California in 2024,″ Probolsky added. "But these numbers should be a warning sign for Newsom's team as he branches out to other states trying to build a national coalition."
In a poll by Yahoo News that was conducted between June 24 and June 27, 1,630 respondents were asked whether they would vote for Newsom or DeSantis if the 2024 elections were held today.
A total of 39 percent of respondents said they would vote for Newsom, compared to 36 percent who would choose DeSantis. Still, the Florida governor is more popular among independent voters as 38 percent of them said they would vote for him in a hypothetical presidential race as opposed to 33 percent of independent voters who would vote for Newsom.
Favorability among state residents is also something accounted for when comparing the Republican and the Democratic governors' chances in a hypothetical matchup.
Last month, a poll by the Florida Chamber of Commerce showed that 54 percent of Florida voters approve of DeSantis' performance as governor, with 88 percent of Republicans and 52 percent of NPAs (No Party Affiliation) approving of his job. Additionally, 65 percent of Hispanic voters approve of his performance compared to 32 percent who disapprove. The poll was conducted among 608 respondents statewide with a margin error of 4 percent.
Meanwhile, a Berkeley Institute of Governmental Studies poll released on August 23 showed that 53 percent of California voters approve of Newsom's performance as governor, compared to 42 percent who disapprove. This is a slight improvement compared to the last poll released in February, asking voters about his job performance. The poll was conducted among 9,254 California registered voters with a sampling error of around 2 percentage points.
Newsweek reached out to DeSantis' office for comment.
Biden, Trump Tease 2024 Runs
Notably, Biden has said repeatedly that he plans to seek a second presidential term. If he ultimately follows through, Newsom would have to directly challenge the incumbent president in the primaries for the Democratic Party's nomination.
Trump, meanwhile, has repeatedly hinted that he plans to run for president again in 2024. Polls generally show that the former president would be the clear GOP frontrunner, but DeSantis appears favored if Trump chooses not to seek another White House term.