Nikki Haley Unable to Answer How She's Different From Trump in Interview
Presidential hopeful Nikki Haley failed to give a clear answer on how her policies differ from former President Donald Trump's while being quizzed by Fox News' Sean Hannity on Wednesday.
Haley, who has previously served as an ambassador to the United Nations and governor of South Carolina, announced that she would be running in the presidential election on Tuesday
Hannity repeatedly asked for clarification on how Haley differs from Trump and why the public should vote for her over the former president.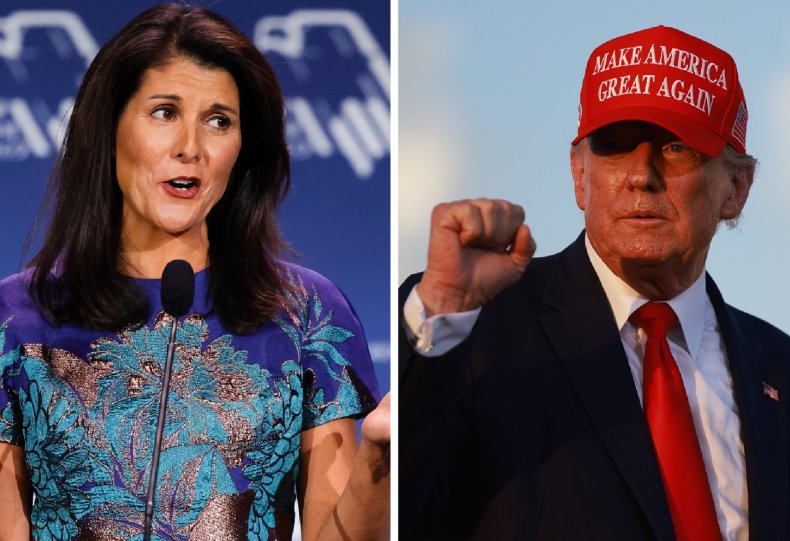 At the beginning of his interview with Haley, Hannity asked the candidate to explain what voters should know she and Trump differ on.
Haley appeared to sidestep the question and spoke about why it was important the country had "new generational leadership," as well as bringing in new voters by stepping away from the status quo.
Hannity pressed Haley again to explain the policy differences between her and Trump in a clip that has since gone viral on Twitter, being viewed over 100,000 times since being posted late on Wednesday evening.
She said: "What I am saying is I don't kick sideways, I'm kicking forward. Joe Biden is the president, he is the one I'm running against.
"What I am saying is you don't have to be 80 years old to be president. We don't need to have these same people going back again.
"We need something new, we need a new generation of fighters. We need people that understand where your average American is coming from.
"We shouldn't be afraid to fight for that, that is what I am willing to do.
"I'm not going to kick sideways, I don't have time for that, that's not my focus, I am kicking forward and it is all about Joe Biden and the people in America winning again."
Since announcing her run for president, Haley has criticized Trump without mentioning his name.
On Wednesday, Haley spoke on a Charleston stage to a slew of fans, explaining her plans for 2024.
During her speech, she called on the Republican party to move beyond the divisiveness of its recent past.
She said her vision of American greatness was now being held back not only by current President Joe Biden, but the ghosts of Donald Trump, though she did not mention him by name.
"We're more than ready to move beyond the stale ideas of the past, she said.
"[We] are more than ready for a new generation to lead us into the future."
Newsweek has contacted Haley for comment.