Liz Cheney Scolds Marjorie Taylor Greene for Wanting 'National Divorce'
Former Congresswoman Liz Cheney on Monday criticized Republican Representative Marjorie Taylor Greene of Georgia for a tweet that suggested the United States should be split into two nations.
"Let's review some of the governing principles of America," Cheney wrote on Twitter in a post, tagging Greene. "Our country is governed by the Constitution. You swore an oath to support and defend the Constitution."
She continued, "Secession is unconstitutional. No member of Congress should advocate secession, Marjorie."
Earlier in the day, Greene wrote that the United States should consider being divided due to political issues caused by Democrats.
"We need a national divorce," Greene tweeted. "We need to separate by red states and blue states and shrink the federal government. Everyone I talk to says this. From the sick and disgusting woke culture issues shoved down our throats to the Democrat's traitorous America Last policies, we are done."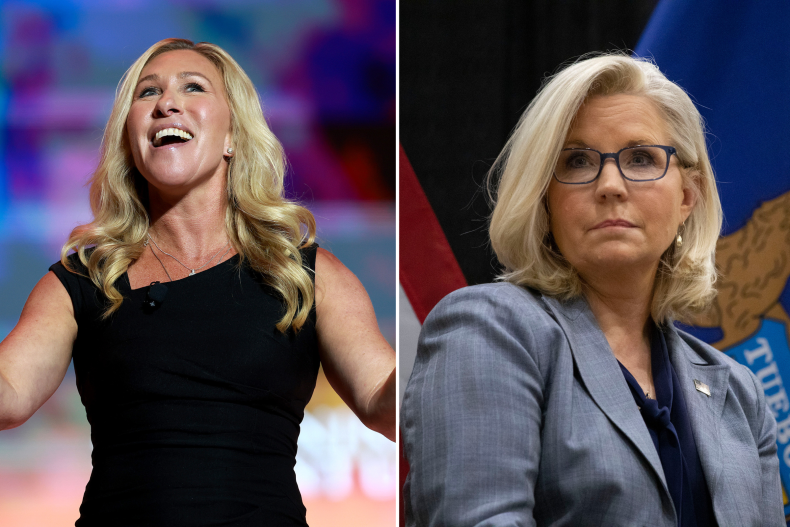 Cheney, a Republican, was first elected as a representative for Wyoming in 2016, and she chaired the House Republican Conference for a portion of her time in Congress.
In recent years, Cheney bucked heads with members of her party after she voted to impeach former President Donald Trump for his alleged role in inciting the January 6, 2021, riots on the U.S. Capitol. Cheney was also appointed vice chair of the House committee investigating the January 6 attack.
Cheney lost her seat in the House after the Trump-endorsed candidate, Harriet Hageman, won the GOP primary on her way to a victory in the November election in 2022.
Cheney's public remarks on Greene come days after the Georgia congresswoman referenced Cheney while making a derisive statement about Nikki Haley.
Soon after Haley—the former United Nations ambassador under Trump—officially announced she would seek the 2024 GOP nomination for president, Greene compared Haley to former President George W. Bush.
"If we wanted a 'Bush in heels,' Republicans would vote for Liz Cheney," Greene tweeted on February 15.
Before Cheney left office, she also publicly disagreed with Greene over aid to Ukraine.
Greene had said "not another penny will go to Ukraine" while speaking at a Trump rally in November, which elicited a Twitter response from Cheney.
"This is exactly what Putin wants," Cheney wrote. "If we'd had Republicans like this in the 1980s, we would have lost the Cold War."
Other politicians have also responded to Greene's post about a "national divorce."
"This rhetoric is destructive and wrong and—honestly—evil. We don't need a divorce, we need marriage counseling," Republican Governor Spencer Cox of Utah tweeted. "And we need elected leaders that don't profit by tearing us apart. We can disagree without hate. Healthy conflict was critical to our nation's founding and survival."
"Who thinks we need a national divorce from Rep. Marjorie Taylor Greene?" Connecticut State Senator Bob Duff, a Democrat, tweeted.
Greene later followed up on her original message with another tweet.
"People are absolutely fed up and disgusted with left wing insanity and disaster America Last policies," she said. "National divorce is not civil war, but Biden and the neocons are leading us into WW3, while forcing corporate ESG and gender confusion on our kids. Enough!"
When contacted for comment, a representative for Greene told Newsweek that Cheney is "irrelevant" to the Republican Party.
Update 02/20/23 9:50 p.m. ET: This story has been updated to include comment from a Greene representative.