Marjorie Taylor Greene Slams Nikki Haley as 'Bush in Heels'
Georgia Representative Marjorie Taylor Greene jabbed Nikki Haley on Twitter Wednesday, a day after the former Trump official announced her 2024 GOP presidential candidacy.
Haley, ex-governor of South Carolina who served as U.S. ambassador to the United Nations under former President Donald Trump, on Tuesday launched her campaign for the White House, which pits her against Trump in the battle for the Republican nomination.
Greene ripped Haley on her personal Twitter account Wednesday afternoon, claiming that Haley was "just another George (or Jeb!) Bush," in light of her 2024 presidential bid.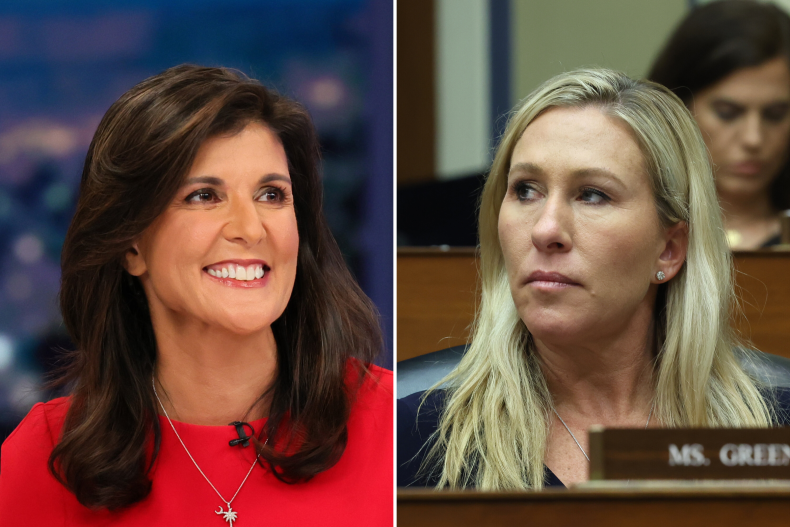 "She is weak on the border, doesn't want a wall, claimed 'Legal Immigrants are more patriotic than most Americans these days,' and she defended [former President Barack] Obama when Pres. Trump criticized his terrible open-borders policy," Greene wrote in her tweet. "And Nikki Haley refused to support a transgender bathroom bill to protect children."
"If we wanted a 'Bush in heels,' Republicans would vote for Liz Cheney," she added.
Haley made her announcement in a video posted to her Twitter account on Tuesday, highlighting her background as a daughter of Indian immigrants and pointing out that the GOP has lost the popular vote "in seven of the last eight presidential elections."
The former governor has also described herself as "very pro-life" and takes a strong stance against China, policies that her fellow Republicans tend to support. But Haley has been able to distance herself from some of the more conservative members of the GOP on the issue of culture wars, saying in the past that "they've done nothing but to divide America."
Haley also took an indirect stab at Trump during an event in Charleston, South Carolina, on Wednesday, telling voters that they should reject the old political establishment and look for a new leader.
Meanwhile, Greene has shown unwavering support for the former president and his reelection campaign, and is reportedly being considered as a possible running mate for Trump's 2024 bid.
Trump holds the lead in most polls regarding a potential GOP primary, with Morning Consult placing him 16 points ahead of Florida Governor Ron DeSantis in its latest findings released Tuesday. Haley is fourth on the list, also behind former Vice President Mike Pence, taking home only 3 percent of the likely GOP vote.
While DeSantis has not announced his candidacy, most data shows that he could have the best possible chance against Trump in a hypothetical primary. The figures also present that he could pose a worthy challenge to President Joe Biden, who also hasn't declared his candidacy, but rumors swirl of a reelection campaign.
Newsweek has reached out to Haley's press team for comment.