How Trump and DeSantis Would Fare in 2024 Match-Ups
Both Donald Trump and Ron DeSantis could beat Joe Biden in the 2024 presidential election, with the former president still the favorite to clinch the GOP nomination, according to a poll.
A Reuters/Ipsos survey, which gathered responses from 4,408 adults from February 6 to 13, found that Trump and the Florida governor would narrowly come out on top in a hypothetical race against Biden, with more than half of Democrats also saying the president should not seek reelection.
According to the poll, Trump received support from 43 percent of registered Republicans for the GOP presidential primaries, with DeSantis, who has not announced he is running for the White House, receiving 31 percent.
In a hypothetical presidential race, Trump would edge out Biden 42 to 39 percent among registered voters. DeSantis would fare similarly against the current president, 41 to 38 percent. This is considered a statistical tie because it is within the poll's credibility interval of four points.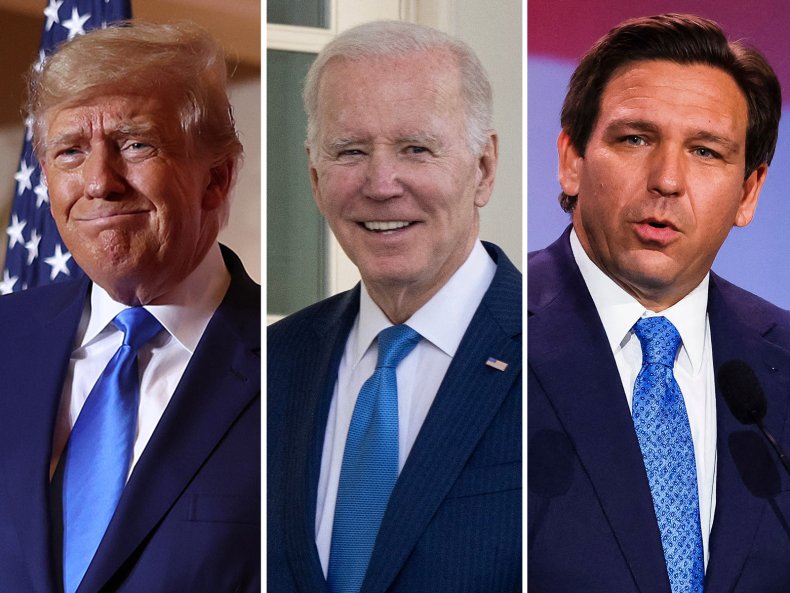 DeSantis has long been thought to be the main challenger to topple Trump as the GOP candidate for the next election.
Republican strategist Chuck Coughlin said that the Florida governor will be buoyed by the numbers he is receiving despite not being officially in the race yet and having never campaigned on a national level.
"If I'm Ron DeSantis, I'm pretty encouraged that I'm within striking position and have that kind of name ID," Coughlin told Reuters.
Trump's reputation as the dominant force in the Republican Party has taken a major hit in recent months following the GOP's disappointing midterm performance and the ongoing risk of possible criminal charges in a number of investigations concerning the former president.
According to the Reuters/Ipsos poll, 40 percent of Republicans believe Trump should not run again.
"Trump's got a momentum problem," Coughlin said. "After the '22 cycle, I think it's dawning on more and more Republicans that his time has come and gone."
Former South Carolina Governor Nikki Haley, who confirmed she was launching a 2024 campaign on Tuesday (after the poll was conducted), received 3.9 percent of support from GOP voters, and former Vice President Mike Pence was at 7.5 percent.
The survey also found that 52 percent of Democrats believe that Biden should not run again in 2024, with the age of the 80-year-old president often cited as a concern.
However, there are no indications another Democrat is willing to challenge Biden for the next candidacy, with the poll also suggesting there is little desire for any of the potential alternatives presented.
When asked who they would choose to see as their next presidential candidate, 35 percent of Democrats opted for Biden, with several other potential names barely getting into double digits.
Sen. Bernie Sanders received 13 percent, Vice President Kamala Harris was at 12 percent, and Transportation Secretary Pete Buttigieg had 10 percent.
"I think it shows Biden's support level is pretty soft," said Kyle Kondik, an elections analyst at the University of Virginia's Center for Politics, told Reuters. "But you need a real candidate to turn that generic feeling into a specific problem for Biden, and nobody seems to be stepping up to the plate to push Biden."