Biden 2024 Win Would Dissatisfy More Voters Than Trump Reelection: Poll
More Americans would react negatively to President Joe Biden winning reelection than former President Donald Trump returning to the White House following the 2024 presidential election, according to a new poll.
The survey, released by The Washington Post and ABC News on Sunday, found that both candidates are facing a lack of enthusiasm among voters ahead of the 2024 election, which could become a rematch of the 2020 race, when Biden narrowly ousted Trump from the White House.
But much has changed since the two last went to head-to-head. Trump has faced a flurry of legal probes surrounding his alleged attempts to thwart his defeat, and both men are under investigation for storing classified documents in their private residences. Biden's presidential tenure has also been marred by economic concerns, weighing down his approval rating, though it has risen in recent months.
The poll found that amid these controversies, both parties are pining for different candidates, but more voters overall would be dissatisfied with a Biden victory.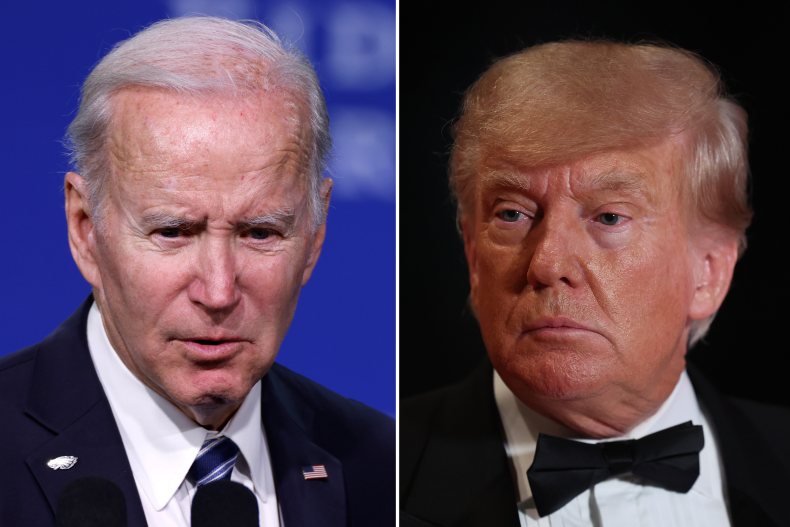 Fifty-six percent of respondents said they would react negatively if Trump were to win the 2024 election, while only 43 percent said they would be satisfied by a Trump victory, the poll found.
However, 62 percent of the poll's respondents said they would react negatively to a Biden win, while only 36 percent said they would react positively to Biden returning to the White House for a second term.
The poll also found that majorities of both parties would be willing to support a candidate other than Biden or Trump in their respective presidential primaries.
Fifty-eight percent of Democrats said they would prefer the party to nominate someone other than Biden in the general election, while only 31 said the party should nominate the incumbent president. Although Biden has pointed to a number of legislative victories, including increases in infrastructure spending and the Inflation Reduction Act, concerns about his age and approval rating have continued to fuel Democratic fears about his electability in 2024.
Meanwhile, a smaller majority of Republicans, 49 percent, would prefer the party nominate a candidate other than Trump. Forty-seven percent said they think the GOP should back the former president. This is a notable shift from September, when a slim majority of Republican voters said Trump should be the 2024 nominee.
The poll found Trump holding a narrow lead over Biden in the general election. Forty-eight percent of respondents said they planned to vote for Trump, while 44 percent said they would back Biden. The poll surveyed 1,003 adults nationwide and had a margin of error of plus or minus 3.5 percentage points.
Biden, Trump Remain Favorites Despite Floundering Poll Numbers
Despite an apparent lack of enthusiasm in both parties, no credible candidates have announced primary challenges to either Biden or Trump.
On the Democratic side, major potential challengers have already said they would step aside if Biden chooses to run again—and he has indicated repeatedly that he would like to do so, despite not yet formally announcing a reelection campaign. If major candidates do seek to primary Biden, polls show that Biden remains the favorite to win a crowded primary.
But Trump could face some high-profile challenges.
Florida Governor Ron DeSantis has led some polls against Trump and is viewed as the top potential challenger in the Republican Party. Former United Nations Ambassador and South Carolina Governor Nikki Haley has also publicly teased the possibility of a presidential campaign, though polls show she would face an uphill battle.
Newsweek reached out to the White House and political analysts for comment.