DeSantis Preferred to Trump by Nearly Every Key GOP Demographic–2024 Poll
Ron DeSantis holds a double-digit lead over Donald Trump in a hypothetical 2024 GOP primary match-up, with the Florida governor also the preferred candidate for several key Republican demographics.
According to a Monmouth University Poll, held between January 26 and February 2, 53 percent of 566 Republicans said they back DeSantis as the next GOP presidential candidate, compared to 40 percent who would vote for Trump.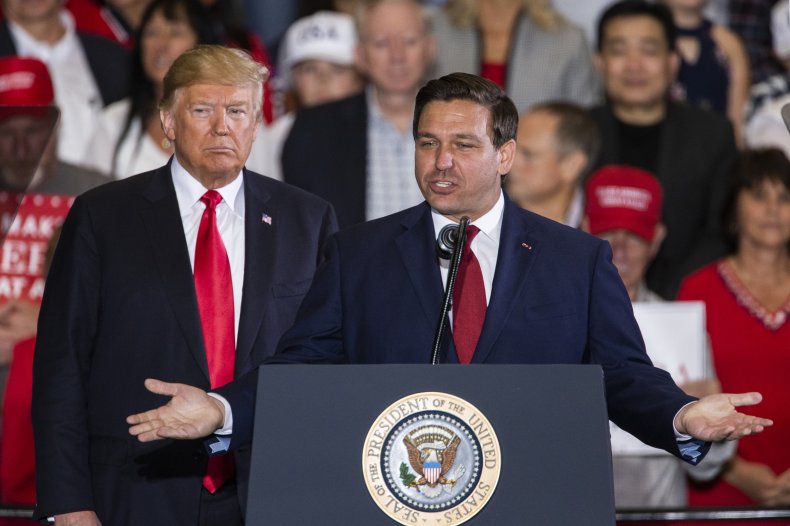 When broken down further, DeSantis also beats Trump in a hypothetical head-to-head among nearly every major voting bloc in the party. This includes "strong" Republicans (49 to 46 percent); those who lean Republican (60 percent to 32); and those who describe themselves as "very conservative" (53 to 43 percent) and moderate voters (51 to 38).
The survey also finds that evangelical Republicans, who are a key demographic for Trump and were crucial to his 2016 election victory, prefer DeSantis in a potential primary race by 51 percent to 44 percent.
DeSantis is also highly favored by non-evangelical voters, with more than half (56 percent) saying that they would support the Florida governor in a GOP primary over Trump (34 percent).
"Trump is still admired by the evangelical voters who were crucial to his nomination in 2016. And many of the early primary states have larger evangelical voting blocs than the national electorate," Patrick Murray, director of the independent Monmouth University Polling Institute in New Jersey, said in a statement.
"However, Trump's evangelical support in a hypothetical primary with DeSantis is currently not strong enough to overcome his relatively weaker standing among non-evangelical Republicans."
The only two demographics in which Trump beats DeSantis in the Monmouth Poll are those earning less than $50,000 a year (38 percent for DeSantis to 53 percent for Trump) and those aged 65 and older (43 percent to 49 percent).
DeSantis also has a slightly higher 'favorable' rating (80 percent) than Trump (74 percent).
However, Murray said that voter opinion of Trump is "more firmly set" than it is for DeSantis. It remains to be seen if the Florida governor can hold on to this high approval rating if he were to campaign on a national scale.
While DeSantis has long been thought to be the main challenger to Trump for the 2024 GOP presidential candidate, the firebrand governor has yet to confirm his intentions to run.
As speculation grows that DeSantis is gearing up a run for the White House in the coming weeks or months, the former president has increased his attacks on his one-time close ally. Trump reposted a message on Truth Social that insinuated DeSantis groomed teenage girls when he was a teacher.
Trump has also hit out at his former ambassador to the United Nations, Nikki Haley, who is expected to announce her 2024 bid in the coming days.
However, according to the Monmouth Poll, Haley has little support from Republican voters on a national scale.
The survey found that one-fifth of these voters do not have an opinion of the former South Carolina governor, (22 percent). Another fifth said they have not even heard of her (19 percent).
"Haley's favorable ratings are solid among Republican voters who are familiar with her. The problem is, she is an unknown commodity for a large chunk of the potential primary electorate," Murray said.
"If DeSantis chooses to run against Trump, it will be very difficult for any other candidate to get Republican voters to take a close look at them."