Can GOP's Culture War Gamble Help it Win in 2024?
An attack on "woke fantasies" by Sarah Huckabee Sanders in her response to President Joe Biden's State of the Union speech was yet another sign of the Republican party doubling down on the culture wars ahead of 2024 primaries.
The path was prepared by Governors Ron DeSantis and Glenn Youngkin, who have successfully capitalized on the message in Florida and Virginia respectively. Donald Trump is now among Republican presidential campaigners stepping up anti-woke rhetoric, although it had not been at the center of his former presidency.
With neither Republicans nor Democrats pushing messages of hope and unity, the culture wars are set to be a feature of the 2024 campaign, said Kamy Akhavan, executive director for the USC Dornsife Center for the Political Future.
"Outrage is click bait. Outrage garners headlines. Outrage taps deep into our emotional cores to increase loyalty to our own tribe while escalating animosity of the other side," he told Newsweek. "Creating outrage often works to win elections... The so-called culture wars are a symptom of the bigger problem of polarization and tribalism that has taken our country hostage."
The question for Republicans is whether it could not only help deliver the party nomination among true believers, but also prove a vote winner in mainstream America when weighed against the economy, security and other concerns.
"The sustainability of culture war issues depends on the battlefront," says John Pitney, the Roy P. Crocker Professor of American Politics at Claremont McKenna College.
While detractors say the anti-woke cause is a cynical conservative invention that targets minorities, neither DeSantis nor Youngkin was hurt by stands against what they say is inappropriate school teaching that racism is systemic in the U.S. and that gender is a matter of choice.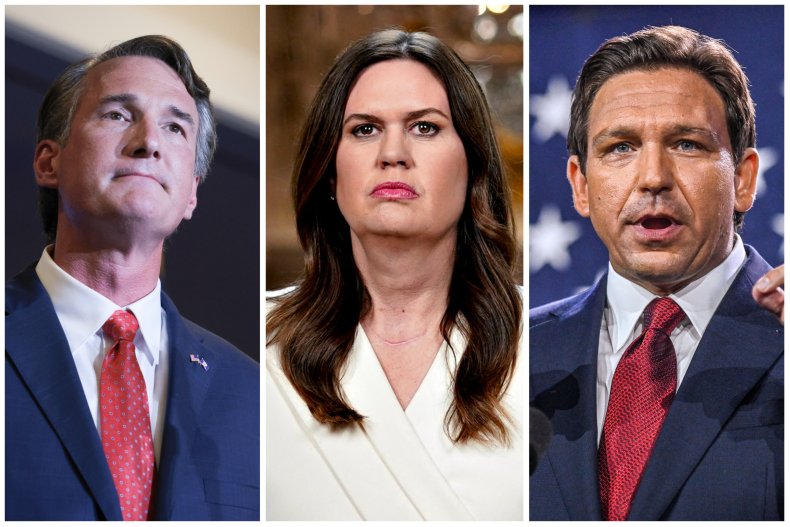 "The Biden administration seems more interested in woke fantasies than the hard reality Americans face every day," Sanders said. "The dividing line in America is no longer between right or left. The choice is between normal or crazy."
Although DeSantis expanded the Republican hold on Florida in November, not all Republican culture warriors did as well during the midterm elections and a predicted red wave failed to materialize.
Jeff Myers, president of Summit Ministries, a Christian Group that polls Americans monthly about cultural mores, sums up the culture war like this: "Our polls find that 70 percent of Americans want to be left alone and the other 30 percent keep telling them that they must believe things that they don't want to believe."
These are some of the culture war battlefields on which conservatives are focusing:
Transgender rights
While gay rights are accepted by a clear majority of Americans, the fight over transgender rights has intensified—and particularly over what children are taught in schools and when.
Conservative groups such as Parents Defending Education have sprung up to take a stand against schools in some states not disclosing children's views of their own gender identity — or plans for gender affirming treatment — to parents. Supporters of transgender rights say not all parents will understand and may take positions that are harmful to their children.
Leading culture war proponent DeSantis pushed through the Florida Parental Rights in Education Act, which dictates that teachers should not teach sexual orientation or gender identity until after the third grade.
Liberal activists dubbed it the "don't say gay bill". They accuse conservatives more broadly of trying to bring harm on the LGBTQ community through allegations that children are being "groomed" in lessons on gender at a young age and events such as drag shows.
To the horror of supporters of transgender rights, a slew of bills has been proposed in Republican controlled states that would ban transition care for youths, rule on how teachers must use pronouns even if children identify differently and restrict entertainment such as drag shows.
A recent poll for The Trevor Project, which says it seeks to build a safer and more-inclusive world for LGBTQ youth, said 86 percent of transgender and nonbinary youth have been negatively impacted by recent debates around such restrictive policies.
Education was a focus for Youngkin in his campaign for Virginia governor in 2021 and he made frequent mention of an incident in which a gender-fluid 14-year-old student was accused of sexually assaulting a girl in a bathroom. Only after Youngkin was elected was the accused student investigated and found guilty of sexual assault by a juvenile court.
Youngkin also introduced a draft policy that schools must defer to parents on gender and that children must use the bathroom of their sex assigned at birth. Opponents say it will harm transgender youth and further increase the high suicide risk.
Highlighting the polarization, a case from Florida could go to the Supreme Court after a U.S. Court of Appeals ruled – along party lines – that a transgender boy was not entitled to use his public high school's boys' restroom.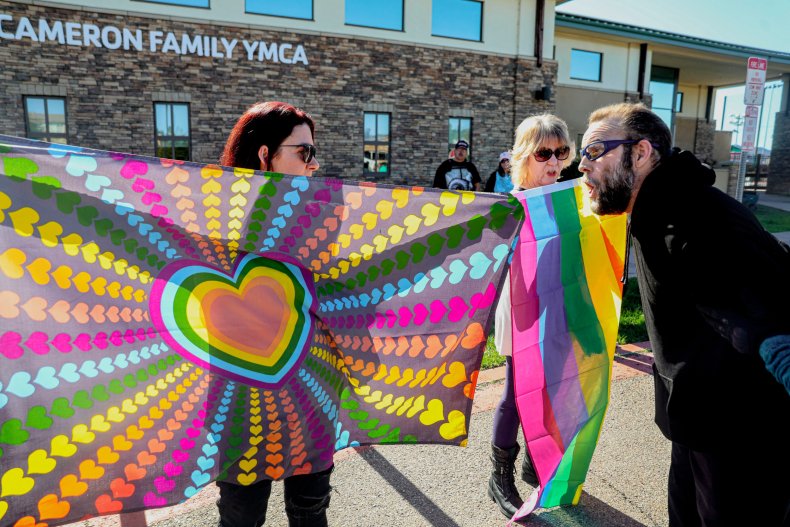 More recently, conservatives have been making hay over an incident at a YMCA near San Diego in which a 17-year-old girl complained she had seen a naked male in the female locker room – and was then made to feel she was in the wrong for complaining. The YMCA said its gender policies were based on laws and guidelines in California.
Transgender participation in sport is another line of attack for conservatives.
Transgender swimmer Lia Thomas rewrote the women's record book at the University of Pennsylvania and in so doing prompted a change in the rules that govern competitive swimming that effectively disqualified her from future competition.
DeSantis signed a proclamation stipulating that Florida native Emma Weyant had been the "rightful winner" of a women's 500-yard freestyle event in which she had lost to Thomas.
A March poll from Rasmussen said only 32 percent of American adults favor allowing transgender students to participate on the sports teams of the gender they identify with, but the extent to which transgender rights could affect voting preferences is unclear.
A poll by the Pew Research Center in June, 2022, showed that most people favor protecting transgender people from discrimination – but 38 percent of those surveyed said society had gone too far in accepting them, compared to 36 percent who said society had not gone far enough.
Teaching on race
A central part of the debate over education has been the teaching of Critical Race Theory, an academic framework which holds that racism is systemic in U.S. institutions and questions the liberal order, legal reasoning and enlightenment rationalism. CRT argues against a "color blind" society, saying race should always be taken into account.
After Sanders was elected to be the first female governor of Arkansas, one of her first actions was to ban the teaching of CRT for grades K-12 in public schools, just as DeSantis and Youngkin had done.
A recent poll from Summit Ministries and McLaughlin and Associates said that 69 percent of likely voters believe the teaching of CRT concepts "further divides ethnic groups and races amongst American youth."
However, a poll by the University of Southern California last year found that almost half of Americans knew little or nothing of what CRT means.
That said, it found "they overwhelmingly support a societal goal of treating all people the same without regard to the color of their skin, and, to a lesser extent, that America is meritocratic—both ideas CRT would contest."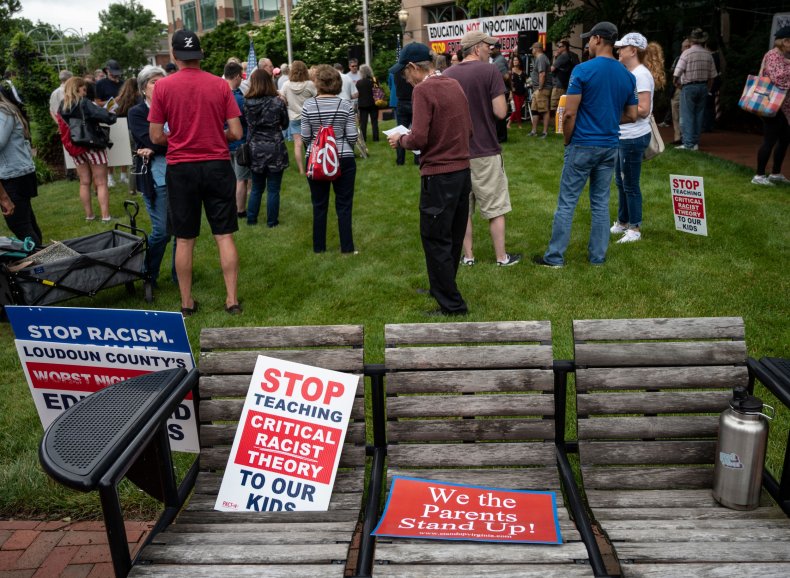 A sign of the growth of conservative opposition to such teaching has been the rapid expansion of the group Moms For Liberty, which also opposes what it says is the early sexualization of children in schools. From being started by two moms in Florida two years ago, it now boasts over 80,000 members in 34 states.
Liberals accuse conservatives of seizing on CRT teaching as an issue even though the academic concept is not taught in schools – or certainly not at a junior level.
In a recent high profile stand, DeSantis rejected an advanced placement course on African American studies from Florida high schools, saying it was "contrary to Florida law and significantly lacks educational value". Florida law requires the teaching of African American history, but bans teaching that could be seen as racist or divisive under DeSantis's Stop W.O.K.E. Act — meaning Wrongs to our Kids and Employees.
Democrat Illinois Governor JB Pritzker wrote to the College Board urging it not to change the African American studies course because of "the political grandstanding of Governor De Santis" and "to fit Florida's racist and homophobic laws.". The College Board nonetheless did release a new framework.
Language
Sanders attacked a "woke mob that can't even tell you what a woman is" – using a common conservative refrain to challenge the neutral phraseology sought by progressives who seek to defend transgender rights and say the misuse of language can do harm.
Shocking conservatives, the American Civil Liberties Union tweeted in 2020 that "Men who get their periods are men. Men who get pregnant and give birth are men. Trans and non-binary men belong."
Getting around the linguistic question, Biden's 2022 budget proposal referred to "birthing people" rather than mothers – drawing a rebuke from Ann Romney, wife of Utah's Republican Senator Mitt Romney, that it was "simply insulting to all moms."
A focus on such issues would not benefit the Democrats, said television comedian and political commentator Bill Maher, who was long seen as a liberal but is now criticized by progressives.
"The biggest problem with the Democrats is their woke baggage," he told Daily Variety in September. "Stop talking about pregnant men and stuff that makes people go, 'Who are these f***ing people? What are they talking about?'"
It is only one example in the fight over language. Stanford University drew attacks from gleeful conservatives with what it called "The Elimination of Harmful Language Initiative" – withdrawn after the controversy exploded because it was "viewed as counter to inclusivity."
The guide had warned against such terms as "walk in" (since some people cannot walk), "kill two birds with one stone" (because it normalizes violence against animals) and "trigger warning" (it causes stress). Also included were "guru" (used casually it demeans Buddhist and Hindu traditions) and "American" (because it insinuates the US is the most important country in the Americas).
USC's school of social work prompted more barbs from conservatives on January 9 by removing the word "field" from its curriculum and replacing it with "practicum," because phrases like "going into the field" and "field work" may have "connotations for descendants of slavery and immigrant workers."
Another language spat has been over the use of the gender-neutral term "Latinx" – although two years ago Democratic polling firm Bendixen & Armandi International said just 2 percent of Latinas and Latinos used it while 40 percent deemed the term offensive and 30 percent said they were less likely to support a political organization that used it.
Opposition is not only from Republicans. Democratic Representative Ruben Gallego of Arizona has said he barred his office from using the term in official documents.
Free Speech
Both sides accuse the other of seeking to stop free speech – whether it is progressives who say conservatives are depriving students of books on race and gender or those on the right who say their opponents are banning widely used language and canceling those who express the wrong views.
Conservatives saw it as the apotheosis of cancel culture in 2020 when James Bennet, editorial page editor of the New York Times resigned over the publication of an Op-ed by Senator Tom Cotton calling for troops to be deployed in American cities to quell riots over the murder of George Floyd by a white police officer. The Op-Ed had outraged the paper's progressive staff and many readers.
But there are signs of a backlash.
Despite support in the past from top executives for left-wing causes, Netflix faced down an employee revolt over content from comedian Dave Chapelle that upset progressives who said it was anti-LGBTQ. Spotify rode out an effort to cancel its biggest podcast host, Joe Rogan, over allegations that he was spreading misinformation about COVID-19.
And the biggest change of all may be at Twitter.
It has been bought by one of the world's richest men, Elon Musk, in the name of promoting free speech. That has made him a hero to many conservatives and drawn scorn from progressives – many of them using Twitter to post such views.
Among Musk's first initiatives was to invite back Trump, who had been stopped from tweeting after the January 6 attack on the Capitol by his supporters. Twitter also released internal communications showing how past content moderation decisions had appeared to favor liberals. With the mood shifting, Trump has now been allowed back to Facebook and Instagram.
The list of conservatives exploiting the so-called Twitter files for political gain is long. They say that they prove that pre-Musk Twitter censored conservatives rather than "disinformation" on everything from alleged voter fraud to COVID protocols to information contained on Hunter Biden's abandoned laptop.
Some liberals have played down the importance of the Twitter files, saying they show nothing that is surprising or interesting.
Diversity Training
While the introduction of diversity training for employees has been widely embraced in corporate America, it has helped turned big business — once seen as a Republican bastion — into a target for many conservatives.
A case in point was when some Coca-Cola employees were asked to complete a LinkedIn lesson (the company said it wasn't mandated) that said they should "try to be less white." LinkedIn yanked the lesson from its course library after it was publicized by right-wing activists.
The Bill and Melinda Gates Foundation drew conservative ire with a $1 million grant to support an "Equitable Math" curriculum from the Education Trust in which teachers were informed that, "White supremacy culture shows up in math classrooms when ... the focus is on getting the 'right' answer."
That drew conservative jokes that math is now racist too.
The Equitable Math website responds to that claim. Its answer is: "Absolutely not," adding that Black, Latinx and multilingual learners are too often "disconnected and left out from the world of mathematics" thus educators need to "reflect on their current teaching practices." The Bill and Melinda Gates Foundation did not respond to a request for comment.
Law and Order
Unlike public schools, policing and crime fighting was long friendly territory for conservatives—although many Democrats had also adopted "tough-on-crime" positions by the 1990s.
Crime rates plummeted during the Obama presidency, but the tide of the discussion began to turn from the victims of crime to the victims of policing—not least after white police officer Darren Wilson shot and killed Michael Brown, an unarmed Black teenager in Ferguson, Missouri in 2014.
Despite stressing law and order, Trump himself embraced criminal justice reform to undo heavy sentences imposed on non-violent offenders.
Then the murder of George Floyd in May 2020, and nationwide protests against racist police brutality that followed, gave rise to calls to "defund the police," with the idea approved by the city council in Minneapolis and adopted to a lesser degree in some other Democrat-run cities.
As crime rates then surged in places, voters revolted.
In Minneapolis, Black residents rejected "defunding the police" by larger majorities than white residents, according to one poll about 15 months after Floyd's death. In many places, Democrats also turned out in force to reject the "defund the police" candidates.
Eric Adams, a former New York police officer, swept aside more progressive Democratic candidates to become mayor of New York. In San Francisco, Chesa Boudin, a Democrat elected as District Attorney at the height of the "defund the police" movement was recalled by voters because of his "soft-on-crime" policies. In Los Angeles, George Soros-supported DA George Gascon just survived a similar effort.
Voting Rights
The Voting Rights Act of 1965 outlawing discrimination in voting was considered landmark legislation at the height of the Civil Rights Movement.
Since then, progressives have been making it easier for voters with initiatives that include the ability to cast a ballot without showing ID and with COVID-19 protocols that included ballot drop-off boxes, a weeks-long voting time frame and most states adopting measures to greatly expand absentee and by-mail voting.
Progressives say that this helps minority groups to vote since they might find it harder than others to go and stand in line.
Conservatives say that such measures make it easier to cheat and have made headway opposing them in some Republican states—while also drawing criticism from big business among other opponents.
In the run-up to 2021's passage of a bill that requires an ID to vote in Georgia, the list of companies objecting included American Express, Citigroup, Google, Microsoft, UPS, Coca-Cola, Cisco, Delta Air Lines and more.
Despite Biden and liberal commentators labelling the bill "Jim Crow in the 21st Century," Governor Brian Kemp signed it into law. Six months later, a similar bill was passed in Texas and the objections, especially among corporate America, were much more muted.
A Gallup poll in October suggested that 79 percent of Americans support the idea that a photo ID be required when voting, which is good news for Republicans, but that majorities also support automatic voter registration, sending absentee ballots to all eligible voters and early voting initiatives in general, which is good news for Democrats.