Ron DeSantis' Florida Event Draws Donald Trump Allies As Rivalry Continues
Florida Governor Ron DeSantis appears to be wooing past and present supporters of former President Donald Trump amid a growing rivalry between the pair ahead of the 2024 presidential election.
DeSantis, who has not yet formally declared, has hosted about 150 guests over a three-day event for donors and influencers amid speculation he's preparing to challenge Trump for the Republican nomination.
The list of guests who were invited to attend the Four Seasons resort in Palm Beach, Florida, includes Republican Senators Tom Cotton and Ron Johnson, as well as influencer Chaya Raichik, known for her Libs of TikTok Twitter account. Benny Johnson and Newsweek Opinions Editor Josh Hammer also attended, according to Washington Post reporter Hannah Knowles.
Cotton of Arkansas was previosuly closely aligned with Trump, although he fell out of favor when he voted to certify the 2020 election in favor of Joe Biden.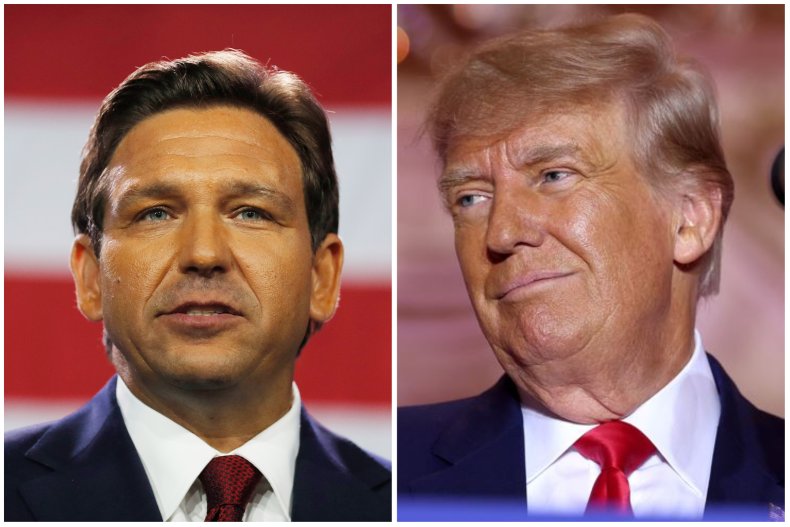 Johnson of Wisconsin has been a key ally to Trump and was involved in a plan to submit alternative electors on January 6, 2021. However Johnson said his involvement only "lasted seconds" and that his role had been "overblown."
A spokesperson for Johnson told Politico on Saturday that he did not intend to endorse anyone in the primary.
"Sen. Johnson historically does not endorse in primaries and plans to continue this trend and remain impartial in 2024," his spokesperson, Corrine Day, said.
According to Politico, Arizona Republican Jim Lamon, a solar energy executive who aligned himself with Trump during his failed 2022 bid for the Senate in Arizona, was also among the attendees.
The outlet also reported that Mick Mulvaney, Trump's former acting White House chief of staff, was seen at DeSantis' retreat.
Mulvaney, who was later appointed as the U.S. envoy to Northern Ireland, left the administration following the riot at the Capitol and was critical of the president's decision to seek another term.
The retreat, just nine miles away from Trump's Mar-a-Lago resort, will likely be viewed with disdain by the former president who has made disparaging remarks about the governor, including repeatedly calling him "Ron DeSanctimonious."
Thomas Gift, associate professor of political science and director of the centre on U.S. politics at University College London, told Newsweek that despite a possible emergence of DeSantis as a nominee, Trump still commanded significant support among Republicans.
"There's been way too much focus this early on in the primaries about the Trump vs. DeSantis match-up. For right now, the race isn't Trump vs. DeSantis. It's Trump vs. everyone else," he said. "Even if DeSantis might fare well in head-to-head polling with Trump (which he no doubt does), it's misleading to think that he's on the verge of busting up the Trump monopoly.
Gift continued: "If Trump can simply maintain his floor of support among the MAGA base, and the rest of his competitors split the anti-Trump vote, that's almost surely enough for the former president to regain the nomination, especially with so many winner-take-all primary states. The real question is whether Republicans can quickly consolidate around a Trump alternative. If they can—and it's DeSantis—then he's in business."
Newsweek has contacted DeSantis and Trump for comment.
A Quinnipiac University poll shared on February 16, showed that 42 percent of Republican voters favored the former president while DeSantis received 36 percent, well ahead of the 12 others named on the list.
When the list was narrowed to four candidates, Trump took 43 percent and DeSantis took 41 percent, indicating the potential for a grueling race.
The survey included 1,429 registered voters and had a margin of error of 2.6 percentage points. It also included 592 Republican and Republican-leaning voters with a margin of error of about 4 percentage points.
Trump has previously said he has not been working on nicknames to call DeSantis should he make a formal announcement seeking the nomination.
Last week, Trump said on Truth Social: "All of the Fake News is reporting that I spend large amounts of my time coming up with a good 'nickname' for Ron DeSanctimonious, who is obviously going to give the presidential 'thing' a shot. They are all 100 percent wrong, I don't even think about it — A very unimportant subject to me."