Ron DeSantis Edges Out Trump for President in Straw Poll of Western Conservative Summit
Republican Florida Governor Ron DeSantis won over former President Donald Trump in a straw poll for 2024 presidential candidates conducted by the Western Conservative Summit, the poll's organizer reported Saturday.
DeSantis led the poll with 74 percent of voters saying they approved of him as a presidential candidate ahead of Trump's 71 percent. The poll was held online using the approval voting method, where voters selected multiple responses to each question.
Because voters were allowed to make more than one choice, the percentages of the poll add up to more than 100 percent. Poll conductor Frank Attwood told Colorado Politics that the decision to use the approval voting method "minimizes spoilers and sabotage and gives viability and visibility to minor candidates."
The summit is hosted by Colorado Christian University's Centennial Institute, and was hosted both online and in-person, Colorado Politics reported. Around 500 people attended in person at a Denver hotel over the weekend, while tens of thousands of viewers were present virtually, according to the event's organizers.
The summit has been considered the largest gathering of conservatives in the western U.S., and has been conducting straw polls since 2010.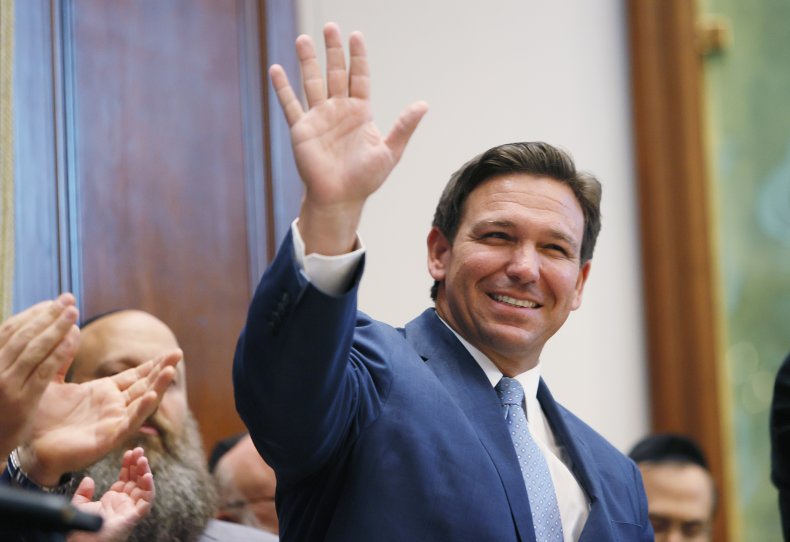 The survey was non-partisan and included Democrat choices such as President Joe Biden, Vice President Kamala Harris and Sen. Bernie Sanders. The top candidates of the poll were all Republicans.
Following DeSantis and Trump were Texas Senator Ted Cruz with 43 percent, former Secretary of State Mike Pompeo receiving 39 percent, and South Carolina Senator Tim Scott with 36 percent.
In addition to the selections of potential presidential candidates, attendees were also asked to mark which policy issues were the most important to them. The top five results were immigration/border security at 82 percent; election integrity at 79 percent; religious freedom at 75 percent; federal budget/deficit at 74 percent; and gun rights at just under 74 percent.
DeSantis' victory in the straw poll comes after he received second place to Trump's first place in the Conservative Political Action Conference (CPAC) earlier this year.
Trump won 55 percent of attendees' approval in the straw poll conducted by CPAC, and DeSantis received 22 percent. When Trump was excluded from the CPAC straw poll results, however, DeSantis won with 41 percent of voters selecting him as their top choice for a 2024 presidential candidate.
Speakers at the event included former Senator Rick Santorum, Congresswoman Lauren Boebert, and former acting Department of Homeland Security Secretary Chad Wolf.
Neither DeSantis nor Trump spoke at the summit.
Newsweek reached out to DeSantis for comment.