Ron DeSantis Favorite for Re-Election Despite Recent Controversies: Poll
Florida Governor Ron DeSantis leads his Democratic challenger in his re-election bid despite facing several controversies in recent weeks, according to a new poll.
DeSantis, a Republican first elected to the governorship in 2018, has emerged as a national figure in the Republican Party, with many speculating that he could be a possible presidential candidate. He is up for re-election this year, in what could be a test of his popularity ahead of the 2024 presidential election.
A Mason-Dixon Polling & Strategy poll released Monday showed him securing at least 50 percent against each of his rivals in the key swing state of Florida.
He holds an 8-point lead against Representative Charlie Crist—who previously served as governor from 2007 to 2011 as a Republican. He holds an 11-point lead against Agriculture Commissioner Nikki Fried, and a 16-point lead against State Senator Annette Taddeo, the poll found.
"I'm not at all surprised or concerned, after all, If these polls mattered, Charlie Crist would be in the US Senate, when Crist was up by 50 points over Rubio in 2010, Gwen Graham would be Governor and we never would have heard of Lawton Chiles or Ron DeSantis," Taddeo told Newsweek.
"In fact, in our state's last governor's election, there were over 100 polls that showed Gillum losing the primary, rarely ever getting more than 10% until late July. Our data clearly shows that my profile jumps massively when voters tune in to the 3 candidate's messages," she added.
Within the Democratic primary, Crist remains the favorite, securing 44 percent of the vote to Fried's 27 percent and Taddeo's 3 percent, according to the poll, which surveyed 625 Florida voters from February 7 to 10 by both cell phone and landline phones. It had a margin of error of plus or minus 4 points.
DeSantis' strong polling numbers follow weeks of controversy for the governor. He has faced criticism from LGBTQ advocates over legislation that would require schools to notify parents if their child was given services regarding their "mental, emotional, or physical health or well-being" and only discussing sexual orientation and gender identity with students who are "age-appropriate."
Equality Florida, an LGBTQ rights organization, said the legislation would "further stigmatize the LGBTQ community."
He was also the subject of criticism over the way he and his staff handled a neo-nazi rally in Orlando. When asked by a reporter about the rally, he accused Democrats of "trying to use this as some type of political issue to try to smear me as if I had something to do with it," sparking criticism from some who believed he should have done more to condemn it.
DeSantis was elected by less than half of a percentage point in 2018, narrowly beating out Democrat Andrew Gillum in a Democratic wave year. Former President Donald Trump also won the state in 2020. Republicans hope to take advantage of President Joe Biden's lackluster polling to not only hold the governorship, but also the hotly-contended Senate race.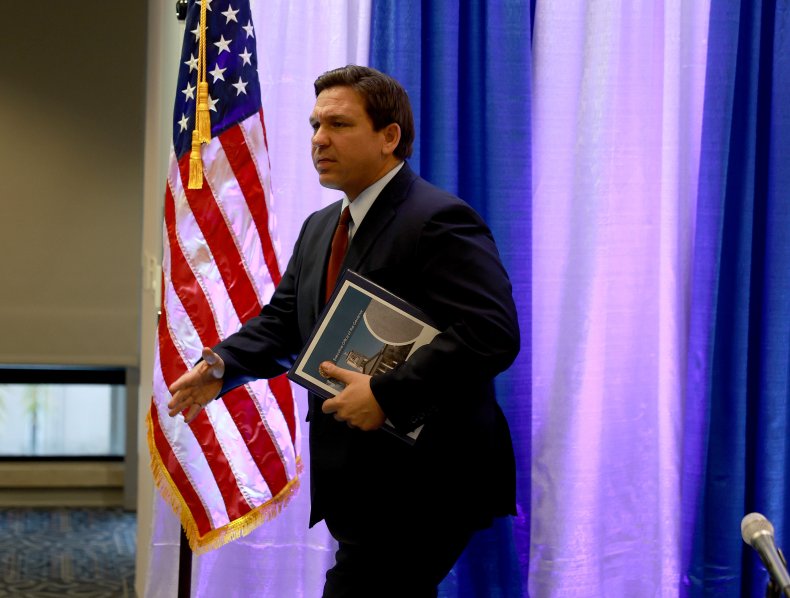 He is lauded by many in the GOP as an alternative to Trump in 2024, pointing to polling that showed he could be competitive against Biden and his general popularity among conservative voters who make up the party's base.
Newsweek reached out to the DeSantis, Crist and Fried campaigns for comment.
Update (2/16/2022, 6:15 p.m.): This article has been updated to include comment from Taddeo.