Ron DeSantis Starts Hurricane Ian Blame Game After Evacuation Criticism
Florida Governor Ron DeSantis has reverted to a Donald Trump-esque tactic of attacking the media as he mounts a defense of the Hurricane Ian evacuation, according to political commentators.
Before the Category 4 storm made landfall on September 28, the Republican was issuing calls for unity and toning down his usual rhetoric. Bipartisan support was needed to save people's lives, he said, and people in Florida did not "have time for pettiness."
DeSantis even thanked President Joe Biden, often the target of his verbal attacks, for approving federal assistance.
The goodwill between the pair continued on Wednesday, when the president met DeSantis to visit the parts of Florida most affected by the hurricane. Speaking to reporters, Biden said DeSantis had done a "good job" dealing with one of the most powerful storms to hit the state in recent history.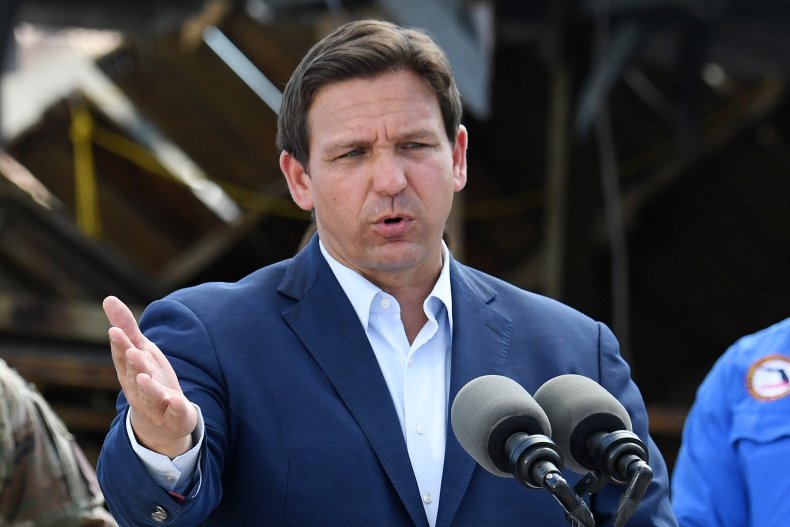 Biden's praise came after DeSantis and other Florida officials were criticized for the response to Ian. The authorities in Lee County have been accused of being too slow to evacuate residents in the at-risk zone—leaving it until less than 24 hours before the hurricane hit, a full day after several neighboring counties issued mandatory orders.
DeSantis has defended the county officials who made the decision, saying in an October 1 press conference that they were "following the data" on where the storm was due to hit.
He said early reports had suggested the hurricane would strike Tampa Bay first, rather than Lee County in southwest Florida where it actually made landfall.
On October 4, during an interview with Florida Voice, DeSantis' approach changed—as highlighted by Sean Freeder and Joshua Scacco, who both teach at universities in the state.
He seemingly decided attack was the best form of defense—a tactic often used by Trump, his sometime ally and potential rival for the GOP presidential nomination—as he blamed the "national regime media" for the reports that Tampa Bay might be the worst-hit area.
"You have national regime media, that they wanted to see Tampa [get hit], because they thought that would be worse for Florida," DeSantis told Florida Voice.
"That's how these people think. I mean, they don't care about the people of this state. They don't care about the people of this community. They want to use storms and destruction from storms as a way to advance their agenda.
"And they don't care what destruction's in their wake," he added. "They don't care about the lives here. If they can use it to pursue their political agenda, they will do it."
Freeder, an assistant professor of political science at the University of North Florida, told Newsweek that DeSantis would not face pushback from the public for attacking the media during a time of emergency.
"DeSantis has framed the media as caring more about ratings than public safety, a notion towards which a large number of independents and even Democrats would probably be sympathetic," Freeder said.
"Doing so gives him the opportunity to attack an unpopular non-political actor, allowing him to cast himself as safety-minded relative to the media, which also provides him cover from the criticism that his administration didn't act quickly enough to evacuate parts of southwest Florida."
Freeder added that the governor had been right to express unity earlier, because it is "dangerous for elected officials to play politics" during disasters and public reaction to such "mudslinging" tends to be negative.
During an October 2 interview, DeSantis hit out at a CNN reporter who asked him about the Lee County evacuation.
"Where was your industry stationed when the storm hit?" DeSantis replied. "Were you guys in Lee County? No, you were in Tampa."
Scacco, associate professor and associate chair of the Department of Communication at the University of South Florida, told Newsweek that the governor's "aggressive" tone toward the media was a way to show his supporters he is fighting the "elite," as well as a "consistent attempt at inoculation" from criticism.
This approach was also seen in the DeSantis team's reaction to reports that volunteers were forced to pause relief operations for several hours on Sunday so he could tour Arcadia. Christina Pushaw, rapid response director for DeSantis, described an ABC report as "disinformation" on Twitter.
"These tactics of press attack are meant to hold up the governor and friendly media as the only legitimate sources of information," Scacco told Newsweek.
"The pushback from the governor creates more attention because the conflict is inherently newsworthy. Then, the governor can tell his supporters that the 'media' is all the things that it opposes."
Newsweek has contacted DeSantis for comment.