Ron DeSantis Dubs 2024 Run 'Nonsense' as Poll Shows Joe Biden Would Trounce Him
Florida governor Ron DeSantis has dismissed speculation of a presidential run, although a recent poll has shown that in any case, he would be comfortably beaten in a hypothetical face-off with President Joe Biden in 2024.
During a press conference to promote the opening of a monoclonal antibody treatment center in St Cloud, Osceola County, DeSantis tried to bat away rumors of a White House bid, telling reporters, "all the speculation about me is purely manufactured."
"I just do my job," he said on Tuesday, "you know, we work hard. Obviously, our state has led on a lot of things including this, and now other states are copying us."
"I hear all this stuff and honestly it's nonsense, so I don't really know what to say to the rumors," he added, before taking another question.
When asked about rumors of a White House bid, DeSantis' spokesperson Christina Pushaw told Newsweek that the "governor's comment on this topic 'speaks for itself.'"
"Governor DeSantis is focused on Florida, which is one of just a handful of states in the country where the COVID hospitalization rate is decreasing, likely because of his emphasis on clinically proven early treatment," she added in a statement.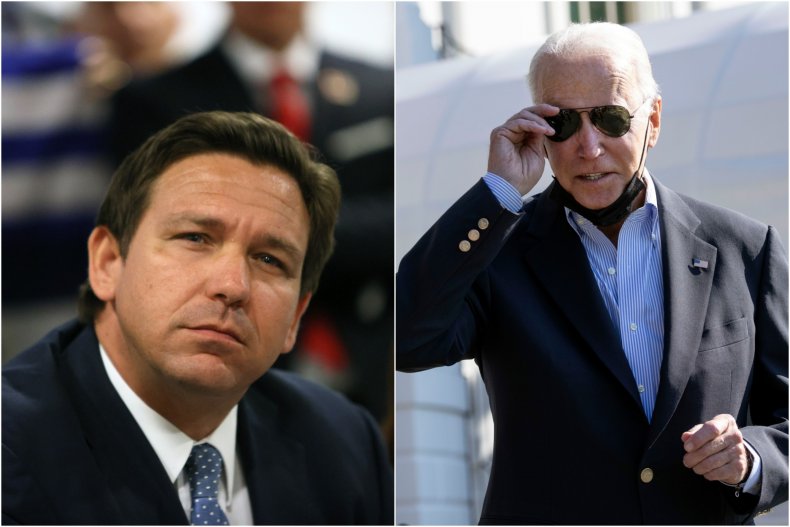 However DeSantis' comments are unlikely to dispel speculation over a White House run in 2024, especially as he is about to headline an event in Nebraska City on Sunday to celebrate agriculture with other potential GOP candidates.
DeSantis will speak at the event held by Gov. Pete Ricketts at Arbor Lodge Historical Park along with former Vice President Mike Pence and Texas Senator Ted Cruz, Fox News reported.
A straw poll in July of those attending the Conservative Political Action Conference showed GOP voters ranked DeSantis second behind former President Donald Trump for the Republican nomination while, when Trump was not on the ballot, DeSantis came in first.
DeSantis even managed to beat Trump in a 2024 straw poll at the Western Conservative Summit a month earlier and the former president said in April that he would "certainly" consider the Florida governor as his running mate.
But an Emerson College Poll this month showed that DeSantis would lag considerably behind Biden if he were on the GOP ticket taking on the Democratic incumbent.
When asked about a series of potential match-ups, voters said that Biden would beat DeSantis by 12 percentage points, 48 percent to 36 percent.
Meanwhile, the survey conducted on August 31 and September 1 with a 2.7 percent margin of error said that a Trump-Biden contest would see the former GOP president slightly ahead, 47 percent to 46 percent.
The results suggested that "Republicans want either Trump or a Trumpian candidate" to head the 2024 GOP ticket, said Spencer Kimball, Director of Emerson College Polling.
However, DeSantis, who has aligned himself with Trump and opposed Biden administration policies on pandemic mitigating measures, faces a slump in his popularity ratings in his own state as COVID-19 cases, hospitalizations and deaths increase.
A Morning Consult poll at the end of August found that nearly half (48 percent) of voters in the Sunshine State disapproved of his job performance, an increase of eight percent since July 1.
UPDATE 9/09/21 6:13 a.m. ET: This story has been updated with a new image. It has also been updated with a response to Newsweek from DeSantis' office.