Ron DeSantis Sued by Heckling Activist Over Press Conference Ban
An activist known for interrupting Ron DeSantis' press conferences is suing the Florida governor for allegedly violating his constitutional right to free speech.
Thomas Kennedy, who made headlines in July 2020 for calling DeSantis an "embarrassment" for his response to the COVID-19 pandemic, has filed a suit against the governor after finding out he was barred from attending press conferences.
Kennedy learned via a public records request that the Florida Department of Law Enforcement (FDLE) had labeled him a "known agitator" and was placed on a "situational awareness" list following other incidents in which he was removed from news conferences held by DeSantis, reported the Miami New Times.
Kennedy is now suing DeSantis, the City of Miami, Miami-Dade County, and FDLE Acting Commissioner Mark Glass over allegations they have violated his constitutional rights to free speech, due process, and equal protection by preventing him from attending press conferences.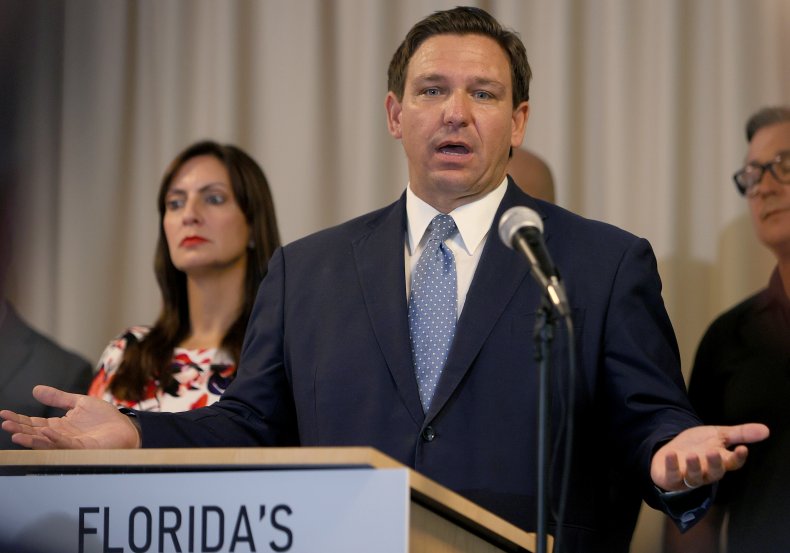 "If the argument is that I've been disruptive in the past, I object to that because we should be able to be disruptive if we pay the governor's salary," Kennedy told the Miami New Times.
"For taxpayer-funded events, it's not in the interest of transparency and free press to restrict access to the public, particularly in the so-called Sunshine State where you have sunshine laws for open government."
Kennedy cited an April 2021 incident in which he planned to attend a press conference DeSantis was holding in PortMiami to discuss his plans to sue the federal government over its ban on cruise travel amid the pandemic.
Kennedy said he was stopped by two Miami-Dade Police Department officers in a parking lot before he could even get out of his car to attend the conference.
The officers then asked for Kennedy's identification and informed that he was "not allowed" to enter the public port, according to the suit.
Kennedy, who said he had credentials to attend the DeSantis presser, describes himself as an "advocacy journalist" and has opinion pieces published in a number of outlets such as the Sun Sentinel and Occupy Democrats.
Kennedy believe he has now been unfairly censored because of his critical views of DeSantis.
"Just because you're partisan press doesn't mean you're not press," Kennedy said.
Howard Wasserman, a First Amendment attorney and professor at Florida International University, told the Miami New Times that government officials may be able to bar some people from press conferences, as long as the reasoning is not due to what they have written.
"They can impose some restrictions on who is allowed to attend the press conference, but those restrictions have to be viewpoint-neutral and content-neutral," Wasserman said. "It can't be based on stuff he writes and says about DeSantis."
Kennedy is hoping for nominal damages and primarily seeking declaratory relief with the lawsuit, as well as changing Florida's policies regarding access to public meetings.
DeSantis' office declined to comment on the lawsuit when contacted by Newsweek.