Ron DeSantis Gives a Donor Control of Disney District
Florida Governor Ron DeSantis and one of his campaign donors are facing scrutiny over an alleged pay-to-play scheme after DeSantis appointed the donor to a five-member board governing Disney's Reedy Creek Improvement District.
DeSantis signed House Bill 9-B into law on Monday, which requires Disney's Reedy Creek Improvement District to be at the governing discretion of a five-person board. The law comes months after then-Disney CEO Bob Chapek opposed the governor's controversial "Parental Rights in Education" bill, commonly referred to as the "Don't Say Gay" bill that banned discussion of sexual orientation and gender identity in the classroom for children under the age of 10.
The Florida state legislature first introduced a bill that would allow a board to govern the Reedy Creek Improvement District earlier this month, according to an ABC News article published Monday. Disney previously self-governed the land where board members were previously named through entities that were controlled by the entertainment giant. Created in 1967, the district is a special government entity that oversees an area that has effectively been managed by the mass media company and is home to its Disney World resort.
"HB 9-B ends Disney's self-governing status and imposes a five-member state control board that is appointed by the Governor and subject to Senate confirmation," DeSantis' press office told Newsweek in a statement on Monday.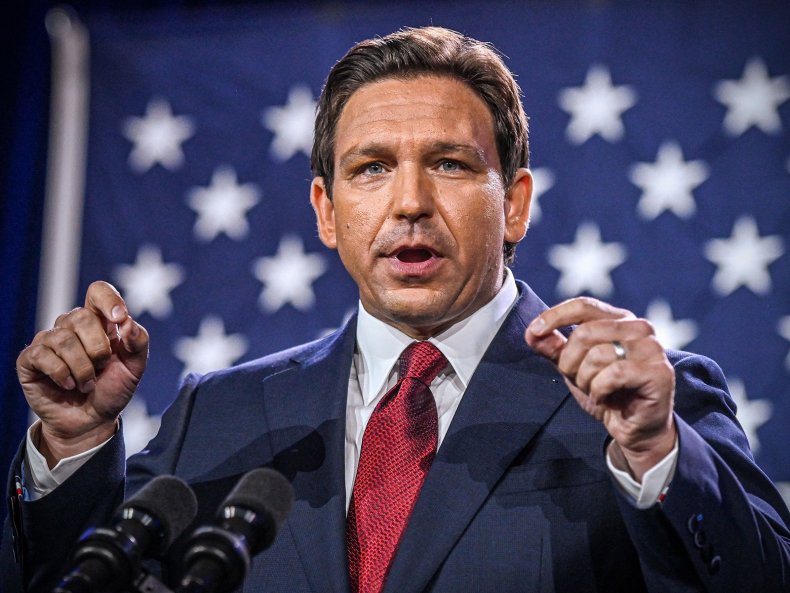 The new law also renames the Reedy Creek Improvement District to the Central Florida Tourism Oversight District.
In a statement issued following the introduction of the new bill, Jeff Vahle, president of Walt Disney World Resort, said earlier this month that the company was monitoring the progression of the draft legislation.
"Disney works under a number of different models and jurisdictions around the world, and regardless of the outcome, we remain committed to providing the highest quality experience for the millions of guests who visit each year," he said.
Meanwhile, speculation on Twitter began on Monday as some accused DeSantis of handpicking his supporters to serve on the board.
"One of the people Ron DeSantis just appointed to the board of the Reedy Creek Improvement District gave DeSantis $50,000 last year," Jason Garcia, investigative reporter and publisher of the newsletter Seeking Rents, tweeted Monday morning.
DeSantis appointed Martin Garcia as one of the board members. Martin, who serves as the chairman of private investment firm Pinehill Capital, donated $50,000 to the governor's 2022 campaign. According to a screenshot published in Jason Garcia's tweet, Martin also donated to other Republican Political Action Committees (PACs), including $10,000 to the Republican Party of Florida, $10,000 to the Florida Education Connection PAC, and $25,000 to the Conservatives for Principled Leadership PAC, although his donation to DeSantis was the highest of the ones pictured.
In 2022, Open Secrets reported that DeSantis broke the gubernatorial fundraising record when he raised $177.4 million with the combination of his reelection campaign and his PAC, Friends of Ron DeSantis. The excessive funds in his war chest and how easily he sailed to reelection have sparked rumors that DeSantis, a Republican, may join the presidential race in 2024.
To further fuel rumors of a 2024 presidential campaign, DeSantis has recently taken a hard stance in several key political arguments, including requesting the Florida death penalty require less than a unanimous vote from jurors to pass and standing firm on his Don't Say Gay bill.
The other board members appointed to govern the district are Bridget Ziegler, Mike Sasso, Brian Aungst Jr., and Ron Peri, according to media platform Florida Politics. The new bill also bars those who have worked for Disney within three years or their relatives from becoming board members.
"How loyal to DeSantis are some of these new Reedy Creek appointees? When the governor's office was planning a televised town hall last year with Fox News host Laura Ingraham, they asked Ingraham's bookers to put two of them (Michael Sasso & Ron Peri) in the audience," Jason Garcia tweeted.
Ziegler also has ties to DeSantis. She is the wife of Christian Ziegler, Florida's new GOP chairman. Ziegler congratulated his wife in a tweet that also was a jab at Disney.
"Ending Disney's Corporate Kingdom," he tweeted Monday morning.
In a press conference on Monday, DeSantis outlined why he chose the board's members, saying that they have vast experience in local government and business.
"These are folks who have a variety of experiences that I think are pertinent," the governor said.
Meanwhile, Disney's ongoing feud with DeSantis is expected to continue, despite Chapek leaving his position in November. Bob Iger, who previously served as Disney CEO from 2005 to 2020, returned to replace him. However, Iger also opposed DeSantis' bill, and the relationship between the entertainment giant and the Florida governor remains tumultuous.
Newsweek reached out to Pinehill Capital and Disney for comment.