Ron Desantis' Team Hits Back at Joy Reid's 'Child Abuse' Claim
Ron DeSantis' office has hit back at claims from MSNBC's Joy Reid that the Florida governor used Black children as "props" while publicly signing an anti-Critical Race Theory bill.
The Reidout host suggested in a tweet that DeSantis' team arranged for a group of Black children to stand by the governor as he signed the Stop the Wrongs to Our Kids and Employees Act (Stop WOKE) bill into law on Friday.
While sharing an image of the children holding placards protesting against CRT posted by Florida State Senator Shevrin Jones—who claimed the youths were subjected to "indoctrination"—Reid tweeted that the "mis-use of Black boys is tantamount to child abuse."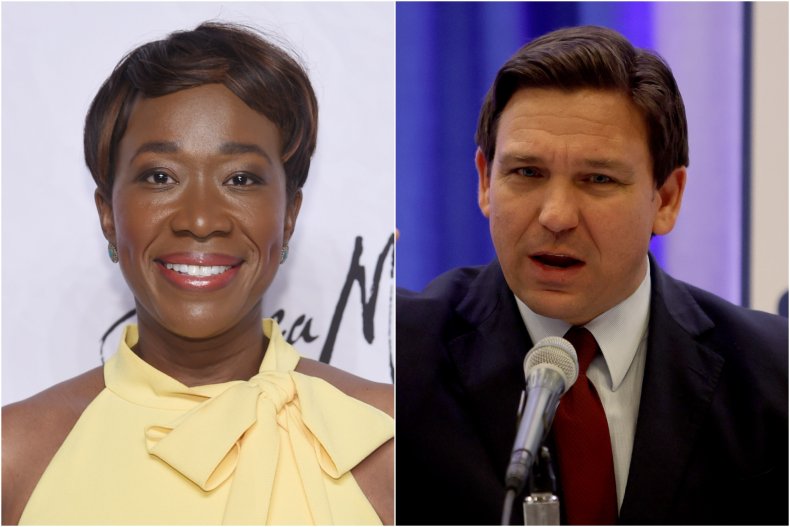 "I would really like to hear the back-story on who these kids were and how they wound up at a DeSantis event. Given how anti-Black DeSantis is, using Black children this way is extra sick," Reid said.
Reid also said that she was told by a "trusted source" that the children who were "standing there looking like they were at the dentist" were not part of the Miami Urban League community service non-profit and asked journalists to investigate.
On Saturday, DeSantis' spokeswoman Christina Pushaw denied that the Black children in the photo were being used and they were aware that the governor was signing an anti-Critical Race Theory legislation.
"I was working at this event and helped with the set up. My colleague talked to all the kids beforehand & told them what the issue was & what bills DeSantis was signing," Pushaw tweeted. "Hundreds of people attended this event; those ~50 who ended up on stage freely chose to stand on stage."
In a follow-up tweet, Pushaw shared an image showing the same children being "excited to get the pen from DeSantis after he signed the bills."
Reid later doubled down on her claims that the children were being used for a photo opportunity in a tweet on Saturday.
Reid claimed that a source told her that the "Black boys who America's most racist governor used as props" came from a Miami charter school that they "may not have known in advance why they were there."
Reid said she would not name the school to spare from "MAGA harassment/threats."
The Stop WOKE bill will ban the teaching of lessons which could make students feel "guilt, anguish, or other forms of psychological distress" because of historic wrongs because of their race, color, sex or national origin in K-12 classrooms
DeSantis passed the law despite admitting that no such lessons are taught in K-12 lessons but action was needed to stop "indoctrination" from being part of young children's education.
"We are not going to categorize you based on your race. We are not gonna tell some kindergartener that they're an oppressor based on their race and what may have happened 100 or 200 years ago. And we're not gonna tell other kids that they're oppressed based on their race," DeSantis said.
Reid and the Miami Urban League have been contacted for comment.