Ron DeSantis Is Looking Like Republicans' Best 2024 Option | Opinion
An incredible new campaign ad highlight's Florida Gov. Ron DeSantis' strengths and demonstrates why he's likely the best choice for the GOP's presidential nomination in 2024. In fact, it shows that while MAGA fanatics were obsessing over election results, DeSantis was actually making a sliver of America great again.
The DeSantis ad is simple yet powerful: An array of Floridians, from teachers and firefighters to students and nurses, explain why they're grateful DeSantis was at Florida's helm during the COVID-19 pandemic. In 60 seconds, the ad encapsulates the show of strength and independence of mind DeSantis had to keep Florida open when almost the entire nation capitulated to federal authorities and locked down.
Here is the ad:
"You saved our jobs," a waitress says. "They tried to shut us down, but you saved our businesses," a car mechanic says. "You led by facts, not fear," a nurse says, as hospital machinery beeps in the background. The kicker? Two kids who say, "you let us go to school" and "you let us learn."
DeSantis' leadership during the pandemic, as well as (perhaps to a lesser extent) that of a few other governors—namely, Texas' Greg Abbott—was fundamentally different from anyone else's, including that of President Donald Trump.
Whereas Trump exhorted the nation to follow Dr. Anthony Fauci, who advised healthy people quarantine, schools to close, and "non-essential" businesses lock down, DeSantis kept Florida open: He refused to lock down the state, Florida businesses, or Florida schools. As a result, Floridians didn't experience a struggling economy, children suffering from depression en masse, or a massive spike in citizens' distrust of government.
DeSantis' entire governing philosophy comes from a starting place of individual liberty, personal responsibility, and the free enterprise system—basic tenets of American conservatism, and things we should want a Republican president to embrace. He's not perfect, but DeSantis' philosophy remains intact. While he might govern on occasion as too much of a populist, his COVID policies in particular stemmed from a deep-rooted philosophy that Floridians operate best when they're free, attending school, going to church, and running their businesses.
If one hadn't been closely following how different states handled the pandemic, one might be forgiven for thinking the DeSantis ad was too saccharine and staged. But the nurses, students, mechanics, and firefighters couldn't have been more sincere in the way they described how incredible it was to live in a free state while other states, at the behest of Trump and Fauci, locked down.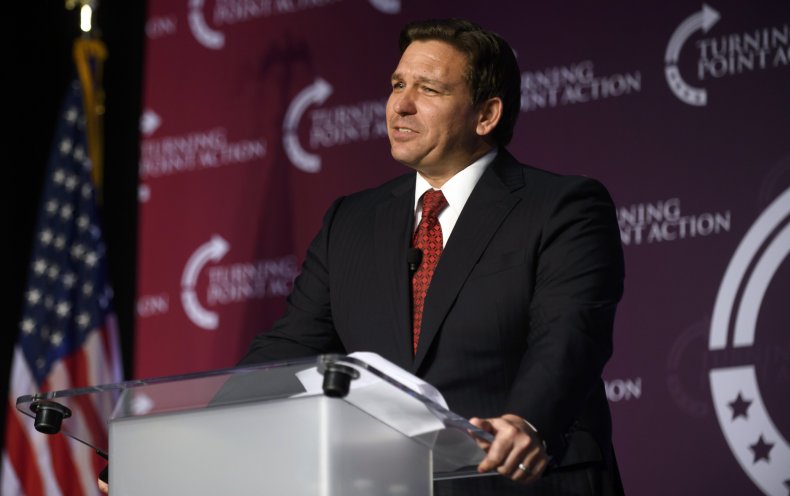 These Floridians' descriptions of what it was like to live freely during COVID markedly contrasts with the experiences of residents of blue states, such as New York and California.
In California, one-third of restaurants permanently closed—and, with it, thousands of jobs were lost. New York City's population plunged 4% during the pandemic, causing a ripple effect of small business closures. In Virginia, California, New York, and other states where children didn't return to in-person learning for over a year, juvenile anxiety and depression sometimes doubled. In many states, churches had to fight their way open through emergency petitions to the U.S. Supreme Court.
As depressing as it is to recall these statistics, it's also important to remember them so that the GOP chooses its next leader wisely. What's more, COVID-19 hasn't entirely vanished—so who knows what the future holds? Republicans must choose a leader who demonstrates the ability to analyze facts, uphold the Constitution, and stand firm in the face of pressure.
The COVID pandemic notwithstanding, the DeSantis ad hearkens back to the days of community connectedness, before social media entangled us together in a mess of algorithms and 140-character tweets—the days when politicians were truly elected to serve the people.
During the pandemic, DeSantis didn't whine on social media that Trump and Fauci mandated he shut down his state—he just made decisions that kept Florida free. After the pandemic, DeSantis didn't complain that he and other similar governors were excoriated for their bold decisions; he proudly moved on and continued to make solid policy moves to help Floridians.
That sounds like someone who doesn't simply talk about making America great again—he actually did it. And that's just the kind of leader the GOP needs right now.
Nicole Russell is a mother of four who has worked in Republican politics. Her writing has appeared in The Atlantic, The Daily Beast, and the Washington Examiner. She is an opinion columnist at the Fort Worth Star-Telegram.
The views expressed in this article are the writer's own.