Ron DeSantis has overtaken Donald Trump as the favorite to win the 2024 election as the former president's chances appear to have been affected by the January 6 hearings, according to betting-market data.
The Florida Governor is currently listed as having a 22 percent chance of winning the next election, with Trump on 20 percent and President Joe Biden behind both potential GOP candidates on 14 percent, according to odds on the Smarkets betting exchange.
DeSantis' chances have rapidly improved over the past few months. In November, he was considered the fourth favorite to be the next president, behind Trump, Biden and Vice President Kamala Harris.
Even by mid-June, Trump was listed by Smarkets as having a 12 percent better chance of becoming the next president than DeSantis (25 percent to 13 percent).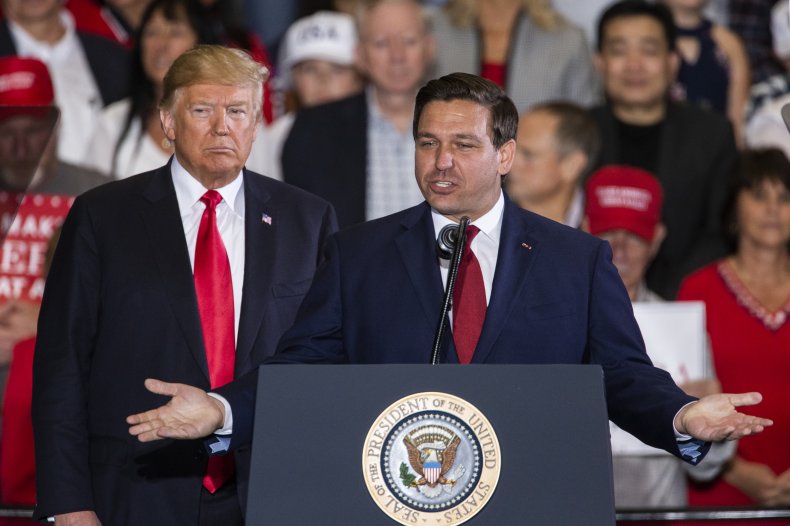 However, it appears the recent damning testimony from Cassidy Hutchinson during the House Committee's hearings on the January 6 attack have damaged Trump's hopes of returning to the White House.
Hutchinson, a former top aide to ex-White House chief of staff Mark Meadows, made some of the biggest bombshell claims of the hearings around the insurrection so far during her June 26 testimony.
These include that Trump was aware that some of his supporters were armed on January 6 but still ordered them to the Capitol as "they're not here to hurt me." Hutchinson also relayed conversations she heard from Meadows stating Trump "doesn't care" that his supporters were chanting "hang Mike Pence" at the Capitol because he believed the then-vice president "deserves it."
The former White House aide also testified that Trump allegedly grabbed the steering wheel of the presidential SUV to force his way to the Capitol as the riot was unfolding and then attacked a Secret Service agent who tried to restrain him.
Since Hutchinson's revelations, Trump has fallen behind to DeSantis with bookmakers, having led the Florida governor by nine percent a week ago.
"The continued rise of Ron DeSantis has now resulted in the Republican becoming favorite to win the 2024 election," Matthew Shaddick, Smarkets Head of Political Markets said in a statement to Newsweek.
"Donald Trump's stock has been on the slide in recent weeks and the January 6 congressional hearings may be having some impact. Whilst the latest prices make him odds-on to run for the White House again, it's now looking like he may face serious opposition from DeSantis."
BetOnline is currently listing Trump and DeSantis as joint-favorites to become the next president, offering odds of 13/4 for both Republicans with Biden at 19/4 and Harris on 12/1.
According to a recent Politico report, DeSantis has viewed the January 6 hearings as a way to get Trump indicted, which could block the former president's attempts to run in 2024 and pave the way for the Florida Governor to enter the White House.
GOP donors are also said to be "getting sick of the s***show" surrounding Trump and are looking to support other candidates like the Florida governor, according to a close DeSantis adviser.
While DeSantis' polling has improved in recent months—including beating Trump in a University of New Hampshire Survey Center survey in June—Trump is still far and away the favorite to clinch the GOP nomination should he choose to run for office again.
According to a collection of national surveys since November 2021, compiled by Polling USA, as of June 16, Trump's average polling stood at 55.3 percent, with DeSantis a distant second at 19.3 percent.