Ron DeSantis Planning $5K Bonus for Unvaccinated Police to Relocate to Florida
Republican Florida Governor Ron DeSantis said on Sunday that he is hoping to sign legislation that would give unvaccinated police officers a $5,000 bonus to relocate to his state.
DeSantis commented about police officers in other states who are losing their jobs because they are not complying with COVID vaccine mandates.
"On a scientific basis, most of those first responders have had COVID and have recovered. So they have strong protection, and so I think that influences their decision," he said during an appearance on Fox News' Sunday Morning Futures program.
"In Florida, not only are we going to want to protect the law enforcement and all the jobs, we're actually actively working to recruit out of state law enforcement because we do have needs in our police and our sheriff's departments," he added.
During his appearance, DeSantis called on police officers across the country, including those in New York, Minneapolis and Seattle, to relocate to the Sunshine State if they are not being accommodated at their jobs.
"If you're not being treated well, we'll treat you better here, you can fill important needs for us, and we'll compensate you as a result," he said.
DeSantis' pitch comes after COVID vaccine mandates were announced in different cities nationwide. Those who don't comply could risk losing their jobs.
In Chicago, city workers, including police officers, were required this month to report their COVID vaccination status. Those who are unvaccinated are required to test for COVID twice a week until December 31, the deadline given to be fully vaccinated. The action created a feud between Chicago Mayor Lori Lightfoot and police union chief John Catanzara.
Like DeSantis, Indiana has also made similar promises, according to the Kansas City Star, as the state police said on Twitter this month: "Hey Chicago police officers, we're hiring! No vaccine mandate, lower taxes, great schools, welcoming communities."
Indiana Senator Mike Braun echoed this invitation when he tweeted Tuesday he was "ready to help connect Chicago police officers to an Indiana police department that is hiring now and doesn't have a vaccine mandate."
The GOP lawmaker claimed in a tweet on Thursday that his office had "already heard from many Chicago police interested in serving Hoosiers."
Meanwhile, New York City Mayor Bill de Blasio announced on Wednesday that all city workers who haven't received at least one dose of the COVID vaccine by November 1 will lose their paychecks. Unlike Chicago, New York City police officers will not have the option to test regularly for COVID, according to the mandate.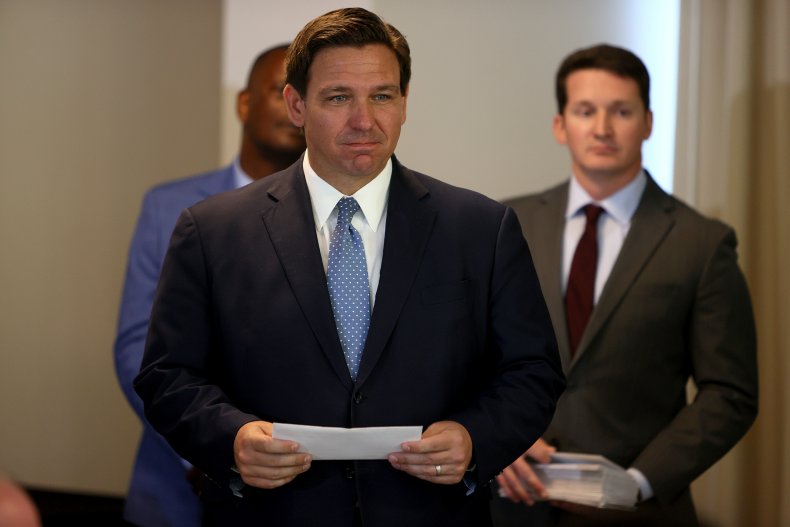 Furious about the mandate, one New York City police union said it is preparing to take legal action against the city.
"From the beginning of the de Blasio administration's haphazard vaccine rollout, we have fought to make the vaccine available to every member who chooses it, while also protecting their right to make that personal medical decision in consultation with their own doctor," Patrick Lynch, president of the New York City Police Benevolent Association, said in a statement.
"Now that the city has moved to unilaterally impose a mandate, we will proceed with legal action to protect our members' rights," Lynch added.
Newsweek contacted DeSantis' office for comments but didn't hear back in time of publishing.