Ron DeSantis Says 15-Week Florida Abortion Ban 'Makes a Lot of Sense'
Florida Governor Ron DeSantis has indicated that he is open to banning abortions after 15 weeks of pregnancy.
Republican lawmakers in the state filed bills that would outlaw abortions after 15 weeks on Tuesday, the first day of Florida's legislative session.
The bills make no exception for rape and incest, but do allow exceptions to save the mother's life. Abortions will also be allowed to prevent serious injury to the mother or if the fetus has a fatal abnormality.
DeSantis told reporters on Tuesday that he thinks a 15-week ban on abortions "makes a lot of sense," but he didn't endorse a specific bill.
"There's a lot of pro-life legislation. We're going to be welcoming it. I haven't looked at every single bill," the Republican governor said.
"I think if you look at what's been done in some of these other states—I mean, when you start talking about 15 weeks where you have really serious pain and heartbeats and all this stuff—having protections I think is something that makes a lot of sense."
DeSantis, who is up for re-election this year, made the remarks shortly after delivering his State of the State address. He didn't call for stricter abortion laws during the speech, but did promote adoption and foster care. He also asked the state legislature to increase funding for foster parents.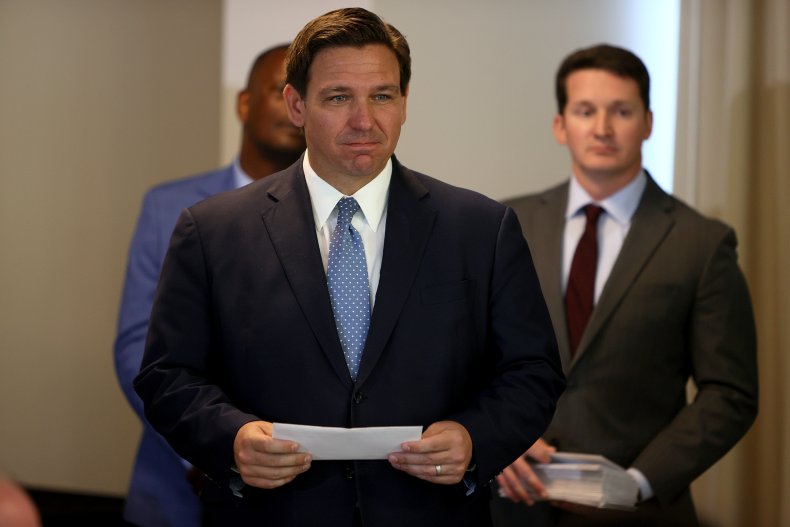 "Protecting life does not end with the unborn," he said. "It must also include continued efforts to promote adoption and foster care so that all Floridians have a fair chance in life."
The measures were quickly endorsed by the statehouse's Speaker Chris Sprowls, who said Republicans were "steadfast in our commitment to Florida's children, both born and unborn."
Florida Democrats, a minority in both chambers of the Florida legislature, have pledged to fight the proposed legislation. "We will continue to fight vociferously for a woman's right to choose and right to health care," said Lauren Book, the state Senate's Democratic leader.
Florida law currently allows abortions up to 24 weeks in pregnancy.
The proposed 15-week limit follows in the footsteps of a Mississippi law that is currently under challenge before the U.S. Supreme Court.
Abortion rights advocates fear that a ruling in that case, Dobbs v. Jackson Women's Health Organization, will gut or overturn the court's landmark decision in Roe v. Wade. This established the constitutional right to an abortion before fetal viability, which occurs at roughly 24 weeks.
A Texas law that has become the country's strictest curb on abortions in decades is also being challenged in the courts.
That legislation bans abortion once fetal cardiac activity is detected, usually around six weeks and before some women even know they are pregnant. The Texas law empowers citizens to sue abortion providers and anyone who assists in an abortion after a fetal heartbeat is detected.