Florida Governor Ron DeSantis held a press conference at the University of South Florida, where he revealed that President Joe Biden had a hard time holding his attention during Tuesday's State of the Union address.
"I watched most of the State of the Union," DeSantis, a Republican, said Wednesday. "I did fall asleep during it. I confess. But you know, I got three kids 5 and under, so a lot of times when it gets past nine, we're a little tired."
Then the governor focused on the issues facing America, including high gas prices.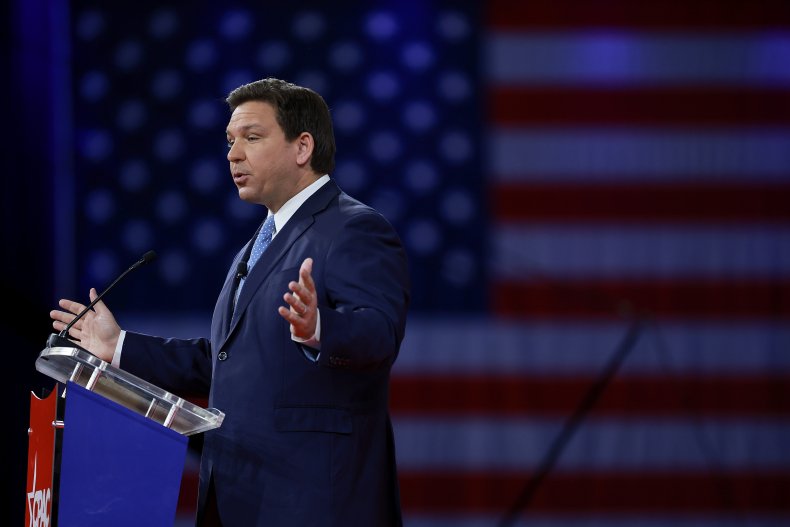 "The striking thing is we've got a lot of problems in this country, and that's obviously something you've got to deal with. But it's striking that so many of these problems have been created by Biden and his administration since he's become president. Think about gas—people are chafing at the pump."
DeSantis' comment about gas prices echoed the Republican rebuttal presented by Iowa Governor Kim Reynolds after Biden's State of the Union address Tuesday. In her remarks, Reynolds said that the president and the Democratic Party "spent the last year either ignoring the issues facing Americans or making them worse." She pointed to government spending as an example of this, blaming Democrats for rising inflation and moving forward with policies that contributed to rising costs of gas.
"They were warned that spending trillions would lead to soaring inflation," Reynolds said. "They were told their anti-energy policies would send gas prices to new heights. But they plowed ahead anyway, raising the price at the pump by 50 percent and pushing inflation to a 40-year high."
DeSantis and the GOP have made the president's economic agenda a primary item of criticism. At the Conservative Political Action Conference (CPAC) in Orlando, Florida, last week, DeSantis called Biden's policies "reckless," saying they have led to "rampant Biden-flation."
"The inflation is because of his policies and we're not going to let anyone forget that. So all told, he's had the worst first year of any president since the 1800s," DeSantis, whose name has been mentioned as a potential presidential contender in 2024, said in his remarks at CPAC.
While economists have praised Biden's work in preserving economic growth and guiding the country towards a greater state of economic normalcy as it continues to recover from COVID-19, some 60 percent of voters still believe the president is failing in that area, according to a CNBC/Change Research poll from January.
Newsweek contacted the White House for comment.