Ron DeSantis Says Migrants Better Off as Newsom Seeks DOJ Investigation
Florida Governor Ron DeSantis says he was trying to help migrants by flying them to Martha's Vineyard. But California Governor Gavin Newsom says DeSantis should be investigated for possible kidnapping and racketeering charges.
The pair of politically polar opposite governors fired off their dueling responses a day after DeSantis' office confirmed Florida's new "relocation" program had flown the migrants to the upscale vacation spot. Shrugging off critics who called the relocation cruel, DeSantis, a Republican, said Florida was sending migrants to a self-professed welcoming jurisdiction. But Newsom, a Democrat, reacted with disgust, calling for the Department of Justice (DOJ) to investigate.
Florida on Wednesday sent two planes of undocumented immigrants to Martha's Vineyard, an island off Massachusetts that's only accessible by boat or plane. The move was heatedly denounced by Massachusetts State Representative Dylan Fernandes, who called it "evil and inhumane," and by the White House, which called it a "cruel political stunt."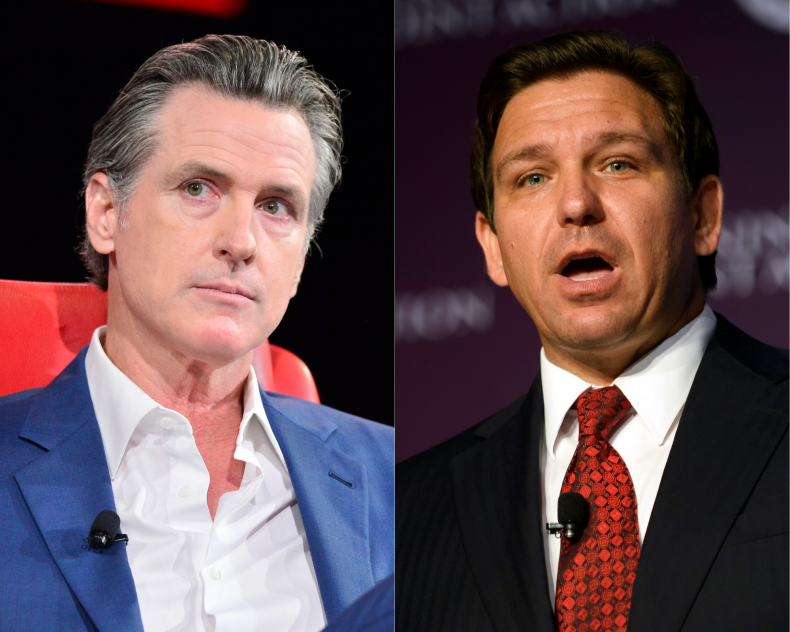 Speaking at a press conference Thursday, DeSantis criticized President Joe Biden for allowing "millions and millions of people" and illegal drugs, including fentanyl, to enter the U.S. illegally. DeSantis said he would help migrants reach so-called "sanctuary jurisdictions," states and cities that limit their cooperation with federal authorities to deport immigrants.
"If you have folks that are inclined to think Florida is a good place, our message to them is, we are not a sanctuary state, and it's better to be able to go to a sanctuary jurisdiction," he said. "And yes, we will help facilitate that transport for you to be able to go to greener pastures."
DeSantis' relocation program follows Texas Governor Greg Abbott busing migrants to New York City and Washington, D.C., in defiance of the Biden administration's immigration policies and liberal jurisdictions that have taken more accommodating approaches to undocumented immigrants.
The sudden arrival of two planes carrying undocumented immigrants to Martha's Vineyard sent local officials and volunteers scrambling to meet their needs. Reports have emerged that some migrants didn't know where they were, and were told they would be taken where jobs and housing would be available.
Newsom on Thursday sent U.S. Attorney General Merrick Garland a letter asking the DOJ to open an investigation into possible criminal and civil violations by Abbott or DeSantis.
"Like millions of Americans, I have been horrified at the images of migrants being shipped on buses and planes across the country to be used as political props," Newsom wrote. "Clearly, transporting families, including children, across state lines under false pretenses is morally reprehensible, but it may also be illegal."
Newsom wrote that several migrants taken to Martha's Vineyard said a recruiter falsely told them they would be taken to Boston where they would receive an expedited work authorization. If true, Newsom said it would mean an attempt to "humiliate and dehumanize" the migrants based on their national origin.
Newsom asked Garland to look into possible prosecution under kidnapping and anti-organized crime laws as well as civil rights violations.
Newsweek has reached out to DeSantis for a response.