Immigration News Updates: El Paso Responds to Increase in Migrants
Republican governors sent groups of migrants to Democratic "sanctuary" cities amid criticism of the Biden administration's border and immigration policies.
Florida Governor Ron DeSantis flew two planes of immigrants to Martha's Vineyard. Massachusetts leaders rushed to provide short-term shelter and meal solutions for the migrants.
Texas Governor Greg Abbott bussed a group of migrants from Mexico and South America to Vice President Kamala Harris' home in Washington D.C.
This is latest in an ongoing effort from Abbott to send migrants crossing the southern U.S.-Mexico border to D.C., Chicago and New York since April.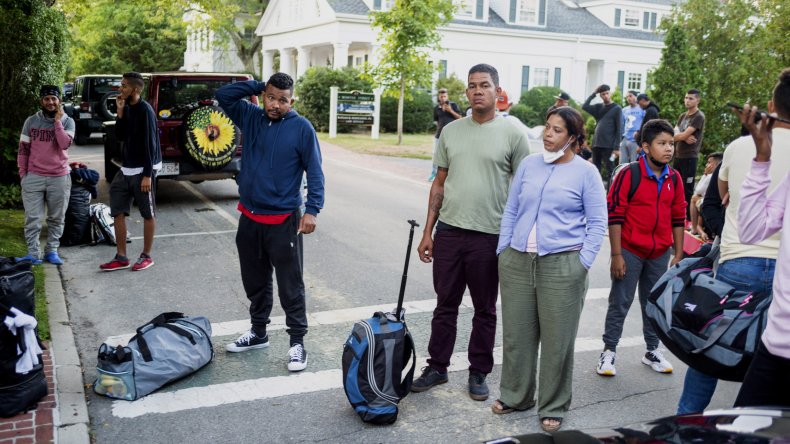 Live Updates Have Ended.
El Paso Responds to Increase in Migrants
Officials in El Paso County, Texas were set to meet Thursday to form a plan on how to respond to the area's recent uptick in migrants crossing the border to enter the U.S.
A description of the scheduled meeting said it was "a matter of public necessity" to decide how to address the rise in incoming migrants, with a "significant number" of migrants staying on the street after entering the county and "lacking basic necessities such as food and shelter." Meanwhile, shelters in El Paso are already "at or nearing capacity," the meeting description said.
The meeting description identified its purpose as gaining "direction and authorization from the Commissioners Court on reallocating financial resources and other potential County resources to address migrant care coordination with the City of El Paso and other NGO's."
El Paso County Judge Ricardo Samaniego told Border Report that officials may move migrants currently staying in the downtown area to the El Paso County Coliseum. Samaniego said many migrants move on to other cities after first arriving in El Paso but that their movement depends on transportation availability, according to Border Report.
The U.S. Border Patrol's El Paso Sector addressed the recent increase in migrants in a Facebook post earlier this week. Agents with the El Paso Sector have encountered an average of 1,300 migrants each day since the start of this month, the post said.
White House Blasts GOP's 'Inhumane' Political Stunt
The White House denounced Republican governors who are sending migrants out of their states to other cities, calling it a "cruel political stunt."
"Republican governors interfering in that process and using migrants as political pawns is shameful, reckless, and just plain wrong," White House Press Secretary Karine Jean-Pierre said during a press briefing Thursday.
Jean-Pierre said there is a process in place to legally manage migrants that involve expelling migrants by court order under Title 42, transporting them to ICE custody and detention programs to await further processing.
She added that if these governors truly care about border security, they should ask Republican Senators like Florida's Rick Scott and Texas' Ted Cruz why they voted against President Joe Biden's request for more funding for the Department of Homeland Security (DHS) that would have helped the department handle the influx of migrants.
"The fact that Fox News, and not the Department of Homeland Security, the city or local NGOs were alerted about a plan to leave migrants, including children, on the side of a busy D.C. street makes clear that this is just a cruel, premediated political stunt," she said.
Jean-Pierre said it is also "deeply alarming" that migrants sent to Martha's Vineyard were "misled" about where they were being taken and what would provided when they arrived. Migrants were reportedly told they would receive housing and jobs when they arrived.
Jean-Pierre decried the actions of Texas Governor Greg Abbott and Florida Governor Ron DeSantis. She said their efforts are disrespectful to humanity and deprive migrants of their dignity.
The children that Abbott and DeSantis "abandoned" deserve better, she said, adding that the White House is working to manage the "consequences of these stunts."
Jean-Pierre was pressed by reporters on increased border crossings and migrant deaths in attempts to enter the country.
She said the White House is "doing the work that was not done by the last administration."
"We are fixing a broken system," she said. "It is not like turning the light switch on, it is going to take some time."
Jean-Pierre said more individuals will be removed or expelled this year than any previous year and boasted the more than 3,000 arrests made at the border since launching a new "aggressive" campaign to combat the multibillion-dollar human smuggling industry.
"We have seen the work we've done and how it's been effective," she said, noting the administration has taken "unprecedented" steps to secure the southern border and rebuild a "safer and orderly process system."
Jean-Pierre also said the White House agrees with Vice President Kamala Harris' highly-criticized comments over the weekend that "the border is secure" and there is more work to be done to fix the "broken immigration system."
"Rebuilding the immigration system, especially one that was decimated under the previous administration, won't happen overnight," she said. "We need to do it in a humane way. We need to do it in a safe way."
Jean-Pierre said she has not had the opportunity to speak directly with President Biden about the buses of migrants dropped off in Washington, as he has been busy with the railway strike negotiations. The White House was not alerted by Texas that migrants would be arriving at the vice president's residence this morning.
The White House is in contact with local officials in these cities receiving migrants, as well as FEMA, to coordinate federal support, Jean-Pierre said. She added that local leaders can request funding through FEMA programs aimed at supporting humanitarian efforts.
Jean-Pierre added that the White House continues to call on Congress to act and specifically Republicans to support funding for DHS and to help pass an immigration reform bill.
"A long-term solution can only come from comprehensive legislation that brings long-lasting reform to a fundamentally broken system," she said.
Advocates Say FL Is 'Trafficking' Migrants
Rep. Joaquin Castro of Texas said Florida is "engaging in human trafficking" in a Thursday post on Twitter about Florida Governor Ron DeSantis' recent decision to fly two planes containing migrants to Martha's Vineyard, where local officials said the migrants' arrival came as a surprise.
Castro, a Democrat, said the U.S. Department of Justice "needs to investigate" Florida's Republican governor "for using fraud and deception to lure people out of state only to abandon them without fulfilling his false promises." Castro called for a similar investigation into Texas Governor Greg Abbott, who also recently sent buses of migrants from Texas to Washington, D.C.
"They're engaging in human trafficking," Castro wrote.
Maria Corina Vegas, the Florida deputy state director of the American Business Immigration Coalition (ABIC), also said DeSantis was "effectively trafficking migrant children across the country" through the organized flights to Martha's Vineyard.
"The governor likes to pander to communities like mine, traumatized by political persecution and violence," Vegas said. She described the state government's "shameless action" as "a mere political ploy in his quest for power" that she said "won't go unnoticed."
Most Texas Voters Support Busing Migrants Out of State
A new poll finds that more than half of Texas voters support Governor Greg Abbott's move to bus migrants out of the state.
The Texas Politics Project out of the University of Texas at Austin found that 52 percent of voters support Abbott's decision to send migrants to Democrat-controlled cities.
Among Republicans, support for this plan is especially high, with 80 percent in support and 62 percent who express "strong support."
A majority of Democrats, 62 percent, oppose the measure while 22 percent support it.
Despite the widespread criticism for the policy, James Henson, director of the Texas Politics Project at UT Austin and a co-director of the poll, told Axios that it is "undeniably popular."
"The antagonistic nature of the policy plays well with the large swath of GOP voters who see border security and reducing immigration to Texas as major election issues," he said.
The survey also found that Abbott is leading among voters in the gubernatorial race. He is polling at 45 percent, ahead of Democratic challenger Beto O'Rourke.
The institute said the polling shows this will be one of the most competitive races for Texas governor the state has seen in decades.
"Above all, the results illustrate how Gov. Abbott's sustained effort to keep Republican voters focused on border security over the past several months is channeling the most powerful political sentiments in the Texas GOP," Henson and Joshua Blank, the manager of polling and research at the Texas Politics Project said in the poll summary.
They said Republican voters are still focused on immigration and border security as political issues "fueled by an intense aversion to immigration and perceptions of its negative effects on the state."
Fox News reports there has been over 450,000 border crossing in the Del Rio sector so far this year, double the number of crossing that occurred this time last year.
Florida Will Send Migrants to 'Greener Pastures' in Sanctuary Cities
Florida Senator Ron DeSantis had a strong message for migrants seeking to enter the country.
"We are not a sanctuary state," he said during a press event Thursday. "And its better to be able to go to a sanctuary jurisdiction."
This comes after the governor sent about 50 migrants on planes to Martha's Vineyard Wednesday.
"And yes, we will help facilitate that transport for you to be able to go to greener pastures," he said, speaking to potential migrants thinking of coming to Florida.
The Republican governor also called on President Joe Biden to "do his damn job and secure the border."
DeSantis called out Democratic leaders who boasted about being sanctuary cities under the Trump administration.
"The minute even a small fraction of what those border towns deal with every day is brought to their front door they all of a sudden go berserk and they're so upset this is happening," he said. "It just shows you their virtue signaling is a fraud."
He said Democrats are supporting "indefensible" immigration policies under the Biden administration.
"It is not defensible for a superpower to not have any control the territory of its country," he said.
DeSantis said Biden inherited a better border situation and has now brought upon an immigration crisis.
Residents Donate Food, Clothing for Migrants
Martha's Vineyard residents brought food and clothing donations as community leaders worked to find solutions for the migrants who arrived on the island by plane.
Two planes sent by government officials in Florida brought migrants to the island on Wednesday. Winter Homes Shelter Coordinator Lisa Belcastro told MassLive that officials were told the migrants were heading their way only 20 minutes before they arrived.
As locals pulled resources together on Thursday, MassLive reporter Chris Van Buskirk documented their efforts in a series of posts on Twitter.
Officials were still putting together a plan for addressing the situation Thursday morning, Belcastro told Van Buskirk. St. Andrew's Episcopal Church in Edgartown was helping shelter the migrants, and the Massachusetts Emergency Management Agency was reportedly also stepping in to help.
The developing situation reportedly saw AP Spanish students from a local high school helping with translation as some state representatives provided medical help and other necessary services. A volunteer told Van Buskirk that a handful of local restaurants were also donating food to help feed the migrants.
Van Buskirk later shared images of volunteers arranging donations that had been brought to the church.
Belcastro told MassLive she has seen people "from all walks of life" bringing donations.
"I watched a young man come by with a garbage bag, I think he had fishing poles, bringing clothes," she said.
Texas to 'Continue Sending Migrants'
Texas Governor Greg Abbott said his state "will continue sending migrants to sanctuary cities" until President Joe Biden and Vice President Kamala Harris "do their jobs" and secure the U.S.-Mexico border.
"Our supposed Border Czar, VP Harris, has yet to see firsthand the impact of the open border policies she has helped implement," the Republican governor said.
The Biden administration "continues ignoring and denying the historic crisis at our southern border, which has endangered and overwhelmed Texas communities for almost two years," Abbott said in a Thursday press release issued by his office.
The release mentioned a recent visit Harris made to Houston, during which Abbott's office said she "claimed the southern border was secure and denied the existence of a border crisis."
Abbott said two buses containing more than 100 migrants had arrived outside Harris' home in Washington, D.C., on Thursday morning, marking the completion of their journey from Texas. Abbott's office described its "busing strategy" as "part of the state's ongoing response to President Biden's reckless border policies that are overwhelming border communities in Texas."
These trips "will continue" until action is taken to address Texas' concerns at the border, Abbott said.
Republicans Applaud Move to Send Migrants to D.C.
Republicans are blasting Democrats and the Biden administration for inaction at the southern border.
Senate Republicans said Democrats "would rather audit Americans than secure the border."
"When they passed their reckless spending bill, they voted against hiring more border patrol agents," Senate GOP tweeted, "Instead, they spent $46 billion to hire 87,000 IRS agents."
Many GOP lawmakers are applauding the move by Republican governors to send migrants to Massachusetts and Washington D.C.
Texas Senator John Cornyn told CNN's Manu Raju that this is a "terrific idea." Florida Senator Marco Rubio told Raju the influx or migrants is a "national responsibility."
"It should be a national burden, and we're talking about a miniscule percentage of the overall numbers that are coming," he said.
Texas Senator Ted Cruz gave "kudos" to Florida Governor Ron DeSantis "for sending illegal immigrants to Martha's Vineyard."
Cruz said he proposed a similar effort last year and quoted Dukes County Commissioner Keith Chatinover who said he would "love Martha's Vineyard to become a haven for new immigrants to this country" and accused Cruz of "trying to whip up racial anxieties for political gain."
He also called out hypocrisy from Democrats regarding the handling of an influx of migrants southern states face.
"Let's see if the Dems in Martha's Vineyard feel the same way after a few thousand illegal immigrants arrive on their doorstep," Cruz said in a tweet.
The Republicans on the House Homeland Security Committee called out Vice President Kamala Harris, who was appointed by President Joe Biden to oversee the situation at the southern U.S. border, for not visiting the border.
"When [Vice President Kamala Harris] won't go to the border, you bring the border to her," the Committee said in a tweet.
"Will 'Border Czar' [Harris] open her doors to help the migrants who just arrived to the nation's Capital?" another tweet read. "Or will she continue to ignore the problem, just like she's been doing since February 2021?"
The Committee also took aim at Democratic leaders who are scrambling to accommodate the influx of migrants from Texas and Florida.
"Looks like the Democrat leaders of these sanctuary cities keep complaining about migrants being dropped off," the Committee said, referring to Washington D.C. Mayor Muriel Bowser. "Not living up to their role as sanctuary cities very warmly."
Harris recently said the U.S.-Mexico border is "secure" during a recent interview with Chuck Todd on Meet the Press.
"The border is secure, but we also have a broken immigration system, in particular, over the last four years before we came in, and it needs to be fixed," she said.
Todd pushed back, asking if the vice president is "confident" the border is secure given that the U.S. will have "two million people" cross the border for the first time ever.
"We have a secure border in that that is a priority for any nation, including ours and our administration," Harris said. "But there are still a lot of problems that we are trying to fix given the deterioration that happened over the last four years. We also have to put into place a law and a plan for a pathway for citizenship for the millions of people who are here and are prepared to do what is legally required to gain citizenship."
These comments draw a lot of criticism from border agents and Republican lawmakers, especially those in border states.
The Republicans of the House Judiciary Committee questioned if Democrats are changing their tune on support for sanctuary cities.
"So Democrats don't like 'sanctuary cities' now. Right?" they tweeted.
Republicans are also outraged after an interview with one of the immigrants in Washington has gone viral.
In the interview with Fox News, and migrant said "everybody believes that the border is open," adding that "everybody comes in illegally."
Representative Jason Smith of Missouri blamed President Biden's lack of interest in upholding immigration laws.
"Illegal immigrants believe the border is open because, for the last two years, President Biden has shown he has no interest in upholding our laws and has worked at every turn to undermine our border security," he said in a tweet quoting the interview.
Migrants Have 'No Idea Where They Are'
The migrants who were flown from Florida to Martha's Vineyard in Massachusetts on Wednesday had "no idea" where they were once they landed, according to the chair of the island's Democratic committee.
During an interview with WLNE-TV, committee chair Carla Cooper said the migrants seemed to be confused by both their new location and by the lack of employment and shelter available to them.
"They have no idea where they are," she said. "They were told that they were coming somewhere where there would be jobs and housing waiting for them, and they landed here, and no one was here to welcome them."
Officials in Martha's Vineyard didn't know the migrants were flying to the island and thus weren't present to welcome the groups when they arrived, she said.
Cooper then spoke critically of Florida Governor Ron DeSantis, whose team sent the migrants to Martha's Vineyard.
"It was very unnerving to know that there's a governor in the country that would just traffic human people to another state, just dump them there like garbage," she said.
Martha's Vineyard Police Working With State to Help Migrants
The Edgartown Police Department on Martha's Vineyard said it continues to provide shelter, food and care to the migrants who arrived on the island Wednesday.
In a humanitarian update at 10 a.m. Thursday, the department said a coalition of Vineyard towns, community-based and nonprofit groups are assisting in the effort.
"We will continue to work very closely with out state partners, who have pledged support and resources for any unmet needs that we may have," the department said.
"As we do with any shelter operations, we are focused on meeting the immediate needs of people we are sheltering and engaged in contingency planning if the situation changes," they added.
The police department also said that as of around 10 a.m., "nothing further is needed" at migrant shelters.
Authorities asked people to stop dropping off supplies to the shelter and avoid the area to keep traffic flowing.
"We will keep you updated if further supplies and support are needed," the department said in a tweet.
Local officials are asking people to contribute to Martha's Vineyard Community Services to help support the migrant families on the island.
Martha's Vineyard Could Take Thousands More, DeSantis Team Says
An official with Florida Governor Ron DeSantis' team suggested Martha's Vineyard "wouldn't mind" receiving thousands more migrants after DeSantis sent two planes carrying migrants to the island on Wednesday.
Christina Pushaw, the rapid response director for DeSantis' office, made the comment while responding to a tweet about the migrants' arrival that was posted by Dylan Fernandes, a state representative in Massachusetts whose constituents include Martha's Vineyard residents.
Martha's Vineyard "jumped into action" to provide the migrants with shelter, food and other needs, Fernandes said. "We are a community that comes together to support immigrants," his Wednesday tweet said.
"Great," Pushaw wrote in her Wednesday evening response, "then you won't mind taking in a few thousand more."
D.C. Under Public Emergency Amid Migrant Influx
The latest arrival of migrants to Washington D.C. comes after a public emergency was declared in the city.
Earlier this month, Washington D.C. Mayor Muriel Bowser declared a public emergency in response to the influx of migrants bused to the city from Arizona and Texas.
Republican governors have been sending migrants to Democratic-led cities for months in protest against the Biden administration's immigration and border policies.
This declaration freed up $10 million to address what she called a "humanitarian crisis."
Bowser, a Democrat, said the city will set up a new Office of Migrant Services to provide support to the estimated 9,400 immigrants bused to the nation's capital. The new office will work with nonprofits to accommodate the migrants' needs, even as they are moved to other destinations.
She criticized Republican Governors Greg Abbott of Texas and Doug Ducey of Arizona for their roles in creating the "growing humanitarian crisis" while noting the federal government response as also "been lacking in some respects."
"We recognize that we don't know and we don't have control on all that is coming towards the district," Bowser said. "But we do have control over how our values are present on all that we do."
Back in April, Abbott said his state has been "overwhelmed by hordes of illegal immigrants who are being dropped off by the Biden administration," adding, "the [White House] will be able to more immediately address the needs of the people that they are allowing to come across our border."
The White House told Newsweek that there is a process in place to manage migrants at the border and that Republican governors "meddling in that process and using desperate migrants as political tools is shameful and it is wrong."
Greg Abbott Sends Buses of Migrants to Kamala Harris' Home
Buses of migrants arrive outside Vice President Kamala Harris' residence in Washington D.C.
Texas Republican Governor Greg Abbott sent two buses of between 75 and 100 migrants to Harris' home early Thursday morning.
These migrants come from Venezuela, Uruguay, Colombia and Mexico, Fox News reports. They were picked up at Eagle Pass, Texas and sent to Washington on the governor's orders.
Secret Service would not comment on whether they were notified of the migrants' arrived.
Many of the migrants were loaded into vans to be transported to a local church by volunteers.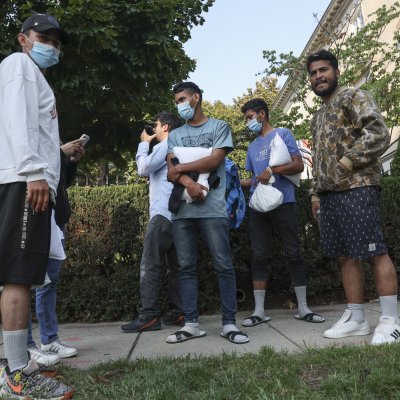 Abbott confirmed that he sent the buses from Texas to D.C. He said this move is a call on the Biden administration to "do its job" to secure the southern U.S.-Mexico border.
"VP Harris claims our border is 'secure' and denies the crisis," he tweeted. "We're sending migrants to her backyard to call on the Biden Administration to do its job and secure the border."
Abbott's office has dropped off more than 9,400 migrants in Washington and over 2,100 in New York since April.
According to data from the Texas Division of Emergency Management, Texas has spent over $12 million chartering buses to transport migrants to more liberal states.
Ron DeSantis Sends Planes of Migrants to Martha's Vineyard
Two planes of migrants arrived on Martha's Vineyard as part of Republicans' effort to protest President Joe Biden's immigration policies.
Florida Governor Ron DeSantis sent the more than 50 migrants to the Massachusetts island as part of an effort to "transport illegal immigrants to sanctuary destinations," DeSantis' communications director Taryn Fenske told the Associated Press.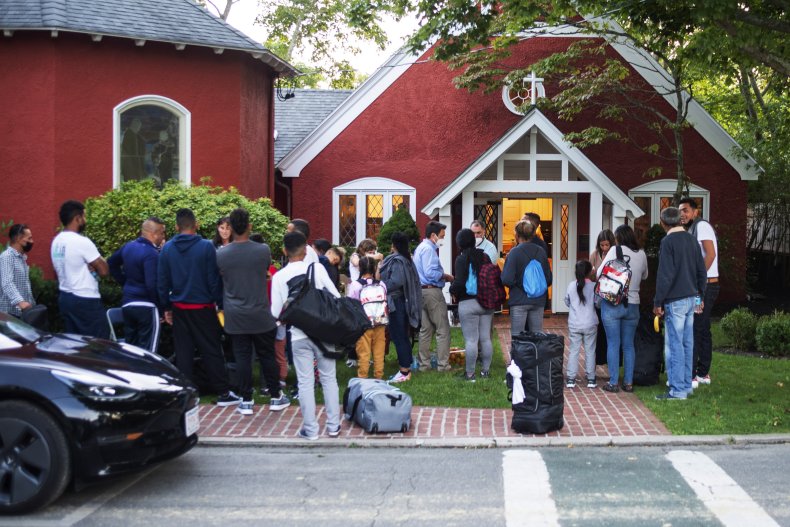 The migrants arrived at 3 p.m. Wednesday without warning, Democratic state Senator Julian Cyr, who represents Cape Cod, Martha's Vineyard and Nantucket, said.
"This is deeply disgusting. This is a cruel ruse that manipulates families that are seeking a better life," he told the Martha's Vineyard Times.
Massachusetts' Republican Governor Charlie Baker said he is speaking with local officials to provide short-term accommodations for the migrants.
State Representative Dylan Fernandes, who represents Martha's Vineyard, said the community is rallying support for the migrants.
"We are a community that comes together to support immigrants," he said in a tweet.
He said the island "jumped into action" to find beds, meals, healthcare and play areas for children when the migrants arrived.
"These immigrants were not met with chaos, they were met with compassion," Fernandes tweeted. "We are a community and nation that is stronger because of immigrants. The community coming together with water, food, interpretation help and resources to support these families represent the best of America."
Fernandes said many of the migrants did not know where they were when they arrived on the island.
"They say they were told they would be given housing and jobs," he said in a tweet. "Islanders we're given no notice but are coming together as a community to support them."
The representative criticized Republicans who are using humans as "political pawns."
"It is evil and inhumane," he said.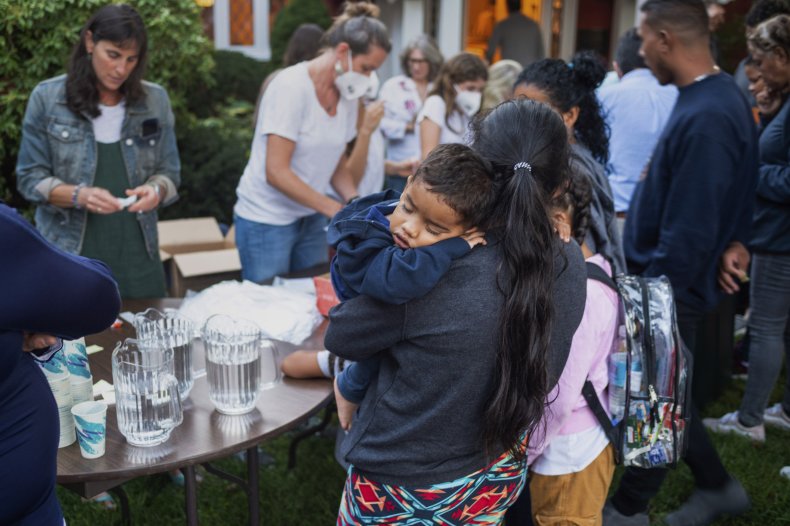 This is something DeSantis has threatened to do if Biden does not do more to secure the southern U.S.-Mexico border. Martha's Vineyard, however, is much smaller than other Democratic-led cities like New York and Washington D.C. that may be more prepared to receive a large influx of immigrants.
The Florida Legislature appropriated $12 million to transport "illegal immigrants."
"States like Massachusetts, New York, and California will better facilitate the care of these individuals who they have invited into our country by incentivizing illegal immigration through their designation as 'sanctuary states' and support for the Biden Administration's open border policies," Fenske said.