Florida Governor Ron DeSantis has signed a bill creating a new agency to target voter fraud that critics say is unnecessary and could be used for partisan gains.
DeSantis on Monday signed legislation intended to tighten safeguards against voter fraud while establishing the Office of Election Crimes and Security. The Republican governor's signature is the latest red state response to former President Donald Trump's baseless claims that the 2020 election was stolen. But opponents call the new office a solution in search of a problem.
The Office of Election Crimes and Security will be set up in the Florida Department of State and will be the first agency in the state dedicated to investigating election crimes.
Speaking at an event in Spring Hill, DeSantis said the new office is the most important part of the bill and will give teeth to other provisions. DeSantis said the office is the first of its kind in state government that will be able to prosecute voter fraud, and Florida voters could be confident their votes will be counted.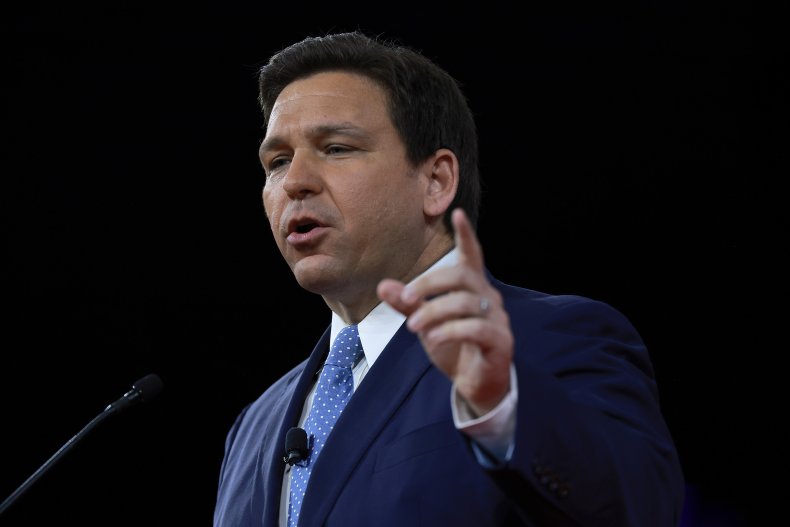 "The fact of the matter is when people see something that they think may violate the law, and you call the supervisor of elections—we'll they're not investigators," said DeSantis. "They're not law enforcement. What are you gonna do you? Call the State Attorney's Office? They do other crimes."
The Campaign Legal Center last month said the "new partisan agency" would "open the door for voter intimidation and harassment." Florida's governor will be allowed to appoint their own officers in every regional office of the State Department of Law Enforcement, taking away oversight held by nonpartisan election administrators and giving it to partisan politicians, the center said.
"The Governor's election police is political theater at best, and a deliberate barrier to voting + a huge waste of millions of taxpayer dollars at worst. Floridians deserve fair and free elections," Nikki Fried, the state's agriculture commissioner who is running as a Democrat to challenge DeSantis in November, said on Twitter.
Kirk Bailey, political director for the ACLU of Florida, said in a statement last month that the "elections police force" is unnecessary after DeSantis and his allies in the GOP-controlled Legislature said the 2020 election was secure and accurate.
"Considering the long history of law enforcement in Florida serving directly or indirectly as a tool of voter intimidation and the absence of any widespread wrongdoing by voters in Florida's past elections, the proposal raises serious concerns of voter intimidation and a potential chilling effect on political participation," Bailey said.
Bryan Griffin, a spokesman for DeSantis, told Newsweek in an email that the office's highly trained staff and "clearly defined responsibility to investigate alleged election-related crimes will function as a powerful deterrent to would-be perpetrators of election fraud."
He also pointed to remarks made last month by Mark Ard, Director of External Affairs at the Florida Department of State, saying the department lacked law enforcement or investigative staff to pursue complaints about unsolicited or misdirected vote-by-mail ballots among other issues.